---
Dia de los Muertos Festival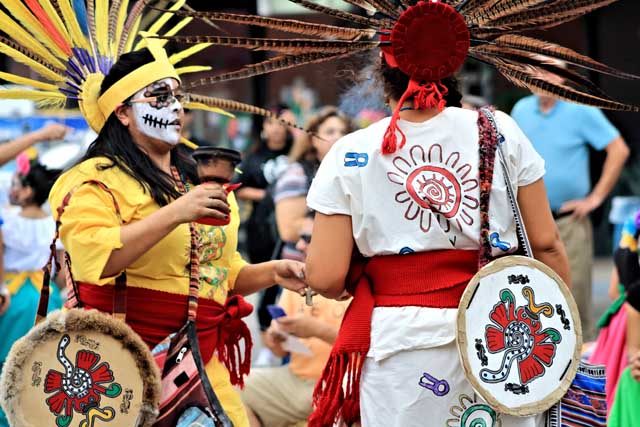 October 28, 2017
Virtually every human society has a way of honoring and remembering departed loved ones. In Mexico, ceremonies and rituals celebrating the lives and memories of ancestors evolved to become Dia de los Muertos, or Day of the Dead. The vibrant festival, known for its distinctive skulls, is a joyous occasion because it's thought the dead would be insulted by mourning or sadness. This fall, the people of Corpus Christi invite you to join them at the annual Dia de los Muertos Festival in the Marina Arts District for ten blocks of music, dance, food, art, and culture.
The Day of the Dead festival is one of the most exciting events in Corpus Christi, thanks to all there is to see and do. Free concerts by Latin-influenced musicians and up-and-coming Texas bands, as well as cultural performances, are held on three stages. The latter includes folklorico dancers and mariachi bands, while the former covers cumbia, ska, Tejano, Flamenco, Mariachi, salsa, and more.
Another crowd favorite is the Hecho-a-Mano Art Expo. Browse the more than 90 vendors selling arts and crafts, jewelry, and other handmade items, or have your face painted in classic Dia de los Muertos style. Art students from Texas A&M Corpus Christi and Del Mar College will perform an iron pour and other fun demonstrations. Kids will find lots of activities to keep them busy as well, from the rock-climbing wall, crafts, and games in the Kids' Corner, to the Extravagancia de Piñatas youth competition and exhibition.
Of course, the festival is intended to honor the dead, and an important part of the day for most festival-goers is stopping by the altar display at the Ritz Theater. Here, you'll find moving ofrendas created by children, families, artists, and other members of the community to honor departed family members, soldiers, celebrities, community figures, and others. These altars are collections of belongings and favored objects of the deceased arranged to be works of art that represent the life of the person who has passed on.
Experience one of Mexico's most distinctive festivals in Corpus Christi this October for the Dia de los Muertos Festival. You'll have a great time eating, drinking, dancing, and shopping, all while learning about one of the richest and most ancient traditions in the world.
---
---