---
Dia de los Muertos Festival in Corpus Christi Schedule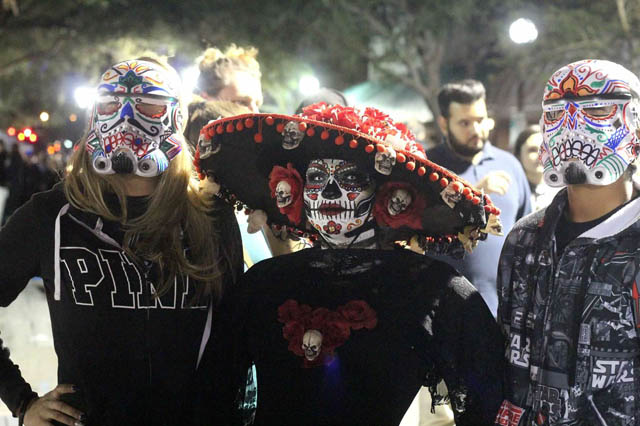 Don't miss your chance to experience a famous Mexican holiday at one of the most exciting annual events in Corpus Christi, the Dia de los Muertos Festival. Explore ten blocks of downtown Corpus and you'll find arts and crafts booths, food and drink vendors, kids' activities, an altar exhibit, and three stages of live music and dance. Below you'll find the run times for various locations and activities at the festival. For more information, including how to sponsor the event, contribute original artwork, and pre-festival workshops, visit DiaDeLosMuertoscc.com.
---
Dia de los Muertos Festival Events Schedule
3 pm to 12 am: Dia de los Muertos Festival hours. Entertainment on all stages.
---
3 pm to 9 pm: AEP TEXAS & HEB Family Area/Kids Activities and Kids Stage
7 pm to 11pm: Lucha KaBoom! Wrestling Matches. Sponsored by Herrman & Herrman
3 pm to 11 pm: Hecho A Mano Arts and Crafts Expo
3 pm to 11 pm: Altars of Remembrance at the Ritz Theater sponsored by CITGO
3 pm to 12 am: Fine Art exhibition at K Space Contemporary
3 pm to 12 am: Extravagancia de Piñatas at K Space Contemporary sponsor-Navy Army CCU
3 pm to 12 am: Leal Bros. Lowrider Car Show, Chaparral Street
---
L & F Starr Street Main Stage: sponsored by L & F Distributing
3:00 pm: Opening Ceremony, Larry Running Turtle
3:15 pm: Kalpulli Ehekatl Papalotzin-Danza Azteca
3:45 pm: TAMUCC's Mariachi de la Isla
4:30 pm: Ballet Folklorico Viva Mexico
5:00 pm: La Union Columbiana (band)
6:30 pm Oddfellas (band)
7:30 pm: La Comparsa Tempoal Vera Cruz, Mexico – Mexican Folk Dance Group
8:00 pm: Grupo Massore (band)
9:00 pm: Absinthe (dance)
9:30 pm: Bang Data (band)
11:00 pm: Mexicana and the Monster Squad (band)
---
La Retama Stage – sponsored by 7-11 and Laredo Taco Company
3:00 pm: DJ Olin and Mimi Joye
3:45 pm: CC Downtown Karate Demonstration
5:00 pm: Chicas Rockn(band)
6:00 pm: Voodoo Logic (band)
7:00 pm: L.I.B.R.A. (band)
8:00 pm: Absinthe (dance)
8:30 pm: Lee Liscano Band (band)
9:30 pm: La Comparsa Tempoal Vera Cruz, Mexico (Folk Dance)
10:00 pm: Taco Truck Heroes (band)
11:00 pm: Conjunto Amable (band)
---
Ritz Stage - sponsored by Andrews Distributing
3 pm to 7 pm: Corpus Christi Dance Companies
7:pm to midnight: SKIP Entertainment DJ's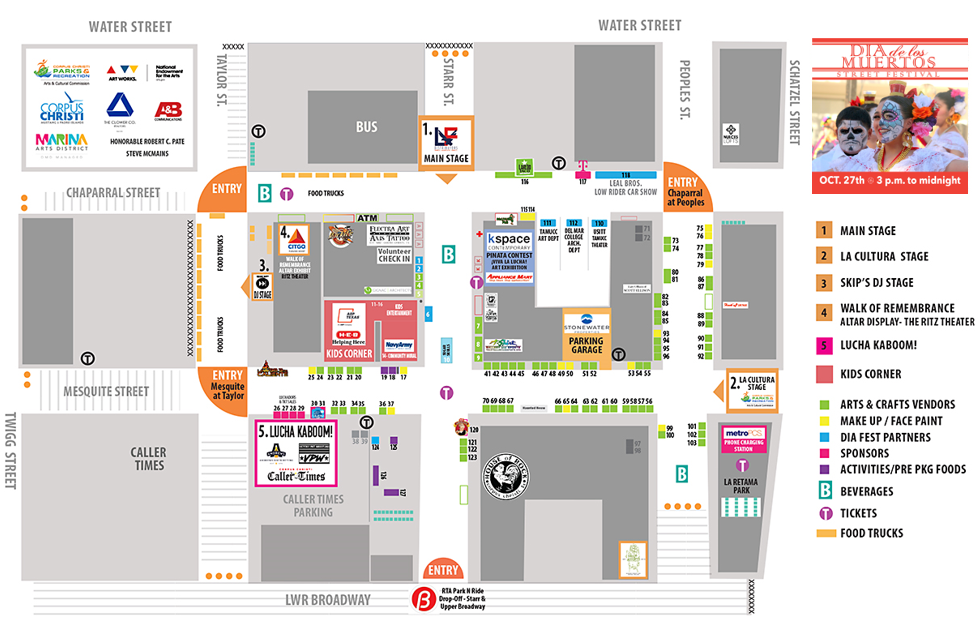 ---
---