---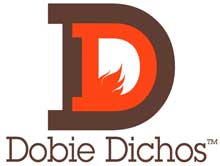 10th Annual Dobie Dichos
Campfires, Chili con Carne, and the Words of J. Frank Dobie aka Dobie Dichos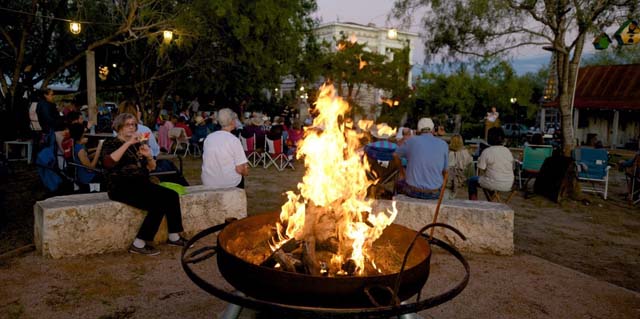 Schedule
*Meal Served: 6:00 pm
*Program Begins: 6:45 pm
Program Ends: approx. 9:30-10:00 pm
---
Tickets
Meal + Program: pre-sale only $20 adult; $10 under 12
Tickets may be purchased
online at www.dobiedichos.com
locally at the George West Chamber of Commerce 400 N. Nueces St., George West, 78022
We also accept checks via USPS at the following address: P. O. Box 660, George West, TX 78022.
---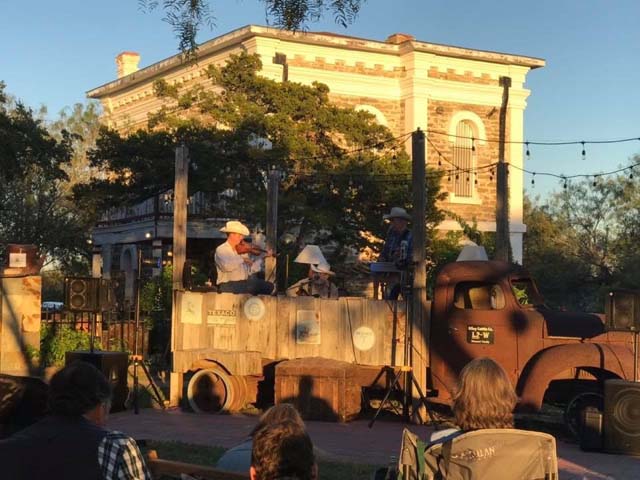 2020 Lineup
Authors/Storytellers:
Norma Cantu
Eldrena Douma
Hugh Fitzsimmons
Stephen Hardin
Donna Ingham
One More TBA
---
Music
Lee Haile
---
What To Expect
Limited Ticket Sales

Total guest capacity for 2020 is 160.
Only Meal + Performance tickets will be sold this year.

Pre-sale Tickets Only. No tickets will be available at the event this year.
Adherence to guidelines from the Governor of Texas and the Live Oak County Judge.
Designated Entrances & Exits (Arrive early!)

Monitor www.dobiedichos.com & Dobie Dichos Social Media for time updates (grounds entrance, meal serving, etc.

Pick up Will Call Tickets at Entrances, alphabetically by last name
All guests will be required to wear or display a Dobie Dichos pin/badge while on the grounds. These will be distributed as guests enter the grounds.
If you leave the grounds perimeter for any reason, you will be required to show your pin/badge upon reentering the grounds.
Social Distancing

Maintain a distance of 6 ft. from others not in your party.
Observe the distancing markers placed throughout the grounds.

Face Masks

Guests 10 and older are required to wear face masks while moving about the grounds or standing in line for any reason.
Seated guests are not required to wear masks.
Staff and volunteers wear face masks following the recommendations and guidelines of the State of Texas and the CDC.

Hand Sanitizing Stations
Multiple Food Serving Lines
Dobie Dichos Merchandise for purchase — CASH ONLY
A Wonderful Evening celebrating Texas literature, folklore, culture!
---
What You Will Need
A ticket to the event (No tickets will be sold on site this year.)
A face mask
Your own lawn chair, preferably one with cup holders
A jacket and, perhaps, a lap blanket in case the weather is chilly after dark
Willingness to follow the safety guidelines set out by Dobie Dichos, Inc., the Governor of Texas, the Live Oak County Judge, and the CDC.
---
Safety Guidelines
Help us in our efforts to prevent the spread of disease and maintain the safety of our guests, staff, and volunteers, by following these guidelines/procedures:
Announcements

Please listen closely to announcements from the stage, especially regarding the food serving lines.

Be Kind and Respectful to other guests, staff, and volunteers. Safety is a shared responsibility.
Dobie Dichos, Inc., its board members, staff, and volunteers are not responsible for potential communicable disease exposure on the premises.
---
---