---
Paint the Town
May 2 - 8, 2021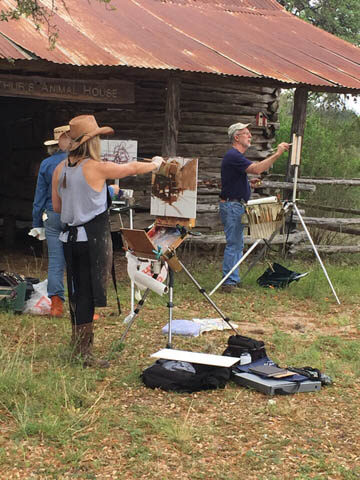 En plein air or plein air painting is the act of painting outdoors. This method contrasts with studio painting or academic rules that might create a predetermined look.
Paint The Town is an Annual Plein Air Competition. Each spring, 30 Plein Air artists from across the nation work in various medium to capture the outdoor sights and scenes of historic Marble Falls and the panoramic Texas Hill Country. For a week, with thousands of visitors, there is an expansive exhibiting/sales gallery, live demonstrations, an 80 minute Quick Draw, Sunrise and Nocturne painting, a student competition and Saturday Family Arts Day.
The sales gallery will be open October15-17. While much of Paint the Town can be experienced for free, collectors will have access to a Friday night ticketed reception held in Lakeside Pavilion and early admission to the gallery. Nationally recognized judge, Mark Fehlman will lecture and present the award winners.
Street Fest: A street festival celebrates Texas Society of Sculptors artists. The event, held under a tent on Main Street, features an extensive Sculpture Exhibit and Sale by Texas Society of Sculptors.
Due to Coronavirus scheduling issues, this year's Street Fest will be part of Paint The Town Festivities.
---
---