---
Paint the Town Schedule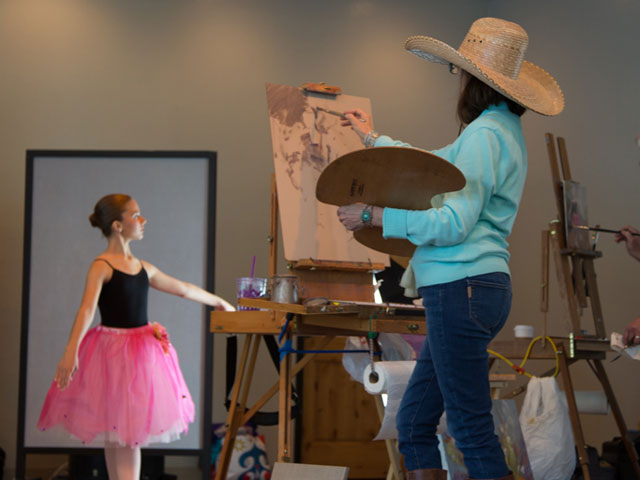 For one week every year, Marble Falls hosts Paint the Town, a large juried exhibition of plein air art created during the week. Approximately 40 artists from across the nation gather to capture the outdoor sights and scenes of Marble Falls and the breathtaking beauty of the surrounding Texas Hill Country. Whether you want to see these artists at work, you want to give outdoor painting a shot for yourself, or you're looking for a truly one-of-a-kind piece of art for your home, don't miss Paint the Town.
Check out the following schedule and start planning your visit to Marble Falls today.
---
Paint the Town 2018 Schedule
Sunday, April 29 - Registration, orientation, and reception for artists and Palette Pass holders only.
Monday, April 30 - Free paint day.
Tuesday, May 1 – Candlelight Ranch painting and barbecue lunch. This event is open to the public, with complimentary lunch provided to artists and Palette Pass holders. The general public is invited to view the artists at work and may purchase lunch tickets on-site.
Wednesday, May 2 – Sunrise and nocturne painting.
Thursday, May 3 – Young Artists Day, from 10 a.m. to Noon at River City Grille lower deck. Open to the public, this event features artists mentoring as many as 30 students with supplies and frames supplied by Highland Lakes Creative Arts. Lunch is free for artists, students, and Palette Pass holders. The public is invited to watch the festivities and may purchase lunch tickets on site.
Friday, May 4 – Gallery sales at Lakeside Pavilion, starting at 11 a.m. Lecture and demo by PTT 2018 Judge Suzie Baker at 11:30am. That evening a private show for Palette Pass holders followed by an award celebration and reception highlight this day of Paint The Town. Tickets for the award celebration and reception are available to the general public.
Saturday, May 5 – The final day concludes with the Paint The Town Galley's Open House beginning at 11am. Held at the Lakeside Pavilion throughout the day, the event is the place to be for art sales and artists demonstrations. Saturday is the last chance to visit with the artists and purchase their works. The Gallery will close at 7 p.m. Don't miss the Quick Draw in downtown Marble Falls Saturday afternoon.
Schedule is subject to change. Please check Paint the Town's website for the most up-to-date information before making plans.
---
---