---
Walker County Fair & Rodeo in Huntsville - APRIL
Walker County Fair & Rodeo Hours and Ticket Prices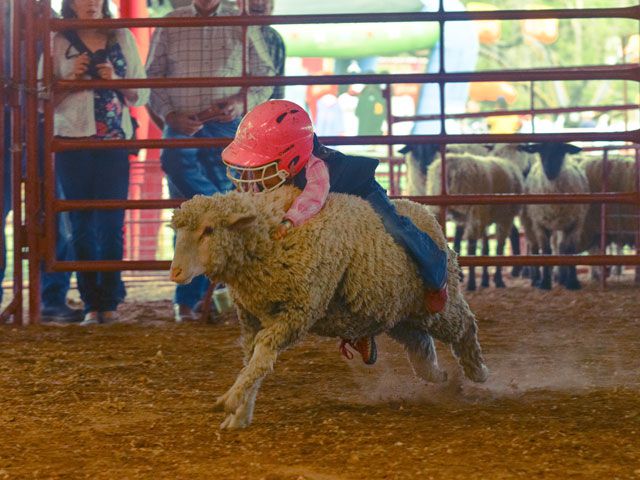 The Walker County Fair and Rodeo is Huntsville's annual tribute to all things country and western. Featuring livestock shows and auctions, a chili cook-off, carnival rides and games, a petting zoo, live music, and Professional Rodeo Cowboys Association rodeo competitions, it goes without saying that the fair is pure Texas fun. The rodeo provides a number of scholarships and college funds through the sale of livestock for dozens of area high school students; in other words, it's a great time for a great cause. Before you plan to attend, get the skinny on what the rodeo's hours and ticket prices are.
---
Walker County Fair and Rodeo Hours
General admission starts at 4 p.m. The carnival opens at 5 p.m. on weeknights and 1 p.m. on Saturday and Sunday. No armbands are sold after 10 p.m. PRCA Rodeo performance April 1 & 2 at 7:30pm.
---
Walker County Fair and Rodeo Ticket Prices
General Admission:
Adults: $6
Children up to age 12 and students with exhibitor badges get in free.
Season passes are $25
Rodeo Tickets:
Adults: $12 ($10 pre-sale)
Children (6-12): $7 ($5 pre-sale)
Children (0-5): Free
---
Directions to Walker County Fairgrounds
Address:
3925 State Highway 30 West
Huntsville, Texas 77340
Ticket prices and festival hours are subject to change. Please check the Walker County Fair & Rodeo's website for up-to-date information on rates and schedules before making plans.
---
---
Walker County Fair & Rodeo in Huntsville - APRIL