---
Walker County Fair & Rodeo in Huntsville - APRIL
Walker County Fair & Rodeo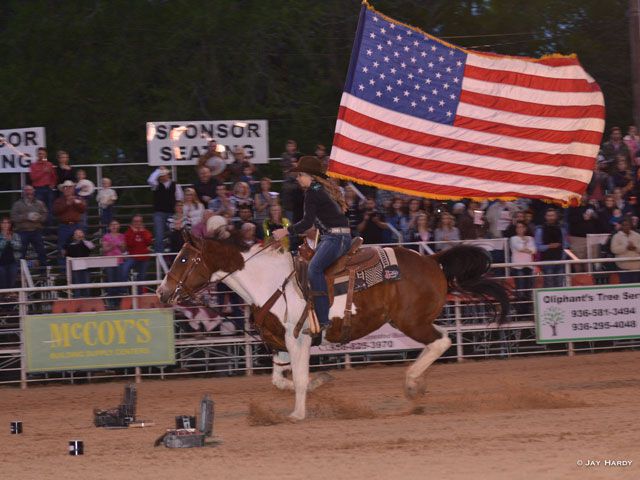 Cowboy up ... it's the annual Walker County Fair & Rodeo! Held at the Walker County Fairgrounds in Huntsville, the rodeo is nine days of country Western fun for the entire family. Hear live music, ride adrenaline-pumping carnival rides, bid on world-class livestock, and watch some professional rodeoing.
Designed to spur youth creativity and community involvement, the rodeo is loaded with ways for children and teens to showcase their talents. Students from local 4-H, FFA and FCCLA chapters compete throughout the week for top prizes for their steers, heifers, goats, lambs, and other stock, many of which can be purchased during the Premium Livestock Sale.
Other youngsters enter their prom dresses and other garments they've hand-sewn into the clothing contest, or exhibiting their best photos, arts and crafts, or horticulture projects. Kids younger than eight can also compete in the Little Tykes Rodeo, while boys and girls between the ages of four and seven are eligible to bust some mutton. Special education students are invited to participate in the Special Kids Rodeo, where they can meet the cowboys, ride horses, take pictures with clowns, and more.
Even the adults can get in on the friendly competition. The barbecue and chili cook-off sees 60 to 70 teams every year (including groups of youngsters) vying for top place in the brisket, ribs, chicken, pulled pork, chili, and beans categories. Kids and adults may also enter the quilting competition and the domino tournament.
Of course, the fiercest competitors are the guys and gals who will be barrel racing, tie-down roping, bronc riding, steer wrestling, and bull riding. The Walker County Rodeo is an official Professional Rodeo Cowboys Association rodeo that has been nominated as one of the best small rodeos in the United States. Some of the sport's biggest names, like Trevor Brazile and local legend Joe Beaver, have brought their world title-winning pedigrees with them to Huntsville looking for a share of the prize money.
Competitive events are only half the story at the rodeo. The Kick-Off Dance on Friday night features live music by Jake Worthington, the runner-up on The Voice, with special guest Shotgun Rider. Other country acts perform almost every evening at the Acoustic Cafe on the fairgrounds. The opening ceremonies include parade results and the unveiling of the Walker County Fair Queen, Prince and Princess. Kids of all ages have a blast riding the rides and playing the games at the carnival, while younger children love the petting zoo, both of which run every day of the fair.
With so many things to see and do, it's no wonder the Walker County Fair & Rodeo is one of Huntsville's top events. So what are you waiting for? Grab your ten-gallon hat and don't miss a day of this rootin'-tootin' good time!
---
---
Walker County Fair & Rodeo in Huntsville - APRIL