---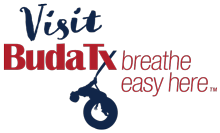 7 Awesome & Unexpected Adventures You Can Have in Buda
Taste locally made wine on an outdoor patio, listen to talented musicians from Texas and beyond at one-of-a-kind venues, and play classic arcade games until your thumbs fall off. These kinds of awesome experiences are just a taste of what awaits in Buda, a quaint charmer that punches above its weight in terms of unique things to see and do. Even though it's just 15 miles south of Austin, Buda has the kind of easygoing feel that is perfect for a day trip or a weekend getaway. Read on to discover just a few of the things you can do here that might surprise you and start planning your next visit today.
---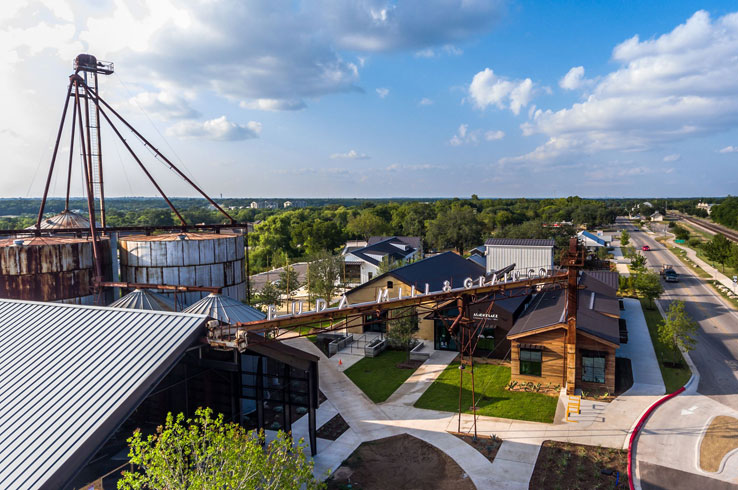 Explore Buda Mill & Grain Co.
A former cotton gin dating back to 1914, Buda Mill & Grain Co. is now a beautifully restored shopping and dining area where you can hang out all day. Stroll in the shade of historic silos, browse for the latest in women's fashion at Ellipsis Boutique, and work up a refreshing sweat at Willow Gardens Hot Yoga. Want to treat yourself? Get a slice of German chocolate cake or a red velvet cupcake at Sweet Cakes 4 U and a cup of coffee at Nate's Coffee & Cocktails. Once the sun sets, get a glass of wine or a cocktail and admire the view of downtown Buda from the patio.
---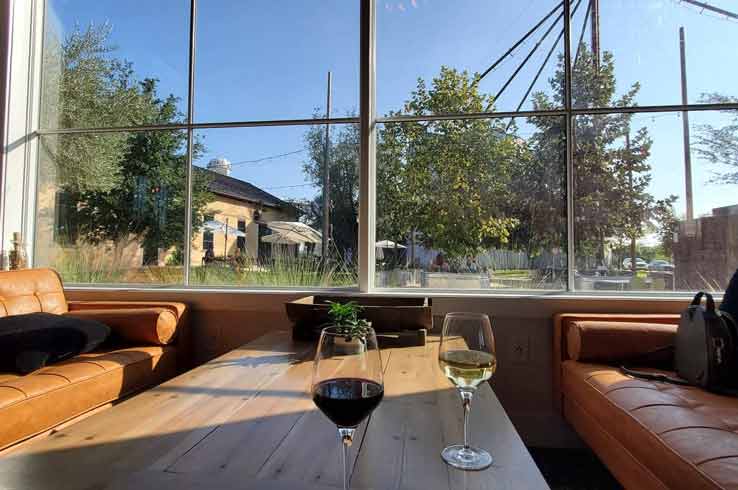 Find a New Favorite Wine at Water 2
Whether you're a sommelier or you enjoy the simple pleasures of a freshly uncorked bottle of wine, visit Buda's own Water 2 Wine. Stop by the winery, located in the Buda Mill & Grain Co., to try one of the locally vinted and bottled wines, including the light and refreshing Wiener White, so named in honor of the Wiener Dog Raced, a peachy white wine perfect for warm days, and 1877 Du Pre, a house red blend that tastes of red berry with a smooth finish.
While the wine alone is worth traveling for, the wide-open courtyard under the sycamore trees will keep you here for a while. The winery even hosts live music on occasion and boasts a delicious array of light snacks with wine pairing suggestions.
---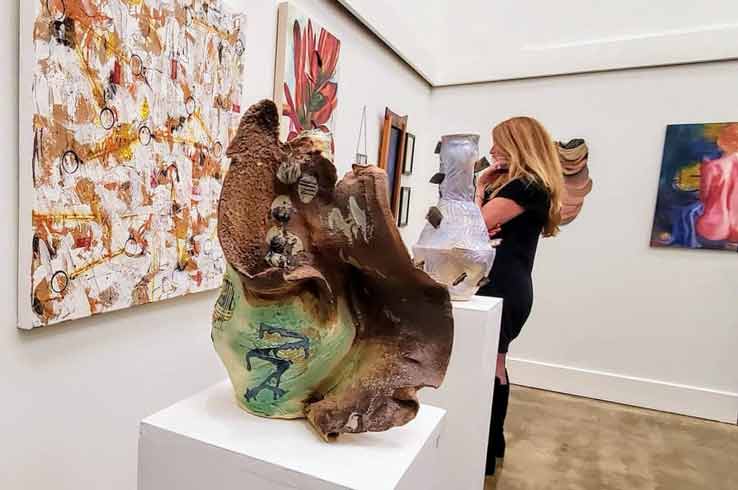 Get Artsy
There are souvenirs, and then there's what you'll find at the art galleries in Buda. Assemblage Contemporary Craftsman Gallery, located in the Buda Mill & Grain Co., and Inspired Minds Art Center in the heart of downtown is a showcase of the works of living American artists, many of which live here in town or are born and raised in Buda. Check out the whimsical pottery of Buda's own Fraser Harris alongside an array of vibrant paintings, photographs, distinctive jewelry, and furniture. See something you like? Much of the collection at each gallery is available for sale, and the prices are as affordable as the art is eye-catching. Want to get your hands dirty? Inspired Minds Art Center offers an array of art class nights perfect for your visit to Buda.
---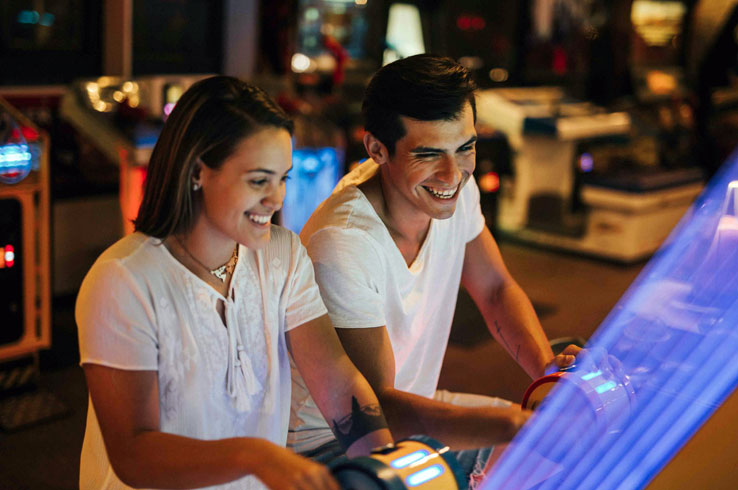 Play Outdoor Laser Tag & Vintage Arcade Games
Take on your friends in a round (or two) of Mario Kart, go for the top score on vintage and modern pinball machines, and sip on a glass or two of craft beer poured fresh from the tap. Although classic arcades may be a thing of the past, Pinballz Kingdom offers more than the traditional coin eaters you used to go to. Greet the gnarly dragon perched above the entrance before stepping into the neon-lit arcade wonderland full of classic and modern arcade games, pinball machines, and throwbacks like air hockey and skee ball.
While there are enough games to keep you busy, that's not all you can do here. Show off your aim in the outdoor laser tag arena, where you'll have all the fun of paintball without any of the bruises. For some high-impact fun, get behind the wheel in the bumper car arena. When you need a break from all the action, savor a beer in the traditional German-style beer garden or something delicious from the tavern. When you're recharged, step back into the arcade to play something you haven't gotten to yet. With so many machines, that will probably take you a while.
---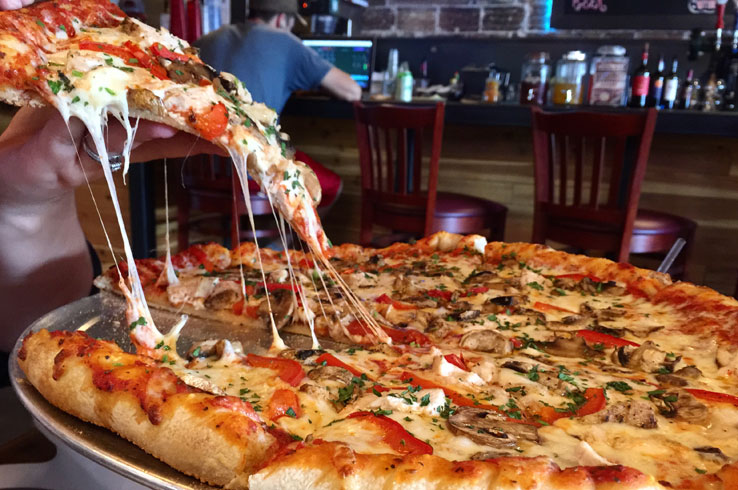 Savor Some Seriously Delicious Food
Follow your nose along Buda's Main Street and you'll have a hard time choosing where to eat. That's because this town is truly fit for foodies with its long list of one-of-a-kind restaurants. Sink your teeth into handmade New York-style, Sicilian deep dish, or even gluten-free pizzas at Main Street Pizzeria, a local go-to spot for pies, sandwiches, wings, and craft beer. At Brooklyn's Down South, you'll take in the historic and upscale ambience as you tuck into chicken and sausage gumbo, red beans and rice, or a juicy half-pound burger. With a menu that includes Cajun, American, and Mexican fare, plus an extensive selection of cocktails and beers, you'll leave well satisfied.
Finally, you can't eat in Buda without visiting Helen's Casa Alde. For nearly 40 years, this local dining institution has been a hotspot for straightforward—but oh, so delicious—tacos made with fresh homemade tortillas. Order up a few breakfast tacos to start your day like a local, or swing by during lunch for some enchiladas and chalupas.
All of this is just an appetizer to all the fantastic dining that Buda has to offer, so make sure come hungry.
---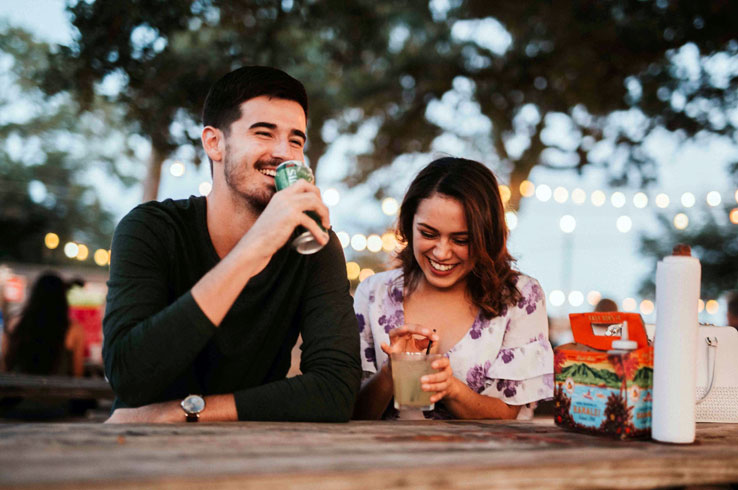 Catch a Great Show at a Low-Key Venue
When you're looking for a rocking good time, Buda is the place to be. Take in the relaxed atmosphere and top-shelf music from talented local performers at any of the town's three one-of-a-kind venues. Enjoy cold beer, tasty food, and live music at Buck's Backyard, a two-for-the-price-of-one hangout spot with an indoor stage for intimate shows along with an outdoor amphitheater for larger performances. Meanwhile, Willie's Joint combines beer, cocktails, good old-fashioned Texas burgers, and plenty of music in a renovated 1940's ranch-style house surrounded by historic oak trees.
Maverick's Dance Hall welcomes regional and national acts to its indoor stage with 5 bars, a huge outdoor patio, and dance lessons before a big night. The brand new Buda Amphitheater & City Park, located right on the edge of downtown, brings in a range of performances from live music to the theater all throughout the year. for an even more intimate experience, stop by Zoi Market's indoor music venue located in the newly restored 1898 building-an iconic structure in Downtown Buda bringing equally iconic jazz musicians to the streets of Buda.
Since these venues are so close together, it's easy to roam from one to another as you listen to some of the best acts in Central Texas.
---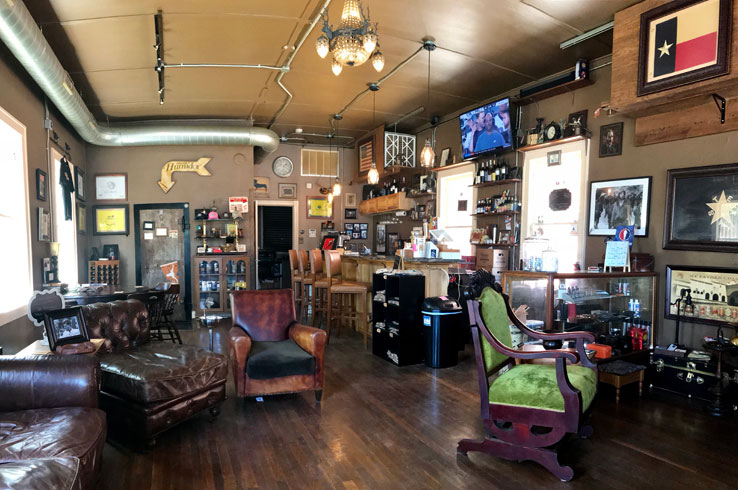 Discover Downtown Buda's Unique Spots
Lined by historic brick storefronts on one side and a set of railroad tracks on the other, Buda's Main Street is the picture of small-town Texas. Look past the many bars and restaurants and you'll discover one-of-a-kind treasures, like a humidor in a historic bank vault and an eclectic antique store located in a former movie theater. The humidor resides within The CigarVault, home to an extensive selection of cigars, beer, and wine to enjoy on the secluded patio out back. For hand-selected clothing that will have you looking like a Buda local, stop by Buda's Red Door, a locally owned boutique.
Towering above all the other buildings in downtown Buda, the Old Town Buda Antique Mall's three floors are filled with antiques both curious and spectacular. A Victorian-era electro-shock therapy box and a taxidermied white albino squirrel are just a few of the oftentimes outlandish things you'll unearth here. The store itself is organized by era, meaning a visit here is like exploring the lives of people across different eras and generations. Who knows what you'll find?
Situated just south of Austin, Buda's small-town vibe makes it feel like a world away. But don't let that fool you; there are an endless number of fun things to see and do that make for the perfect weekend getaway. Learn more about Buda here.
About the Author: James Waterson is the head writer and content specialist for Tour Texas. When he isn't writing about the many great places in the state of Texas, he's planning his next epic adventure in the Lone Star State.
---
---