---
7 of the Many Reasons You Should Visit Plano this Fall
By Ashley Donde
Enjoy a spectacular view from the basket of a floating hot air balloon. Savor dishes prepared by some of the best chefs in North Texas. Catch a flick with your furriest best friend. Settled just north of Dallas, Plano's autumn season holds its fair share of surprises beyond its one-of-a-kind festivals, luxurious hotels, and weather perfectly suited for window shopping and outdoor concerts. Discover some of the many reasons why you should visit Plano this fall.
---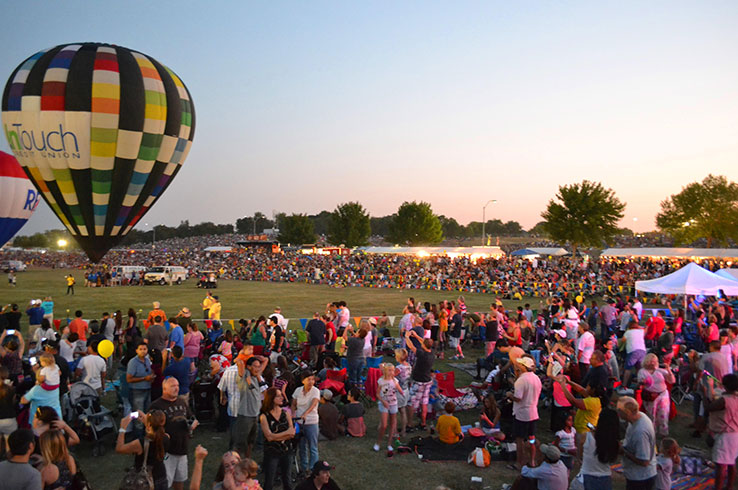 Soaring Hot Air Balloons and Family-Friendly Fun
Bring the whole family out for a high-flying weekend of colorful fun at the Plano Balloon Festival (Sept. 20 – 22). Watch as 40 hot air balloons of all shapes and sizes, including one that looks like Simba from The Lion King, float high into the sky. Take in a bird's-eye view of Plano from 30 feet above ground on a tethered balloon ride and watch the aerobatics of the RE/MAX of Texas Parachute Team. Then stick around until dusk to see the magnificent balloon glow followed by an awesome fireworks show.
As if all this wasn't enough, there's even more going on at the Plano Balloon Festival. Run in four different races that range from a 1K and 5K to a 10K and a half marathon. Listen to live music by local bands. Let your youngsters play on inflatable rides and slides, try their hands at crafts, and get their faces painted in the Kid Zone. When you get hungry, there will be funnel cakes, chicken wings, corn dogs, and all your other festival favorites on hand to keep you full. Whether you're a hot air balloon enthusiast or you're looking for a fun way to spend a weekend, this festival is for you.
Photo Credit: Plano Balloon Festival
---
Indulge in Delicious Food, Beer & Wine
Sometimes, the best thing you can do is treat yourself. That's why you should find yourself at the Plano Food + Wine Festival (Oct. 5). Sample your choice of more than 100 wines and fare from local restaurants, then pick up a few pointers at culinary demonstrations led by some of the best chefs in North Texas.
Pamper your palate, then browse the wares of more than 100 boutiques and shops as bands rock and roll throughout the afternoon. A special play zone just for kids will ensure every member of the family has a great time. The event is free, and tasting tickets are available to purchase, so you can indulge as much as you'd like. A portion of the proceeds will go to benefit the National Breast Cancer Foundation.
---
Plano's Other Fall Events Are Must Sees
Visit Plano at any time in the fall and you'll almost always find something going on. Head to the Fall Plano Train Show (Oct. 12), the largest model train show in the North Dallas area, to see a variety of model train layouts and learn how to create your own scenes. Leave your passport at home and check out the Plano International Festival (Oct. 12), a showcase of music, dance, films, and cuisine from more than 100 countries.
You simply cannot celebrate fall without Oktoberfeast, and Plano has two that fit the bill. Beer, brats, and bands are on tap at Oktoberfeast at Legacy Hall (Sept. 27 – 29). Brewery tours, live German music, beer steins, and more ensure this three-day event will be a gut time. Continue your celebration of all things German with beer, food, and polka at Plano Steinfest (Oct. 25 – 26). With something tasty in hand, shop around the artist village and let your youngsters play in the kids' zone.
There are many ways to celebrate fall in Plano, so make sure to mark your calendar and experience it all for yourself.
---
Hear Your Favorite Tunes at Legacy Hall
A visit to Plano isn't complete without a stop at Legacy Hall, which happens to be an all-in-one dining, drinking, and entertainment destination. This European-style food hall offers more than two-dozen food stalls, an in-house brewery (Unlawful Assembly Brewing Co.), wine, and cocktail bars that pair perfectly with live shows hosted on a central stage.
This fall, the Legacy Hall stage is lit up by the likes of the Steven Page Trio (Oct. 4) and Back in Black (Oct. 11), an AC/DC tribute band. For you Pink Floyd fans out there, don't miss Bricks in the Wall (Oct. 12), the longest-running Pink Floyd tribute band in the country. Their stellar performance is complete with a laser light show, an authentic ode to the groundbreaking rock band. Finally, Beastie Boys tribute act Rhymin' n Stealin' (Oct. 18) provides a high-energy show you won't want to miss. Each of these four concerts is free of charge, so show up and have a good time.
---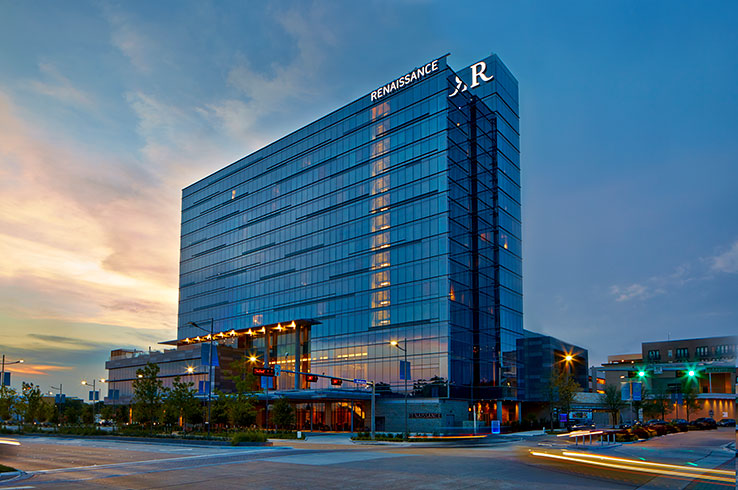 Plano's Upscale Hotels Offer Luxurious Stays
Any great getaway starts with where you stay, and Plano is full of enticing options to choose from. Savor waterfront views from the Hilton Dallas/Plano Granite Park, home to its own restaurant and lounge, a fitness center, and units that range from cozy guest rooms to spacious suites with separate seating areas.
There are even more waterfront views at the Marriott at Legacy Town Center, a picturesque hotel located near The Shops at Legacy's premium shops and restaurants. Go for a walk or jog around the water, large trees shading your path, then grab a bite at Copper Bottom Grille or Rustic Jewel, two tasty hotel dining options. Cool off in the pool and relax in your opulent room or guest suite.
The poolside bar will have you wanting to stay an extra day at Renaissance Dallas at Plano Legacy West Hotel. The clean and modern East meets West design, paired with upscale amenities will make you feel like a million bucks. Relax in the hot tub, or in the large walk-in showers, and treat your taste buds to their Asian fusion dining options. There are plenty of other luxurious accommodations in Plano, so take your time and choose the one that checks all your boxes.
Photo Credit: Jessie Festa
---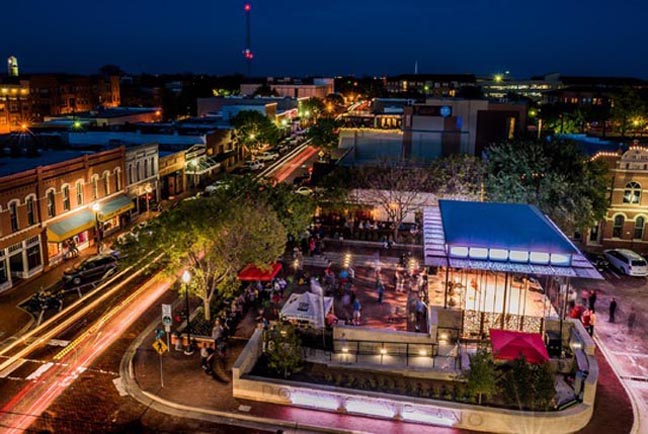 Fall is the Perfect Time to Shop, Dine & Enjoy the Nightlife
The temperate fall weather is ideal for strolling the streets of Plano and exploring its shops and eateries. Finding yourself among the historic buildings of the Downtown Plano Arts District yields its own rewards. The vintage structures make for a scenic backdrop while also housing galleries, boutiques, event venues, and restaurants. Track down that perfect gift or a new treasure for your home or check out the seven-day-a-week farmers market for some fresh produce. You can also grab a coffee or try some award-winning Texas barbecue, all in one walkable district.
For all your luxury shopping and dining needs, visit Legacy West, the largest mixed-use retail destination in North Texas. Along with Legacy Hall, it offers diamond shopping, a lush nail spa serving men and women, delectable dining options, and a 24/7 Sprinkles Cupcakes ATM.
You'll find the Shops at Legacy not far away from Legacy West. Add something stylish to your wardrobe at one of many men's and women's boutiques, browse eclectic home goods, and choose between dozens of eateries for a satiating meal. Enhance your mall shopping experience by visiting The District at Willow Bend, an assortment of sophisticated restaurants lead by culinary titans.
Choose from more than 10 creative menus by James Beard and Top Chef honorees—including Mediterranean, Mexican, and juicy steak and burger options—while overlooking the outdoor courtyard. Grab a glass of wine at the Ascension Annex, a coffee and wine bar, and take it with you as you stroll around the Shops at Willow Bend.
Photo Credit: David Downs
---
You Can Watch a Movie with Your Favorite Pup
"Because movies and puppies, duh," is a tagline that's hard to argue with. At K9 Cinemas, you are encouraged to bring your prized pup to the movies with you, for double the movie-night fun. Human guests are treated to complimentary wine and whiskey, while dogs drink from courtesy water bowls and munch on treats. There's also an outdoor courtyard where doggies can use the loo. Enjoy a showing of a dog-themed film while your pet socializes with other dogs. One hundred percent of the proceeds from merchandise purchases—like their clever dog-themed t-shirts—goes to helping shelter dogs get adopted. Cozy and welcoming, this theater experience is perfect for any dog lover who treasures spending quality time with their best furry friend.
---
From festivals and concerts to luxury shopping and dining, each day in Plano offers something new and exciting for visitors. Plan your trip for this fall to experience it all.
About the Author: Ashley Donde is a freelance writer who loves adventure. Her family of four can often be found exploring the great outdoors, touring museums, or enjoying a local festival.
---
---