---
Attractions in Plano
Whether you're coming for business or pleasure, Plano has the attractions to help you seal the deal or take a load off. Outdoorsy types will appreciate the luscious nature preserves and parks that call the city home, while foodies will find plenty here to appreciate. The following are just a few of the top attractions in Plano.
---
Arbor Hills Nature Preserve
Enjoy a picnic, mountain bike, run the three miles of paved trails, or spot wildlife; there's no wrong way to enjoy this lovely bit of nature on the western edge of Plano.
6701 West Parker Road
Plano, TX 75093
(972) 941-7250
---
ArtCentre of Plano
The ArtCentre of Plano inspires, supports, and promotes excellence, diversity and vitality in the arts and arts education in the community. A "home for the arts" in Plano, the historic and newly renovated Saigling House offers something for everyone. Browse through the art galleries for displays of local artists, as well as national shows.
902 East 16th Street
Plano, TX 75074
(972) 423-7809
---
Courtyard Theatre
This 321-seat, proscenium-style theater is best known as the home of the Courtyard Texas Music Series, but you can also catch plays, musicals, concerts, and recitals here throughout the year. Various rotating art exhibits are on display in the theatre year-round, as well.
1509 H Avenue
Plano, TX 75074
(972) 941-5600
---
Go Ape Treetop Adventure Course
One of the best parks in Plano just got even better. National adventure company Go Ape brings its treetop canopy tour experience to Oak Point Park. Take in the view while riding zip lines, fly on "Tarzan swings," and tackle more than 40 different obstacles.
5901 Los Rios Boulevard
Plano, TX 75074
(800) 971-8271
---
Heritage Farmstead Museum
A living history museum depicting life on the Blackland Prairie in the late 1800's, the Heritage Farmstead Museum has exhibits like a replica 1895 schoolhouse and the 1892 Farrell-Wilson House. Costumed docents explain the numerous furnishings, tools, and other Victorian-era objects on display during your guided tour, or you can explore at your own pace. Open Tuesday through Sunday.
1900 West 15th Street
Plano, TX 75075
(972) 881-0140
---
Interurban Railway Museum
The Interurban Railway Museum tells the story of the Texas Electric Railway and its impact on Plano's history through interactive exhibits and antique photos. A highlight is the tour of the refurbished 1911 Car No. 360 that is guided by a knowledgeable staff member. Admission is free but donations are encouraged.
901 East 15th Street
Plano, TX 75074
(972) 941-2117
---
Lakeside Market
An upscale, open-air shopping center, Lakeside Market features well-known names like Sur La Table and GNC alongside locally owned establishments like Weir's Furniture Village.
Preston Road at Spring Creek Parkway
Plano, TX 75093
(469) 232-3400
---
Legacy West
You won't want to miss Legacy West. Opened in June 2017, this "city within a city" is the largest mixed-use destination in North Texas, and the perfect place to play, shop, dine, and stay. The 255-acre development boasts 415,000 dynamic square feet of open-air retail and restaurant space. Satisfy every craving, whether for steak or a good old-fashioned milk shake, French bistro fare, a perfect plate of pasta, or a red velvet cupcake. Then shop for everything from fashion to furnishings to cosmetics and even cars (think Tesla!). After a day of retail therapy, you won't have to go very far to set down your spoils, since this urban village is anchored by the Renaissance Dallas at Plano Legacy West Hotel.
5905 Legacy Drive
Plano, Texas 75024
(214) 473-9700
---
Oak Point Park
At 800 acres, Oak Point is Plano's largest park and the site of outdoor concerts at its 1,500-seat amphitheater. Take advantage of three-and-a-half miles of concrete trails for walking and biking, and five miles of nature trails along Rowlett Creek.
5901 Los Rios Boulevard
Plano, TX 75074
(972) 941-7250
---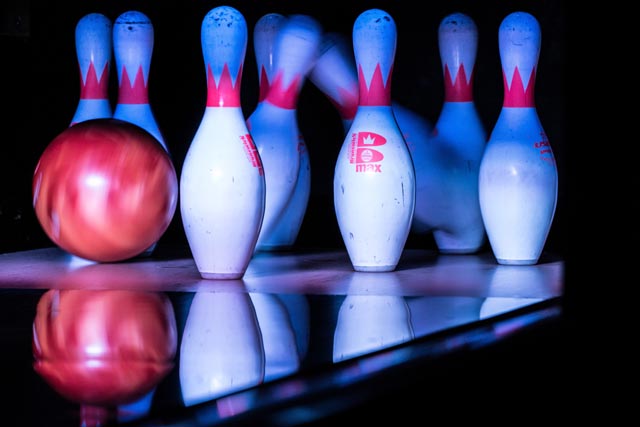 PINSTACK
Knock down some pins at PINSTACK, North Texas' first state-of-the-art bowling and active entertainment destination. Enjoy VIP bowling experiences, show off your aim in the two-story laser tag arena, ascend the LED lit six-lane rock climbing walls, and play hundreds of interactive games. And that's just getting started! PINSTACK offers fun for everyone. A chef-inspired restaurant offers an upscale dining experience that includes classic American cuisine and a stacked bar serving craft cocktails. That's not all. The "Bowl Bar," located next to the bowling lanes, has 24 beers and six wines on tap, top-shelf cocktails, and full-service gourmet coffee and gelato bars.
6205 Dallas Parkway
Plano, Texas 75024
(972) 781-2695
---
Southfork Ranch
One of the most iconic and longest-running TV shows of all time, Dallas, was shot at this fictional ranch in Parker, located just east of Plano. Today fans of the show come from all over the world to tour the grounds, see memorabilia from the show, ride horses, and feel like an Ewing for a day.
3700 Hogge Drive
Parker, TX 75002
(972) 442-7800
---
The Courses at Watters Creek
The Courses at Watters Creek has something for players of all skill levels. Those looking for the full experience tee off on the championship Traditions Course. Beginners and those wanting a quick round should check out either the nine-hole Players Course or the lighted Futures Course, where flag distances top out at just 100 yards.
7201 Chase Oaks Boulevard
Plano, TX 75025
(214) 509-4653
---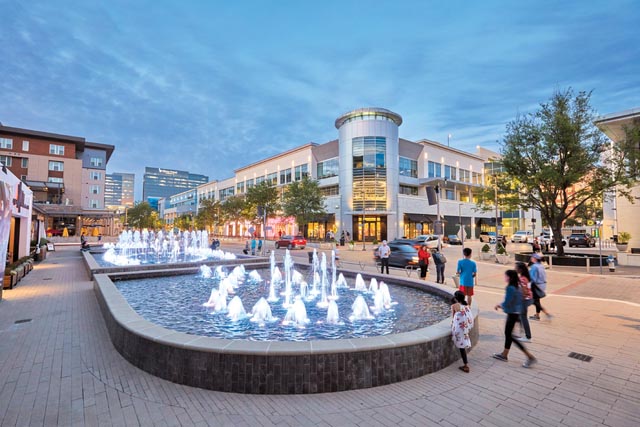 The Shops at Legacy
A business-lunch locale during the day and a hopping nightlife scene at night, The Shops at Legacy is loaded with great spots to eat, drink, meet, and people-watch and is anchored by the Dallas/Plano Marriott at Legacy Town Center. When you've ready to drop after shopping at designer stores like Lululemon and Kendra Scott, hit the Angelika Film Center for a captivating indie movie.
7300 Lone Star Drive
Plano, TX 75024
(214) 473-8880
---
Crayola Experience
With 60,000 square feet of attractions, Crayola Experience is Texas' most colorful family destination for interactive, creative play. Kids of all ages can embark on a wonderful, whimsical adventure with such unique experiences as starring in their very own coloring pages, naming and wrapping their very own Crayola crayon, learning how crayons are made in a live manufacturing show, and so much more. With 22 hands-on attractions, you can spend as many as four hours here.
6121 West Park Boulevard
Plano, Texas 75093
(469) 642-2901
---
The Boardwalk at Granite Park
Across from the luxurious patio of the 299-room Hilton Granite Park sits a new 30,000 square foot restaurant park in Granite Park called The Boardwalk. There you can find the following unique restaurants: Chips Old Fashioned Hamburgers, Hookline, Union Bear, The Biscuit Bar, B. Frank & Relish, Edith's French Bistro, and Pearl Cup Coffee. Each restaurant has a patio, and there are beachy deck chairs to enjoy the view of the water feature.
5601 Granite Parkway
Plano, Texas 75024
(972) 952-5555
---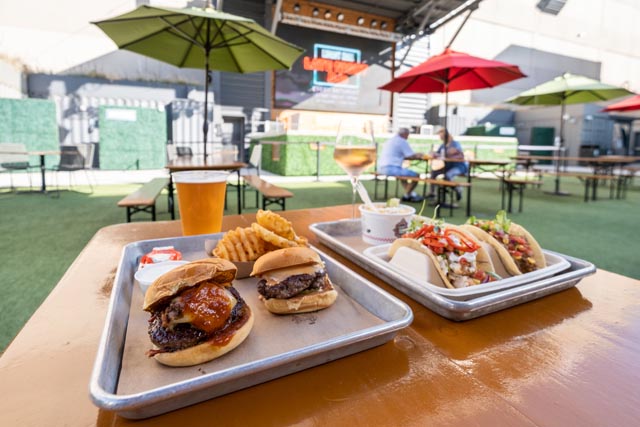 Legacy Hall & The Box Garden
Legacy Hall, one of the nation's largest and most unique food halls, is dedicated to serving the best-of food trends prepared by premier chefs and local artisans. The three-story, 55,000-square-foot European-style food hall, brewery and live music and entertainment venue is located at Plano's acclaimed Legacy West development and was named USA Today's 2019 2nd Best Food Hall in the U.S.
7800 Windrose Avenue
Plano, Texas 75024
(972) 846-4255
---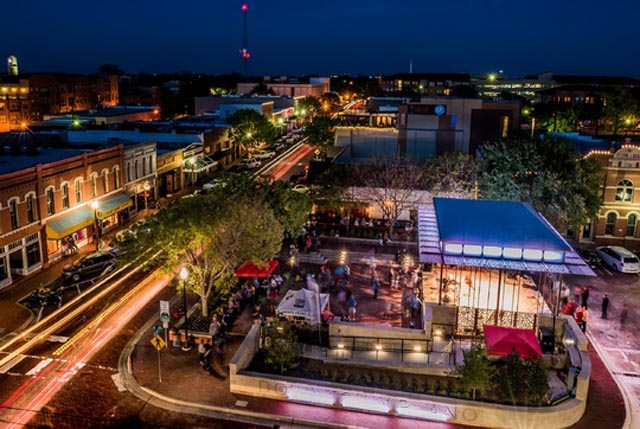 Downtown Plano Arts District
For high-end window shopping, art admiring, or vibrant nightlife, find yourself in Downtown Plano. Stroll along the brick streets shaded by beautiful historic storefronts, browse boutiques and home décor shops, and admire the works of local artists in the downtown area's art galleries. An enticing collection of coffee shops and restaurants are on hand when you need a refresher. Stop by the Interurban Railway Museum for a look at the history of rail in North Texas and visit more than a dozen restored historic homes. Then catch a show at the McCall Plaza, Courtyard Theater, or the Cox Building Playhouse. Check the performance venue calendars for schedule and show times.
1021 East 15th Street
Plano, Texas 75074
Visit visitplano.com for a complete list of Plano attractions.
---
---