---
7 Amazing Things to Do on a Summer Road Trip to Plano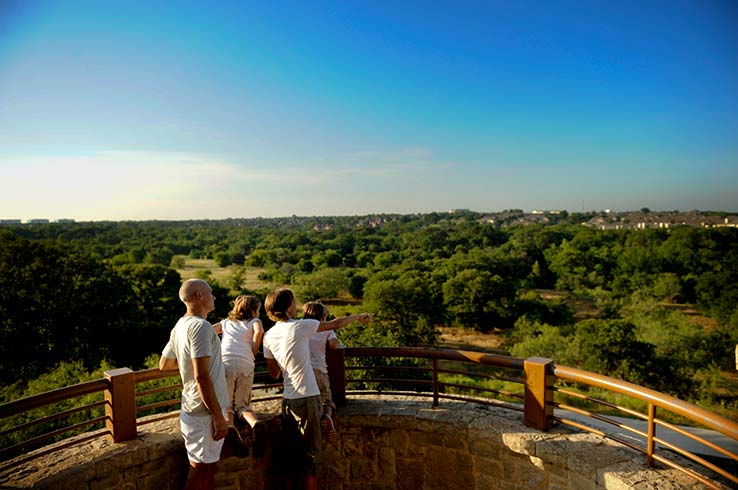 By James Waterson
Spend a day at one of the coolest food halls around, beat the heat at a swimming pool like no other, soar among the treetops on some of the longest ziplines around. Whether you're looking for a relaxing getaway or some adventure, you'll find it on your next summer road trip to Plano. Set just north of Dallas, this North Texas town is easy to reach while still retaining its own identity. Just as ideal for romantic getaways as it is for family vacations, Plano is a must-visit. Start planning your visit by checking out the following top things to do in Plano in the summer, then see all the other possibilities here.
---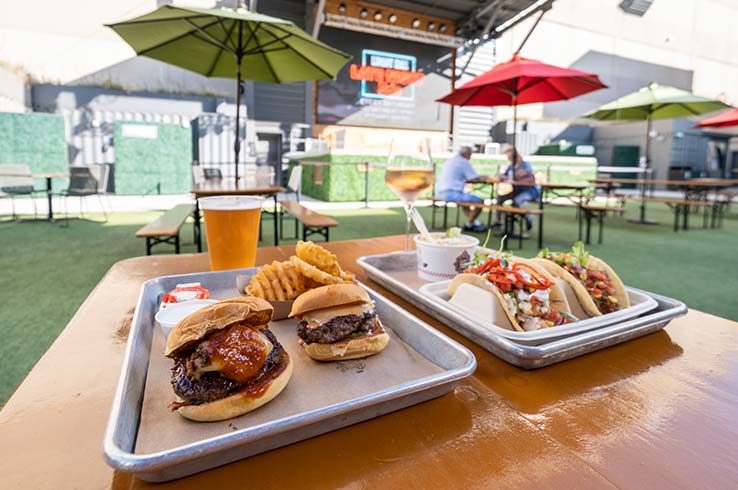 Savor Great Food & Drinks at Legacy Hall
Far more than a great place to hang out, Legacy Hall is a top dining and drinking destination in the Dallas-Fort Worth area. Order up some sushi rolls, ramen, crispy chicken tenders wrapped in a waffle cone, or anything else that catches your eye at the hall's more than 20 inventive, counter-serve-style eateries. Then pair your fare of choice with a cocktail or a craft beer from a bar or the on-site brewery, Unlawful Assembly Brewing Co. With food and beverage in hand, wander out to the expansive, multi-tiered patio where you can sip and savor the day away. The patio area also frequently hosts live music, trivia nights, sports watch parties, and more, so make sure to check Legacy Hall's events calendar so you don't miss out.
When you're looking for good food, great drinks, and a hip and happening place to relish an afternoon or evening with friends or family, there are few better options than Legacy Hall.
---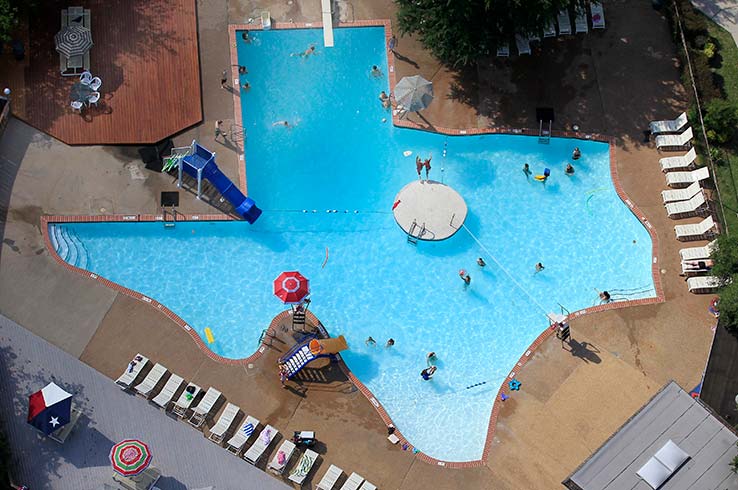 Cool Off in the Famous Texas Pool
It's not every day you get to swim across the Lone Star State. Unless you're going for a splash in Plano's iconic, and historic, Texas Pool. Opened more than 60 years ago, the pool is both a roadside attraction and a summer escape, and it's even listed on the National Register of Historic Places. Jump off a diving board into the heart of the Texas Panhandle, let your kids zoom down two water slides, play a pick-up game of water volleyball, or simply float along anywhere in the 168,000-gallon saltwater pool. With barbecue grills, a snack bar, and picnic tables, the pool is a unique oasis on a hot summer afternoon.
---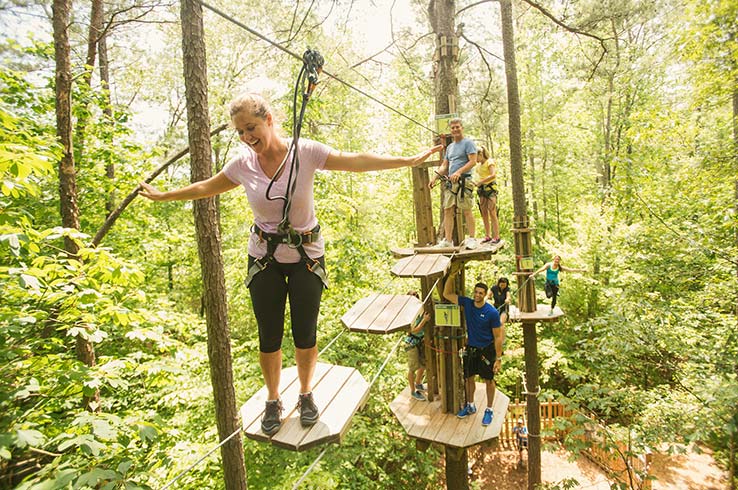 Live Life Adventurously
Conquer obstacles among the treetops, hike among pecan trees and along the side of a trickling creek, and spend an afternoon soaking up the sun in your canoe or kayak. If some time outdoors is what you're after, Plano has what you seek. Covering 800 acres, Oak Point Park is a great starting point to reveling in all the beauty of North Texas. Start at Go Ape!, where you'll feel like Tarzan as you soar on ziplines (the longest being 423 feet), cross from one tree to another, and overcome 40 obstacles perched nearly 30 feet above ground.
As much adventure as Go Ape! has to offer, that just scratches the surface of what you can do in Oak Point Park and Nature Preserve. Tie on your hiking or jogging shoes (or bring your bike) and explore more than eight miles of concrete and five miles of soft-surface trails that follow Rowlett Creek. For some time out on the water, drop your canoe, kayak, or stand-up paddleboard into the park's tree-lined pond. You can also breathe in all the fresh air at Arbor Hills Nature Preserve. Meander along nearly eight miles of pathways or go off-road on the 2.7 miles of trails just for mountain bikers.
Whether you're searching for a high-flying adventure, a place to go for a long run, or an escape to the outdoors, Plano has it all.
---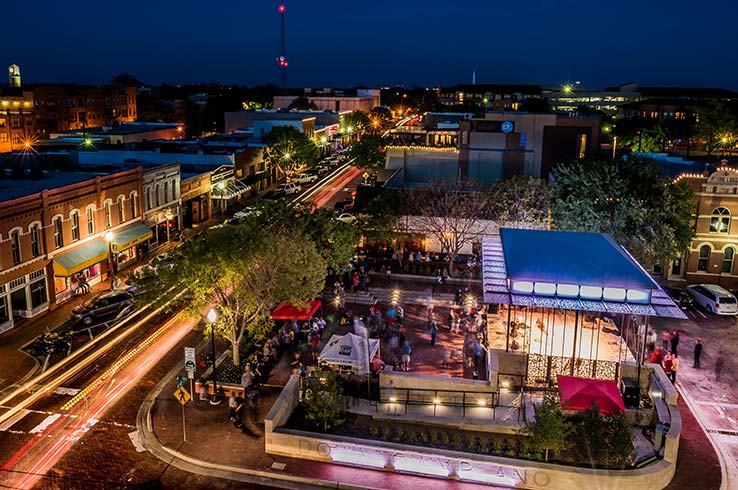 Explore the Downtown Plano Arts District
Full of historic charm and an abundance of contemporary style, the Downtown Plano Arts District is an urban adventuring destination all its own. Greet the morning with a hot (or iced, since it's summer) specialty brew at 1418 Coffeehouse. Order lattes like its signature The Purple Haze, a concoction sweetened with lavender and vanilla, and the spicy The Sgt. Pepper (white hot chocolate with a kick of cayenne pepper) join a long list of other coffees, sandwiches, and even pies. Meanwhile, XO Coffee Company is the kind of spot you'll want to split a French press over an order of steak and eggs, an omelet, or breakfast tacos.
With all the caffeine you could ever ask for coursing through your system, you'll have more than enough energy to discover everything else the Downtown Plano Arts District has going on. Make your way over to Georgia's Farmers Market. Purveyors of homegrown produce and locally made goods ranging from candles and cookie dough to jams and salsas, the farmers market provides a true taste of North Texas. Better yet, it's also open seven days a week. Not far away, you'll encounter one of the only two Shinola stores in the Lone Star State. Browse the collection of fine men's and women's watches, leather goods, bags, and even bicycles, before admiring handcrafted art at Holman Pottery or the stunning pieces at Sutton Place Furniture.
Once the afternoon starts its often colorful transition to evening, you'll want to find a place to unwind with great food and a cold drink. Step into Jorg's Café Vienna and the first thing you'll notice is the aromas of grilled bratwurst and fried schnitzel. Opened by Austrian chef and abstract artist Jorg Fercher, Café Vienna serves everything from brat burgers and Austrian-Hungarian goulash to Wienerschnitzel. Along with all the mouthwatering food, the café also has a lively beer garden where you can sample Austrian and German brews. Craving a margarita or a cocktail? Not only does On the Rocks have a full menu of craft cocktails, but it also has frozen tequilas and liquors on tap. The bar is a convertible open-air hangout set above Urban Rio Cantina & Grill, a Mexican eatery with a fun vibe and a menu packed with mouthwatering tacos, quesadillas, tortas, and enchiladas.
With so much to see and do, you could easily pass an entire weekend in the Downtown Plano Arts District. If you ask us, that would be time well spent.
---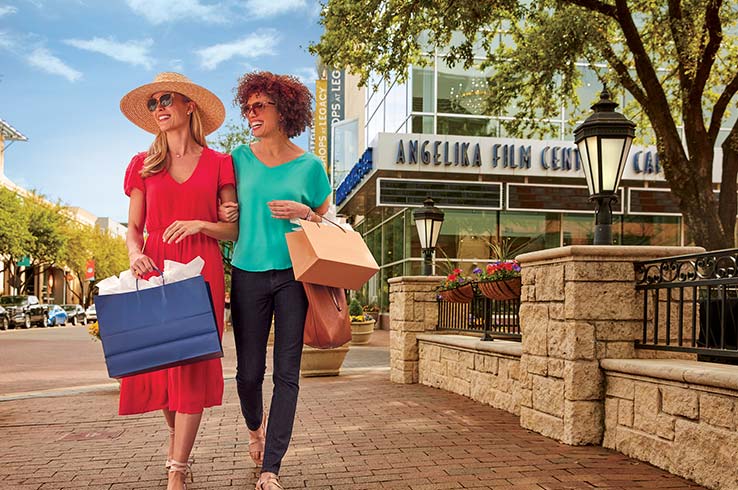 Get in Some World-Class Retail Therapy
If your idea of a great summer getaway includes some shopping, you're in luck. Browse your way through town and you'll find locally owned shops, antique stores, and high-end retailers set in fashionable outdoor malls. A great starting point, especially if you're looking for a break from the daytime heat, is The Shops at Willow Bend. A fully enclosed mall that's anything but traditional, The Shops features the likes of Louis Vuitton, Neiman Marcus, Swarovski, Crate & Barrel, and many more.
While you're here, treat yourself to a truly first-rate meal at The District at Willow Bend. Sink your teeth into dry-aged steaks at Knife Steakhouse, the second restaurant from James Beard semifinalist and Top Chef contestant Chef John Tesar. You can also indulge in handcrafted margaritas and traditional Mexican fare, with a twist, at Mexican Bar Company; delicious gyros and kabobs at Terra Mediterranean; and some of the best fried chicken and biscuits you'll ever have at Whistle Britches.
As much as The Shops at Willow Bend has going on, we're just getting started. Tie on your comfy shoes and get ready for some first-rate window shopping at The Shops at Legacy. Explore this outdoor shopping center and you'll come across Another Time & Place, Apricot Lane Boutique, Dallas Running Company, Kendra Scott, and Urban Outfitters among the more than 20 shops here. When your appetite catches up with you, you won't have to go far for some truly amazing food. The Shops at Legacy has more than 35 eateries that serve cuisine from around the world, from fast-casual spots like Chipotle to Turkish and Indian dishes at Cafe Istanbul and The Yellow Chili, respectively.
No shopping trip in Plano is complete without a stop at Legacy West. Like The Shops at Legacy, Legacy West is an easily walkable area loaded with fashionable stores like Gucci, Credo, and Madewell, as well as cosmetics, home décor, and jewelry stores. Beyond all the stores, you'll find restaurants that afford elevated dining experiences, from northern Italian dishes at Taverna to Toulouse's authentic French cuisine.
As impressive as these places to shop are, we're only barely scratching the surface. Discover all the other ways you can get in some retail therapy here.
---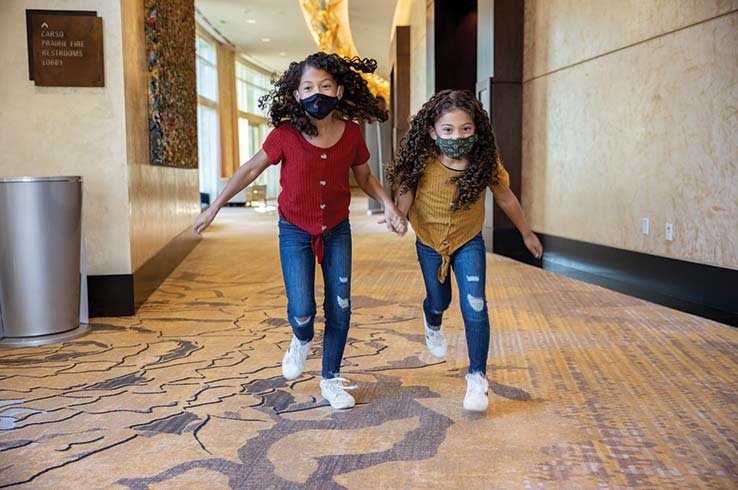 Treat Yourself to a Stellar Stay
No matter what brings you to Plano, you'll need to eventually come back to a spot where you can kick back and unwind. Fortunately, the North Texas city has more than 50 hotels for all budgets, giving you a multitude of choices. To live it up a little, book your stay at the Hilton Dallas/Plano Granite Park. Count sheep on a Serta Suite Dreams mattress and topper, enjoy a spacious and luxurious bathroom with a walk-in shower and deluxe bath products. Step out of your room and you can dive into the swimming pool, work up a sweat in the fitness center, and sit down for a tasty meal at Carso or Prairie Fire, the hotel's two on-site restaurants.
The Sandman Signature Plano-Frisco Hotel is another upscale option ideal for when you're road tripping with your sweetheart. Each guest room features eye-catching décor, plush beds, and separate bathtubs and showers equipped with rain showerheads. Standard rooms are already spacious enough, but the executive king suites that have 600 square feet, kitchenettes, and separate living areas are great for when you're wanting to treat yourself. Even better, the hotel has an indoor swimming pool and hot tub, as well as two of its own restaurants. Finally, the industrial-chic décor of NYLO Dallas Plano Hotel provides a charming, and unique, backdrop to your stay here. Each room features concrete floors and walls brightened by large windows, vibrant rugs, and colorful art.
Of course, there are many more places you can stay in Plano. Discover all the possibilities here.
---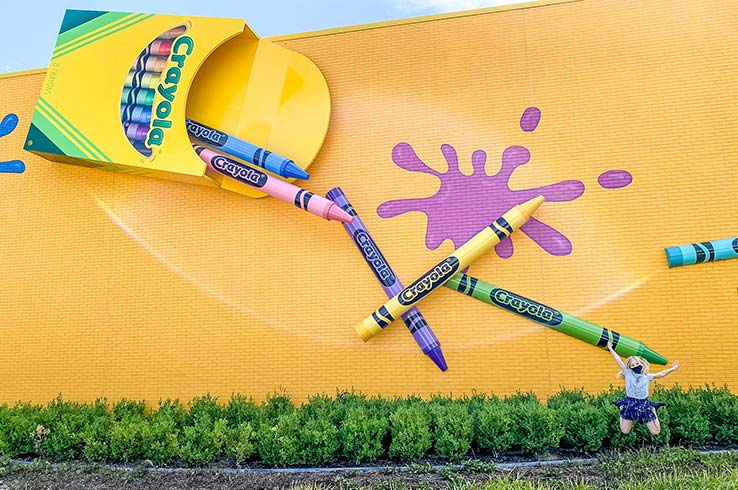 Discover Plano's Family-Friendly Attractions
Traveling with your kids this summer? Plano has an abundance of one-of-a-kind, family-friendly attractions that'll keep everyone entertained. Wander into the wonderfully vivid world of the Crayola Experience, a sprawling hangout with 25 captivating hands-on activities. Gather in a photobooth for a family photo that your kids can color in, watch a crayon-making demonstration, and let your youngsters indulge their inner artist in a 4-D coloring adventure. When you need to recharge, get something sweet from Café Crayola before browsing The Crayola Store.
Like many other places throughout the Lone Star State, Plano became what it is in large part due to the arrival of the railroad in the 1870's. Uncover this part of local lore at the Interurban Railway Museum, a free-to-enter museum that exhibits photographs, equipment, and even vintage railcars that showcase the science of the railroad and its relationship with the city's history.
Meanwhile, the Heritage Farmstead Museum takes you on a different journey to the past. Admire the Farrell-Wilson House, built in 1891, and its historic outbuildings and you'll get a sense of what life was like here in the late 19th and early 20th centuries. Make sure you're here for the farmstead's living history demonstrations or any of its other events. Want something fun to do on a rainy day (or when you want to beat the afternoon heat)? Look no further than PINSTACK. Not only can you go for the highest score in the state-of-the-art bowling lanes, but you can conquer a ropes course and an LED-lit rock-climbing wall; play giant foosball, laser tag, and video games; make your way through a maze; and drive bumper cars. PINSTACK also has its own restaurant with a menu of chef-inspired dishes, an enticing selection of beer and wine, and divine milkshakes.
---
Amazing food, first-rate shopping, stellar family-friendly attractions, and endless things to see and do. What more can you ask for on your next summer road trip? Experience it all, and more, when you visit Plano. See all this North Texas destination has to offer and plan your visit here.
About the Author: James Waterson is the head writer and content specialist for Tour Texas. When he isn't writing about the many great places in the state of Texas, he's planning his next epic adventure in the Lone Star State.
---
---