---
5 of the Best Reasons to Plan a Road Trip to Plano
By James Waterson
Ready to travel again? Hit the road to Plano, a destination that topped WalletHub's list of the top cities in the U.S. for staycations. Luxurious hotels, first-rate restaurants, unique attractions, and lush parks provide plenty of reasons to visit. Set just north of Dallas, this North Texas town couldn't be easier to reach. So, pack your bags, fill your gas tank, and cruise on up to Plano for the kind of getaway that'll have you coming back for more. Plan your visit by checking out the top reasons you should road trip here.
Tour Texas Tip: Due to COVID-19 restrictions and re-openings, please check each attraction and business' open status, restrictions, and hours before visiting.
---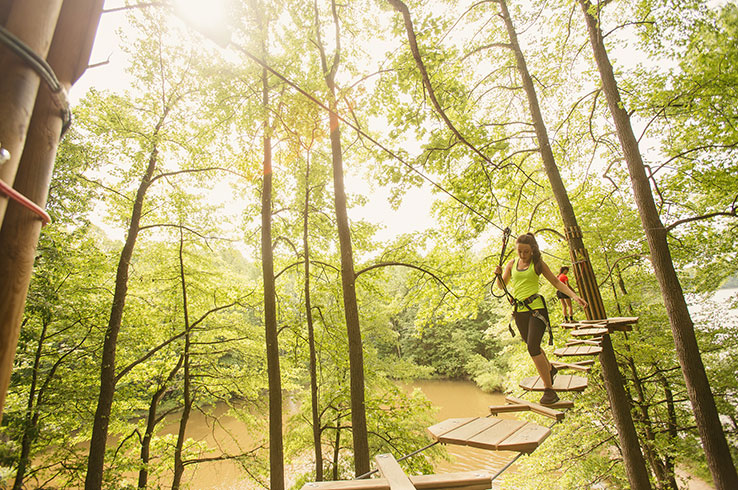 It's Easy to Enjoy the Outdoors
With 85 award-winning parks and nature preserves, Plano is one of the best places in the Dallas-Ft. Worth area to escape to nature. Get an early start to your day at the 800-acre Oak Point Park and Nature Preserve, where you can traverse 3.5 miles of concrete and five miles of soft trails that follow along Rowlett Creek. You can even paddle on the park's pond if you have your canoe, kayak, or stand-up paddle board with you. If high-flying adventure is what you're after, soar among the treetops with Go Ape Adventures. Zoom on long ziplines and conquer 40 obstacles in a two- to three-hour adventure that'll have you feeling like Tarzan.
There are even more trails to explore at Arbor Hills Nature Preserve. Immerse yourself in North Texas' blackland prairies and riparian and upland forests. Explore six miles of paths or go off road on your mountain bike on the cycling trail. Visit in the spring to witness fields full of bluebonnets and yellow daisies, and keep an eye out for owls, woodpeckers, egrets, herons, and scissor-tailed flycatchers throughout the year.
Can't wait to get outdoors? See Plano's other parks here.
---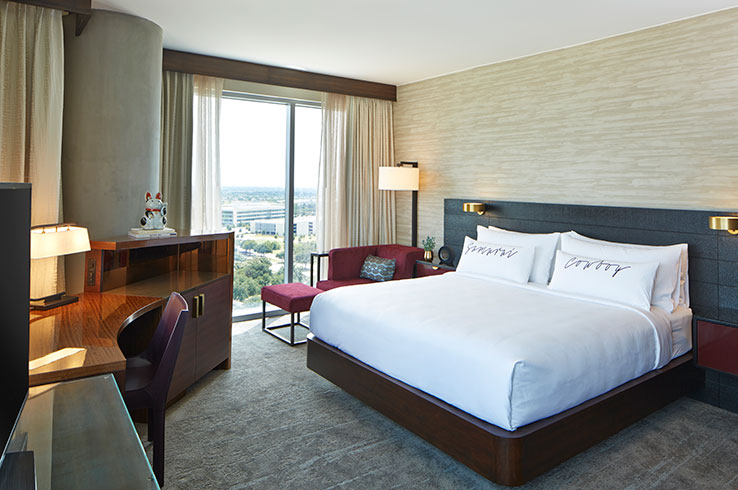 You Can Stay in Luxury
Road trips are all about the journey, but where you stay is just as important. Fortunately, Plano has some of the Dallas and Ft. Worth area's finest hotels. Full of southern charm and décor inspired by the Lone Star State, the Hilton Dallas/Plano Granite Park is an upscale retreat with an ideal a location. Unwind in your spacious guest room that features your very own Serta Suite Dreams mattress and deluxe bath amenities. Want some extra space? Stretch your legs out in a more than 560-square-foot suite with a large bathroom and a separate living room. Once you're rested and refreshed, relax by the tranquil swimming pool or take a short walk to The Boardwalk at Granite Park, a hip and happening spot where you can enjoy waterfront dining at first-rate restaurants.
Location is everything, particularly in a place as large as Texas. Book a room at the Dallas/Plano Marriott at Legacy Town Center and you'll be near some of Plano's top attractions, including The Shops at Legacy, Toyota Stadium, and Crayola Experience Plano. Treat yourself with a stay in one of the hotel's deluxe suites and you'll have your own living room and a balcony perfect for welcoming the day with a cup of coffee. Speaking of majestic mornings, there aren't many places better than the Renaissance Dallas at Plano Legacy West to catch a sunrise. Large windows bathe each room in natural light, while the plush bedding and large walk-in showers will have you feeling like you're right at home.
While you can't go wrong at any of these hotels, they aren't the only great places you can stay in Plano. See your other options here.
---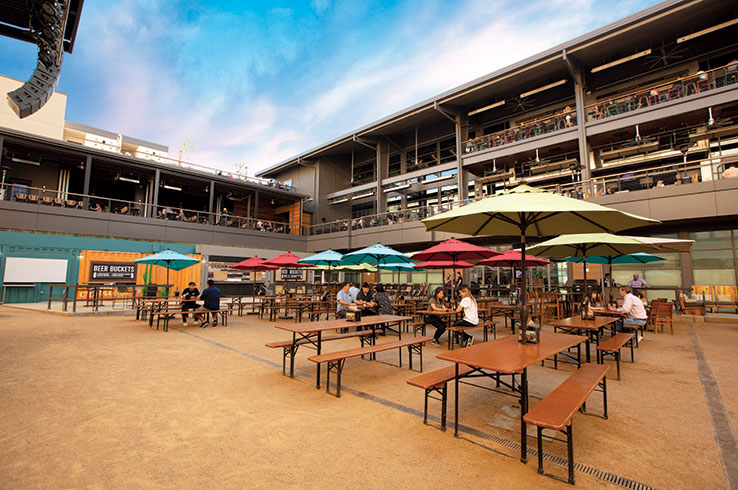 There's No Shortage of Outdoor Patios
From the abundant spices of Indian cuisine to piping hot Neapolitan-style pizzas, Plano's dining menu is as long as it is enticing. Not only will you find whatever you crave here, but there are ample places where you can savor your meal outdoors. Start at Legacy Hall, an all-in-one drinking and dining destination home to more than 20 bars and artisanal food vendors. Italian dishes crafted with handmade pastas, eclectic street tacos, and authentic Texas barbecue are just a few of your options. Pair your dish with a pint from Unlawful Assembly Brewing Co. or a cocktail at Tonic Bar & Lounge and take a seat in the cavernous patio.
If you're a wine lover, you owe yourself a visit to Sixty Vines. Beaujolais, pinot noirs, merlots, sauvignon blancs, Rieslings, and viogniers; reds and whites from around the world are on tap here. Sip the afternoon away as you dig into a pizza, pasta dish, or an entrée like pan-seared rainbow trout or a strip of wagyu beef. Craving a true taste of Texas? The menu at Love & War in Texas is full of dishes like its Gulf Coast tilapia and buffalo ribeye steak inspired by the Lone Star State's diverse regions, from the Gulf Coast to the West Texas Plains. Settle into your own corner of the eatery's patio and dig in like a true Texan would.
Hungry for more? See Plano's other first-rate restaurants with outdoor spaces here.
---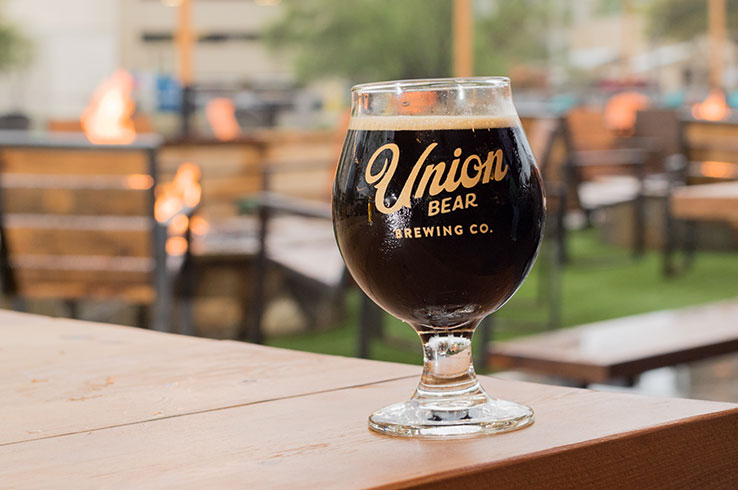 Local Breweries Serve Delicious Craft Beer
If you ask us, we'd tell you there's nothing more refreshing than a delightfully hop-forward IPA or a crisp blonde ale on a sunny Texas afternoon. The only way this can get any better is if the beer you're sipping on is locally made. Plano is home to two craft brewers that create their own tantalizing array of ales and lagers. Located at The Boardwalk at Granite Park, Union Bear Brewing Co. pairs its West-Coast-inspired brews with a food menu full of chef-driven fare. Taking in the view of the boardwalk that borders a small lake as you sip your New England IPA or oatmeal stout is one of the best ways you can spend an afternoon in Plano.
There are even more beers to sip and savor at Unlawful Assembly Brewing Company, one of the major drinkeries at Legacy Hall. Here you'll find beers light and dark, from its Smoke Screen brown ale spiced with notes of cinnamon, tobacco, and vanilla to the award-winning Blind Justice IPA with flavors of citrus zest and floral aromas layered throughout each sip. The brewery also has a rotating selection of seasonal and special release beers that pour from the taps throughout the year, so there's always something new to try.
---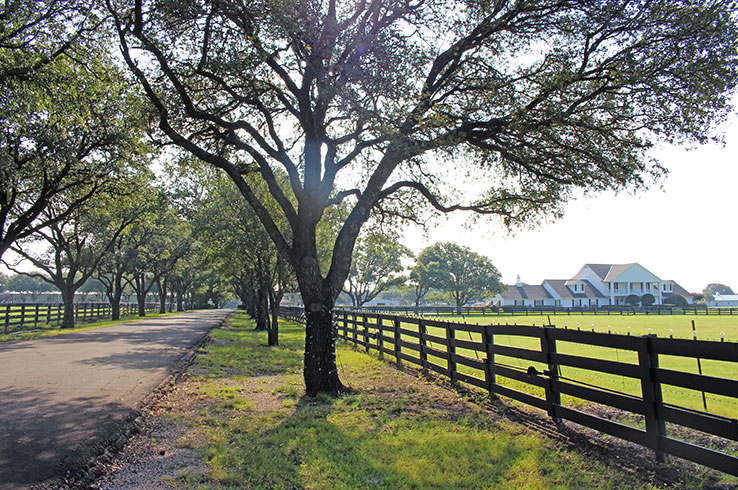 Plano Has Some of the DFW Area's Top Attractions
Wander into the wonderful world of Crayola, tour the ranch where the TV show Dallas was shot, and swim across the great state of Texas. These are just a few of the unique things you can do at Plano's one-of-a-kind attractions. For those of you road tripping with your kids, a visit to the Crayola Experience is a must. Marvel at all the vibrant colors as you watch crayons made right in front of you, then let your youngsters express their inner artists at one of many hands-on activity stations. To see the backdrop of one of the world's most popular TV shows, gallop on over to Southfork Ranch. Book a guided tour of the Ewing's ranch and you'll get a close-up look at Lucy's wedding dress, the Dallas family tree, Jock's Lincoln Continental, and much more. For the most hands-on experience, go on one of the ranch's daily trail rides.
From the piney woods of East Texas to the rugged desert landscapes of Big Bend, Texas is undoubtedly a big place. What better inspiration for a swimming pool than the Lone Star State? Dive into the Texas Pool and swim to the furthest reaches of the Panhandle Plains or relax as you soak up the sun near the Gulf Coast. At 168,000 gallons, this saltwater pool is one of the best places in Plano to beat the summer heat. To get in some window shopping and latte sipping, head to the Downtown Plano Arts District. Full of coffee spots, trendy restaurants, and boutique shops, this part of town was named in the top 10 best downtowns in America by Livability.com.
Of course, this is just a taste of Plano's unique attractions. Discover the rest here.
---
When you're ready to hit the road, plan your next trip to Plano. Set just north of Dallas, this destination offers the best of both worlds: a location that can't be beat and an identity all its own. Plan your visit here.
---
---