---
Top 3 Reasons to Make the Drive to Plano this Summer
By Maggie Heyn Richardson
Larger than life and full of surprises, Plano is anything but predictable. Where else could you find a zany game combining bowling and football, an aerial adventure course with Tarzan swings, and a luxury shopper's paradise with brands like Tiffany & Co. and Gucci? Friendly, welcoming, and full of YOLO attitude, Plano is a fantastic diversion that's calling you this summer.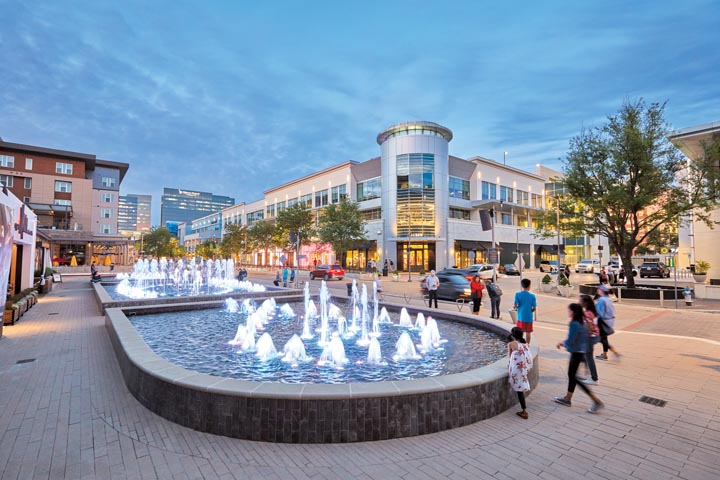 Step Out in Plano's Walkable Entertainment Districts
Park the car or grab a rideshare and enjoy convenient walkable experiences loaded with lively options. From shopping to live entertainment to dining out, there's plenty to do within Plano's well-organized entertainment districts.
Retail enthusiasts the world over know that North Texas is shorthand for retail heaven, and a standout experience in the DFW metroplex is Plano's Legacy West. Take advantage of free parking, then spend the day strolling from boutique to boutique in this 255-acre high-end mixed-use complex.
Your only challenge will be choosing where to spend time among all favorite brands, from Tiffany & Co. to Louis Vuitton, and from Tumi to Johnny Was. More than 20 bars and restaurants provide welcome sustenance for your continued retail stamina. Legacy West is also home to numerous community gatherings including pop-up shops, live music, and children's events. Spending the weekend? Check out the onsite hotel, Renaissance Dallas at Plano Legacy West.
Plano's stunning and walkable Downtown Arts District is the perfect place to catch dinner and a show. Hear your favorite band at the outdoor venue, McCall Plaza. See live music and theater at the 321-seat Courtyard Theater, and take in intimate shows spanning dance to drama at the black box Cox Building Playhouse. The Arts District also features the Interurban Railway Museum, a restored railroad car in Haggard Park that captures a slice of North Texas Railroad history.
All sorts of experiences await you at the waterfront Boardwalk at Granite Park, a mixed-use development that includes an events pavilion, restaurants, and bars all reachable on foot. Sip a craft cocktail at one of many hip bars or savor a progressive dinner by stopping into a few of the onsite eateries. Southern biscuits, tapas, craft beer, and coffee are among the many tastes you'll find here. The pavilion is a great place to catch a special event, including live music or even a group outdoor fitness class.
---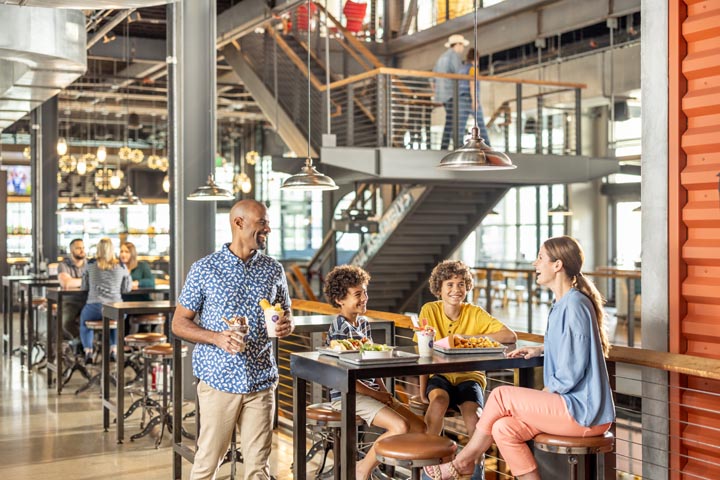 Find New Flavors and Festive Fun in Plano
Kids and adults alike find plenty of experiences in Plano that you won't find in most other places. Take fowling, a mash-up of football and bowling found at Plano's Fowling Warehouse. Forget the need for a bowling ball and shoes. Just toss the pigskin at the pins to earn points. Fowling Warehouse DFW is the first of its kind in the southern United States with 20 reservable lanes that accommodate up to 10 players each. Best of all, the venue also includes a restaurant, bar, and large-screen TVs.
It's not just inventive games you'll find in Plano, but new flavors, too. Cutting-edge food concepts await in Legacy Hall, named USA Today's "2nd Best Food Hall in the U.S." in 2019. The three-story, 55,000-square-foot European-style food hall features three stories of gastronomic experiences that will satisfy your desire to indulge in a leisurely meal with a balcony view. Sample artisan global cuisine from 20 different vendor booths, purchase new wines, and sip craft cocktails in one of the onsite bars or craft beers in the taproom. Enjoy a meal at a full-service eatery. Is your mouth watering? Legacy Hall is an absolute foodie must.
Adults and kiddos will both love the Crayola Experience, a magical place where everyone's favorite childhood activity is leveled up. The 60,000 square feet facility includes 25 hands-on activities that will inspire and reignite your inner artist. A favorite activity is making and naming your very own original crayon. Learn how crayons are manufactured, take a 4D coloring adventure, and star in your own coloring page. You won't believe the many ways to show your colors in the always lively Crayola Experience.
---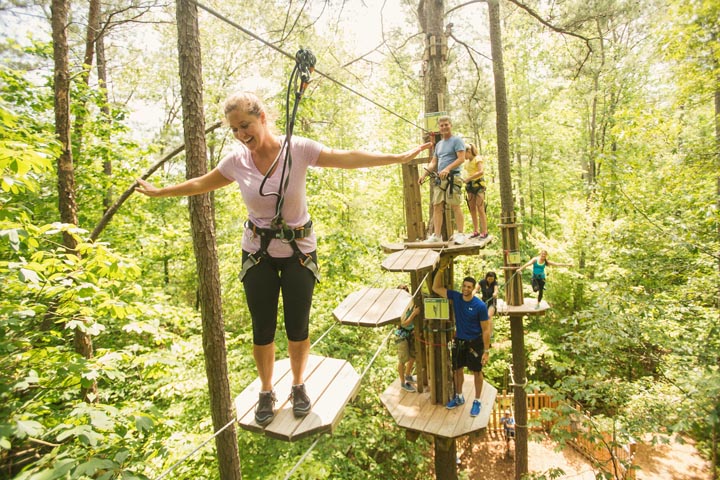 It's Go Time in Plano's Great Outdoors
With a combined 1,000 meticulously maintained acres of natural beauty, Oak Point Park and Nature Preserve and Arbor Hills Nature Preserve are favorite destinations among locals and visitors eager for tranquility and adventure.
Options abound at Oak Point Park and Preserve, an 800-acre complex with a dog park, concrete and soft trails for cycling and hiking, fishing, and canoe or kayak rentals. Spend the day on the water or enjoy spotting native flora and fauna on one of the trails. Smaller Arbor Hills Nature Preserve also includes plenty of amenities, including paved and unpaved hiking trails, an off-road bike trail, and a playground area. Both Oak Point and Arbor Hills parks include restrooms and special events pavilions.
Don't forget your binoculars! Oak Point and Arbor Hills are certified Audubon Cooperative Sanctuaries so you're sure to spot plenty of native and migratory birds in the meadow, forest, and along Rowlett Creek.
Along with peace and quiet, Plano offers serious outdoor excitement with the Go Ape Zipline & Adventure Park aerial adventure course located within Oak Point Park and Nature Preserve. Ranked one of the country's "Top 5 aerial adventure courses," by USA Today, Go Ape Zipline & Adventure Park will get you airborne in no time. Scale numerous rope ladders and crossings that test your dexterity and make you feel like a wild jungle creature. Or maybe like Tarzan since you can also swing from two Tarzan swings. Five zip lines allow you and yours to soar through the dramatic forest canopy. A day at Go Ape is a day you won't forget!
Plano's conveniently located outdoor spaces make is possible to lose yourself in nature right in the middle of the city.
Along with its many attractions, Plano also welcomes visitors with year-round events that add zest and enjoyment to your trip. Plan to attend a food or cultural festival, holiday event, or community gathering. Visit Plano today for tips on planning the perfect getaway, including finding accommodations that suit your taste and price point. This North Texas getaway is a must for your summer travels.
---
About the Author: Maggie is a lover of Texas and an award-winning features writer covering the Gulf South. She's also the author of Hungry for Louisiana, An Omnivore's Journey.
---
---