---

10 Reasons Why You Should Plan Your Next Road Trip to Amarillo
By James Waterson
With nearly 700,000 lane miles of roads and highways across the state, Texas is the ultimate destination for road trippers. Yet few places have as much to offer road warriors as Amarillo. Wander along red-dirt paths past magnificent multi-colored canyon walls, cruise down the world-famous Route 66, and discover a wealth of fun for all ages. No matter what inspires you to hit the road, you'll find a world of one-of-a-kind adventures in Amarillo. Read on to discover why you should plan your next road trip to the Yellow Rose of Texas.
---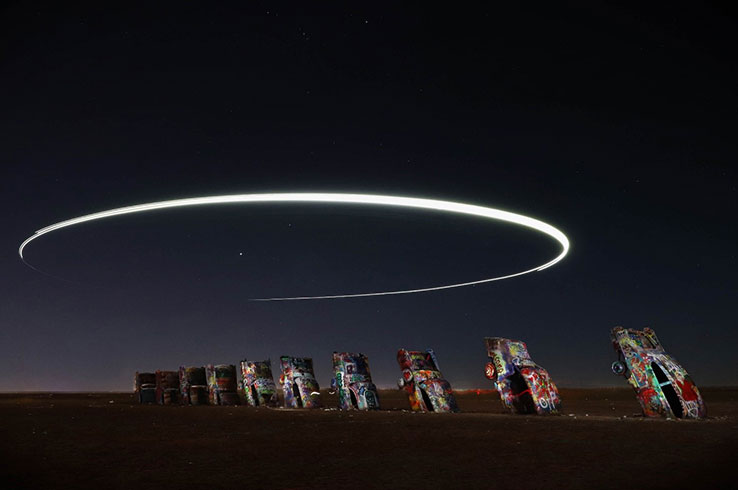 Amarillo is Home to One of Texas' Coolest Roadside Attractions
Travel west from Amarillo along what was once Route 66 and you'll come across a true Texas oddity. Jutting from a flat cow pasture south of I-40 is a line of 10 Cadillacs buried nose first into the ground. Installed in 1974 as a work of public art, Cadillac Ranch showcases the eccentric tailfins found on successive generations of Cadillacs from 1949 through 1963. Today, the roadside attraction is a living work of art, as every auto is covered in a mural of vibrant colors spray painted by previous visitors. Wander around each car to take in all the art or bring a can of spray paint to leave your own mark.
---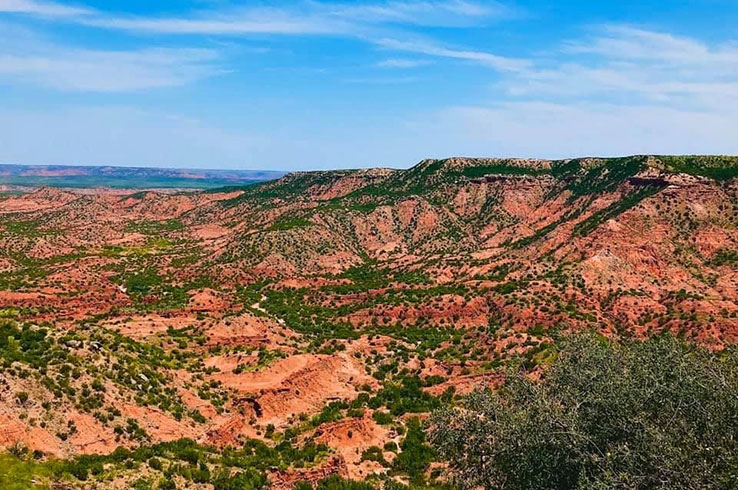 America's Second-Largest Canyon is a Short Drive Away
Canyon walls bathed in many shades of orange, trails lined with prickly pear cacti and Rocky Mountain junipers, and stunning landscapes formed over a million years. At 120 miles long, Palo Duro Canyon is a spectacular natural wonder that you can (and should) get lost in. Take it all in as you wander Palo Duro Canyon State Park's 30 miles of hiking, biking, and equestrian trails that take you along the canyon rim and the tree-lined Red River.
Although each path affords its own adventure, there are a few you won't want to miss. Tread the Lighthouse Trail to see the Lighthouse rock formation, one of the park's most iconic sites. Admire all the majestic scenery as you follow the Lower Comanche Trail that winds and weaves beneath Fortress Cliff past spring-fed streams over 4.4 miles of challenging terrain. For an easier jaunt, and the chance to see native Texas horned lizards, take the Pioneer Nature Trail that goes down to the river.
Looking for something more extreme? Soar over a canyon on a zip line at Palo Duro Canyon Zipline Adventure Park. Enjoy the view as you glide on two zip lines, one of which is more than 800 feet long, on the Tower Zip Round Trip. To take it to the next level, opt for the Canyon Crossing. Embark on a Jeep tour to a point where you'll traverse two swinging bridges before riding a nearly 1/4-mile zip line across the canyon. Whether you're trying to escape to nature or you're chasing your next adrenaline rush, you'll find what you seek in Palo Duro Canyon.
---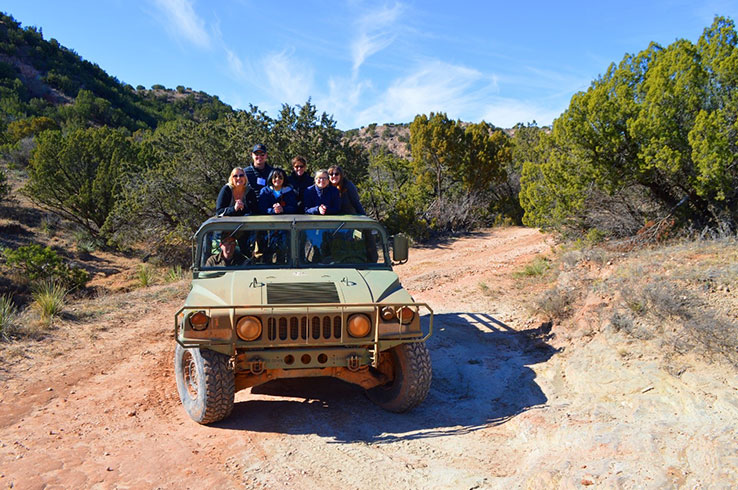 Epic Off Road Tours Are a Must Do
The majestic landscapes of Palo Duro Canyon have inspired writers and artists like Georgia O'Keeffe for generations. One of the best ways you can see its many highlights is on a tour with Palo Duro Creek Ranch. Climb into the passenger seat of a Humvee and watch as the awe-inspiring rock formations and wide-open valleys pass by as you bounce along well-worn trails. If you're in a hurry, check out the one-hour-long Black Hawk Tour that descends into the canyon and takes you to the Lighthouse rock formation, Black Hawk Mesa, and the wildflower-abundant Mule Deer Meadow. Meanwhile, the three-hour Spirit of Palo Duro Canyon tour offers a deep dive into the vibrant colors, jaw-dropping panoramas, and fascinating wildlife that makes the canyon a Texas treasure.
For a different kind of adventure, ride along the canyon's rim on one of Palo Duro Creek Ranch's horseback riding tours. Breathe in the fresh air of the Old West and you'll feel like a cowboy (or girl) in no time.
---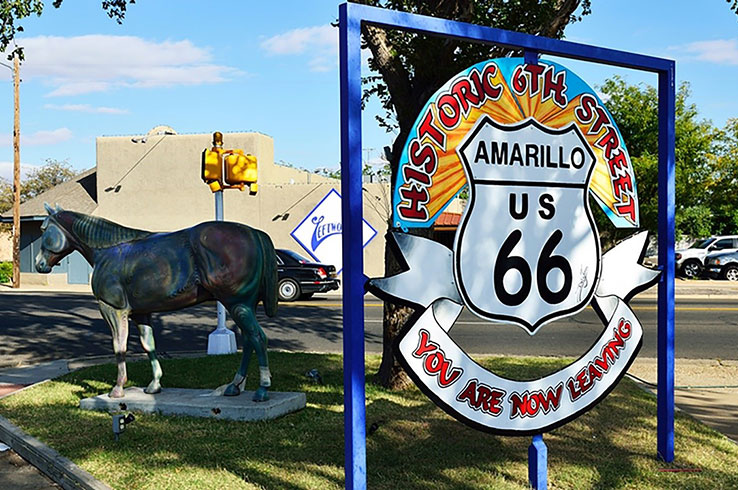 You Can Cruise Historic Route 66
Back in the heyday of American road tripping, Amarillo was a key stop on the Mother Road of America, Route 66. Although the way we travel has fundamentally changed, Amarillo's Route 66 Historic District still thrives. Park your car and set out on a window-shopping extravaganza, as the area has nearly 50 locally owned art galleries and antique, craft, and vintage shops full of one-of-a-kind finds. The epicenter of it all just might be The NAT Ballroom, a shop located in a historic ballroom building with more than 100 vendors that sell everything from artwork and jewelry to handmade goods and home décor. When you aren't browsing for something unique, stop by one of the district's restaurants before savoring a drink and the nightlife at spots like Goldenlight Cantina and El Braceros Bar & Grill.
With so much to see and do, you should leave plenty of time to uncover all that the Route 66 Historic District has to offer.
---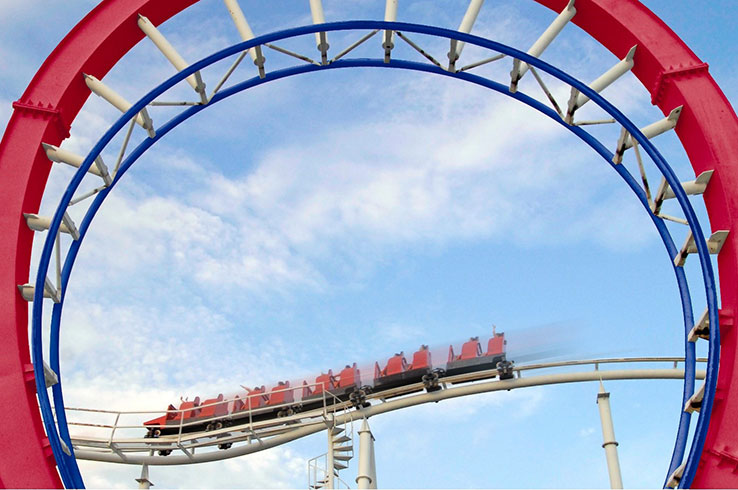 Wonderland Amusement Park Has Something for Everyone
Feel the irresistible pull of gravity as you zoom down a roller coaster. Enjoy the view from the top of a Ferris Wheel. Compete for bragging rights on a confounding miniature golf course and go for the highest score in the arcade. For a fun afternoon out with your family, Wonderland Amusement Park is the place to be. Looking for a rush of adrenaline? Check out the park's thrill rides, like the 1,700-foot-long, Italian-made Mouse Trap that features endless twists and turns. The double-loop Texas Tornado, known as one of the top steel roller coasters in the country, is another of Wonderland's must rides.
If all this isn't enough, the park is also home to an array of thrilling water slides and rides perfect for cooling off in the summer, as well as family-friendly attractions like the Wonder Wheel and the Fiesta Swing. When you need a break from all the high-paced fun, show off your putting skills on the inventive miniature golf course or play the day away in the arcade that has the latest games and classics like Skee-Ball and pinball. Located less than three miles from downtown Amarillo, Wonderland Amusement Park has endless fun that you won't have to go far for.
---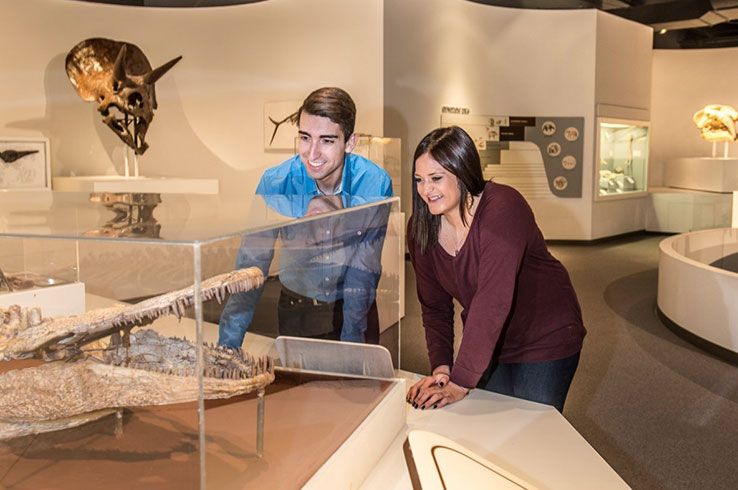 Uncover the Past at Texas' Largest History Museum
The Texas Panhandle Plains may seem like a settled place now, but it wasn't that long ago that it was on the farthest reaches of the Texas frontier. From its original inhabitants to the arrival of pioneer settlers and the establishment of the petroleum industry, this part of the Lone Star State has thousands of years of history to uncover. What better place to delve into all the region's stories than at Texas' largest history museum?
Open since in 1933, the Panhandle-Plains Historical Museum is an all-ranging museum that showcases rare historical artifacts and the finest in Western art. Stroll through and you'll encounter exhibits that cover archaeology, geology, transportation, and textiles, as well as a firearms collection of more than 1,000 pieces that includes weapons from late 15th-century Spanish explorers. The museum's 8,000-piece art collection is as impressive as it is wide ranging, as it includes the works of some of America's finest Southwestern artists like N.C. Wyeth, Frank B. Hoffman, and the museum's former art curator H.D. Bugbee.
For a taste of life on the frontier, gallop on over to Pioneer Town. A recreation of a frontier town, right down to an adobe casita, jail, and a Chinese laundry, it provides an immersive and educational experience for all ages. Along with all its permanent attractions, the museum's temporary exhibits provide something new to see every time you visit.
---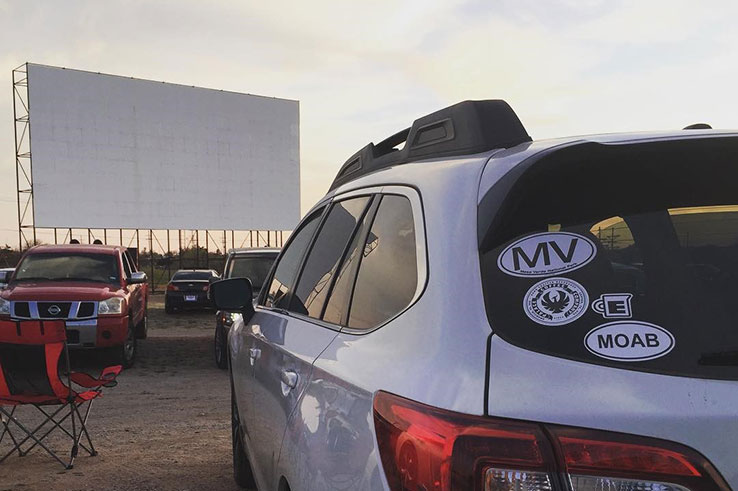 Enjoy an Old-Fashioned Movie Screening
Embark on a road trip and you'll end up spending plenty of time in your car. In Amarillo, you can take your foot off the gas and enjoy a show at one of the last remaining drive-in theaters in Texas. Pull in to the Tascosa Drive-In Theater for a throwback experience you probably haven't had before. The theater screens two movies six nights a week, and each ticket gets you in the door for both flicks. Hit up the concession stand for some chili-cheese nachos, hot dog, or some candy and settle in for a screening of the latest Hollywood films. Head back to your car, tune into the theater's radio station, and enjoy the show.
---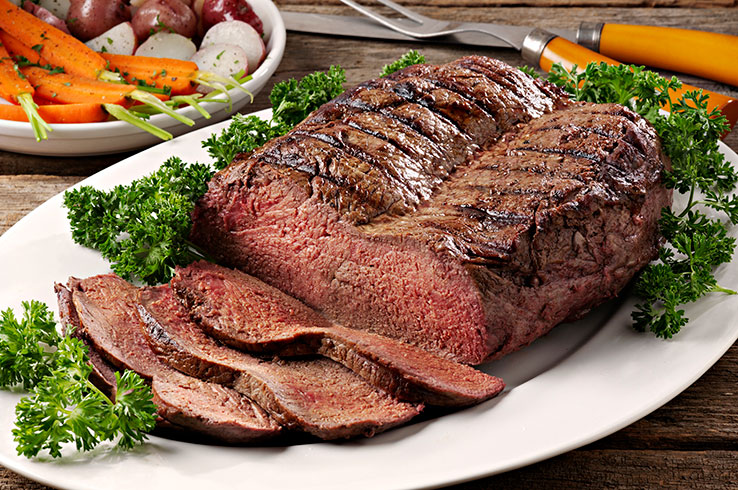 The Big Texan's 72 Oz. Challenge is a Foodie Icon
It's a challenge as big as Texas, and it's got all the notoriety to boot. After all, it's not every entrée that's featured on a show like the Travel Channel's Man v. Food. Ladies and gentlemen, meet the 72 oz. Steak Challenge at The Big Texan Steak Ranch and Brewery. Want to take it on? You'll need a lot more than your appetite. Along with the 72 oz. steak, you need to put away a baked potato, shrimp cocktail, salad, and a bread roll. Should you somehow claim victory, you get to join the list of champion eaters that dates all the way back to 1962. Even if you can't quite finish it, you can save the leftovers for later. Given how delicious the food is, that's still a win in our books.
---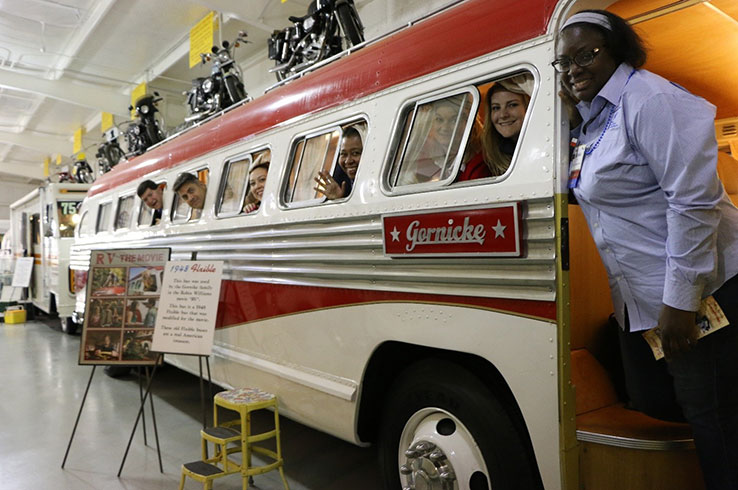 The RV Museum Preserves the Golden Age of Road Tripping
RVs have been around for nearly as long as cars, and they played a key role in enabling travelers to hit the road to explore destinations near and far. Since you're already on a road trip, it's a great time to see how others have participated in this sacred American tradition at the RV Museum at Jack Sisemore Traveland. Observe the evolution in RV design as you check out a collection of restored vehicles from the 1930's through the 70's built by Jack and his son Trent Sisemore. Stroll through the museum and you'll see all sorts of vintage RVs, including the oldest Fleetwood in existence, the first Itasca motor home ever built, and the Flexible Bus from the movie RV. To see them all, step into the Jack Sisemore Traveland RV and camper dealership and ask to see the museum. With free admission, Amarillo's RV Museum is a must visit.
---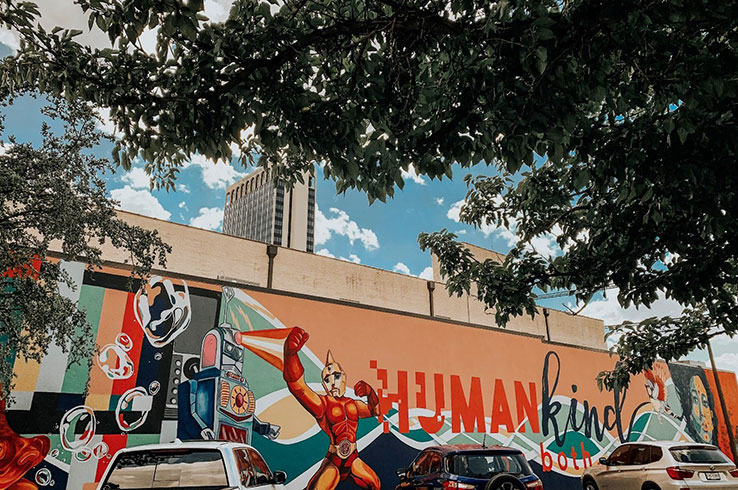 Amarillo's Murals Offer a Colorful Scavenger Hunt
Vibrant in tone and colossal in scale, Amarillo's impressive murals have turned the town into a sprawling outdoor gallery. Check out all 13 of these vast outdoor works, such as the GameQuest mural that depicts popular game characters in all their eight-bit glory and the magnificent HUMANkind, Be Both. Most of these murals are concentrated in the Route 66 Historic District and the downtown area, making it as easy as possible to cruise around to see them all. Pause for a second at each mural to take in all the details large and small, then head out to find the next of Amarillo's amazing works of art.
---
With its remarkable natural wonders and one-of-a-kind attractions, Amarillo is a top spot for your next Texas road trip. Plan your route to the Yellow Rose of Texas here.
---
---