---

Attractions in Amarillo
Explore Amarillo's wide-open spaces in the heart of the Texas Panhandle. Start outside and discover epic views at Palo Duro Canyon, the second largest canyon in the United States. Whether you want to go horseback riding, zip lining, hiking, camping, biking, or just enjoy the beauty of Texas, Palo Duro Canyon is about a half-hour drive from Amarillo and gives you plenty of things to do under a big West Texas sky.
If you're looking for authentic cowboy culture, stop by the American Quarter Horse Association Museum to discover the horse that tamed the American West. For an iconic Amarillo experience, come hungry to The Big Texan Steak Ranch for the legendary 72-ounce steak challenge. After eating your fill, check out Historic Route 66, along with the one and only Cadillac Ranch.
See our creative side with local art all over town. For performing arts, go deep in the "art" of Texas and check out the Globe-News Center for Performing Arts or the Amarillo Civic Center, where you can catch the Amarillo Symphony Orchestra, the Lone Star Ballet, the Amarillo Little Theater and other local and traveling shows.
---
Amarillo Botanical Gardens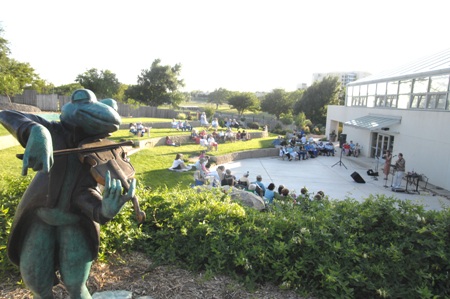 If spending an afternoon savoring the bright colors and sweet smells of acres of flowers sounds like your cup of tea, then the Amarillo Botanical Gardens is a must see. Browse your way through the Mary E. Bivins Conservatory, an indoor garden full of exotic tropical plants, and an outdoor four-acre garden that features seasonal plantings.
1400 Streit Drive
Amarillo, TX 79106
(806) 352-6513
---
Amarillo Museum of Art
Amarillo's art museum displays permanent and temporary exhibits in its three-story facility. These collections include American photography, paintings, prints, drawings, and sculptures, as well as works from Asia and Europe. Admission is free but donations are welcome.
2200 S. Van Buren
Amarillo, TX 79109
(806) 371-5050
---
Amarillo Visitor Information Center
The information center, run by the Amarillo CVC, has all the information you need to know about the town, as well as official Amarillo boot logo souvenirs. Open seven days a week.
401 S. Buchanan
Amarillo, 79101
(806) 374-8474
---
Amarillo Zoo
The Amarillo Zoo is a sprawling 15-acre facility located just north of downtown Amarillo. More than 60 species of mammals, birds, reptiles, and amphibians call the zoo home, including such animals as the African lion and the green-winged macaw.
NE 24th Avenue and Dumas Highway
Amarillo, TX 79105
(806) 381-7911
---
American Quarter Horse Hall of Fame & Museum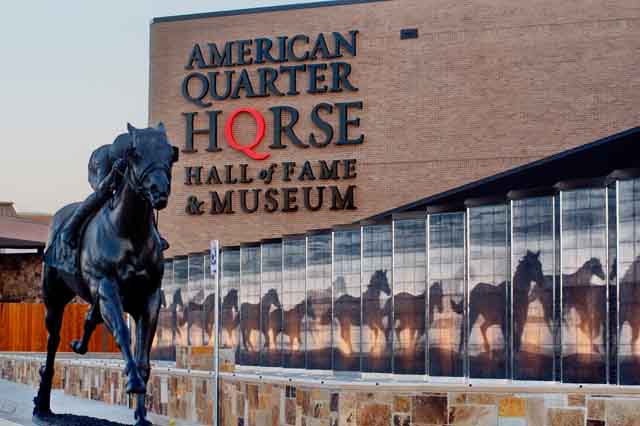 Enjoy an in-depth look at the history of the American Quarter Horse, the world's most popular breed, and the people who helped shape it. A grand hall featuring bronze statues of important horses and humans, a theater, and a kid-friendly education gallery are among the exhibits at this museum.
2601 Interstate 40 East
Amarillo, TX 79104
(806) 376-5181
---
Bill's Backyard Classics
More than 100 classic cars are on display at this museum, which opened in the spring of 2015. Admission is free but donations to support local charities are welcome.
5309 S. Washington St.
Amarillo, 79110
(806) 373-8194
---
Cadillac Ranch
Cadillac Ranch is one of the most visited roadside attractions along Historic Route 66. This public art exhibit features 10 graffiti-covered Cadillacs buried hood-first at an angle that corresponds to the Pyramid of Giza. Visitors are invited to bring spray paint and a friend to create their own art and take pictures. Cadillac Ranch is located on the south access road of I-40, east of the Arnot Road exit, and is open every day of the year, without admission. It is requested that visitors help maintain cleanliness by using the dumpsters located along the access road.
13651 I-40 Frontage Road
Amarillo, TX 79124
(806) 848-0864
---
Cowgirls & Cowboys in the West
Amarillo's #1 rated attraction on TripAdvisor, Cowgirls & Cowboys in the West offers immersive, posse-style horseback rides on the rim of Palo Duro Canyon. Take in the breathtaking scenery as you trot along remote trails as skilled cowboys and cowgirls lead the way.
19100 Farm To Market Rd 1258
Amarillo, TX 79118
Don Harrington Discovery Center
This more than 8,000-square-foot children's museum offers interactive exhibits focused on various scientific topics at its beautiful building next to the Amarillo Botanical Gardens.
1200 Streit Drive
Amarillo, 79106
(806) 355-9547
---
Jack Sisemore Traveland RV Museum
The Jack Sisemore Traveland RV Museum is a collection of unusual vintage RVs from the 1930's to the 1970's, including a completely original 1936 Alma and a 1953 Fleetwood, the oldest of its kind in existence.
14501 Interstate Hwy 27
Amarillo, TX 79110
(806) 609-3377
---
Kwahadi Museum of the American Indian & the Kwahadi Dance Theater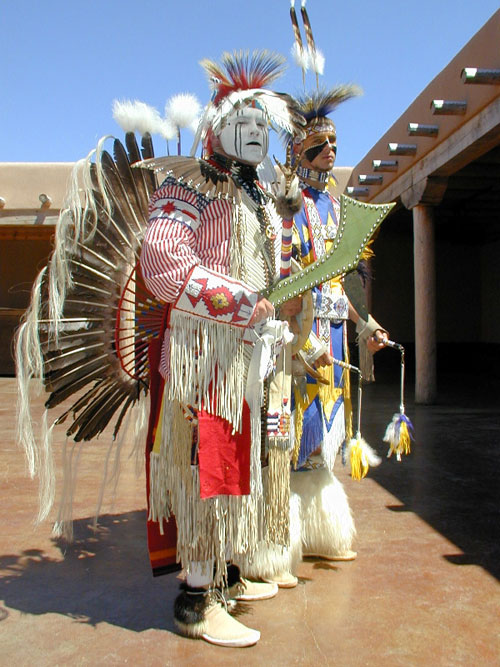 This museum features a robust collection of Native American artifacts and regular performances by the Kwahadi Dance Theater.
9151 I-40 East
Amarillo, 79120
(806) 335-3175
---
Palo Duro Adventure Park & Zipline
Palo Duro Adventure Park & Zipline is located right at the entrance to Palo Duro Canyon State Park. The zip line over the canyon is an experience unlike anything else.
11100 State Highway 217 East
Canyon, TX 79015
(806) 488-2260
---
Panhandle-Plains Historical Museum
The Panhandle-Plains Historical Museum is Texas' largest history museum. More than 14,000 years of history, from dinosaurs to the petroleum boom, are covered within the museum, which also features one of the Southwest's finest art collections.
2503 4th Avenue
Canyon, TX 79015
(806) 651-2244
---
Starlight Ranch Event Center
Starlight Ranch is Amarillo's #1 live music venue. It's a one-of-a-kind experience that brings together the best in entertainment and Big Texan hospitality. Enjoy big name music artists and family activities for all ages including playgrounds and yard games.
1415 Sunrise Dr #4300
Amarillo, TX 79104
---
The Big Texan
Back in 1960, R. J. "Bob" Lee established The Big Texan Steak Ranch in Amarillo, Texas, located on the renowned Route 66, also known as the "Mother Road". The unique design of the restaurant quickly gained popularity along the Mother Road as a must-visit spot for delicious steaks cooked over an open flame. Over time, The Big Texan relocated to I-40 and became well-known for its FREE 72oz steak challenge, which involves consuming a salad, baked potato, shrimp cocktail, and a whopping 72 ounces of beef!
7701 I-40
Amarillo, TX 79118
---
Texas Air & Space Museum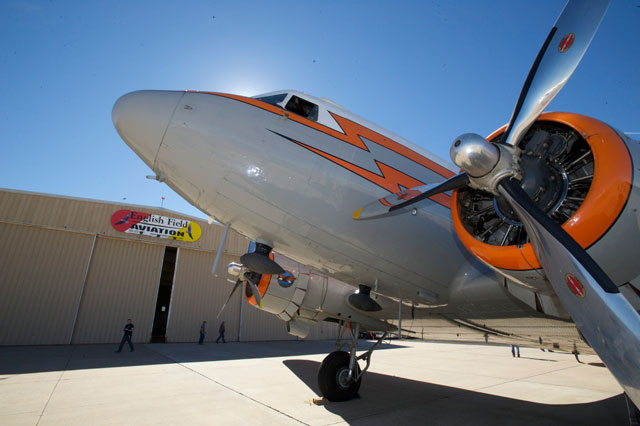 Aviation enthusiasts will find much to enjoy about the Texas Air & Space Museum.Aircraft such as the P-51D Mustang, a DC-3 from the 1930s that is on the National Register of Historic Places, and a NASA Shuttle Training Aircraft are on display, along with various other exhibits that cover important aircraft used throughout the 20th century. No admission charge but donations are welcome.
10001 American at Tiltrotor Drive
Amarillo, TX 79111
(806) 335-9159
---
Wildcat Bluff Nature Center
Wildcat Bluff is a more than 600-acre natural environment just a few minutes from downtown Amarillo. The nature center is known for the den of bobcats that call the area home.
2301 N. Soncy Rd.
Amarillo, 79124
(806) 352-6007
---
Wonderland Amusement Park
Wonderland Amusement Park has been family owned for more than 60 years and one of the region's best amusement parks. More than 60 rides, including the top-rated Texas Tornado, and a miniature golf course comprise the parks attractions.
2601 Dumas Dr.
Amarillo, 79107
(800) 383-4712
---
---