---

Things To Do in Amarillo
Nine of the Most Unique Things to do in Amarillo
Ride horseback in the second largest canyon in the country, take a photo with one of the most recognizable landmarks in Texas and go retro on historic Route 66. Welcome to Amarillo, where rugged cowboy culture meets big-city sophistication. Whether you're looking for your next amazing outdoor adventure or you want to see something new, you'll find many unique things to do worthy of any bucket list. Discover some of these experiences below and see what else we have to offer here.
---
Take the 72 OZ. Steak Challenge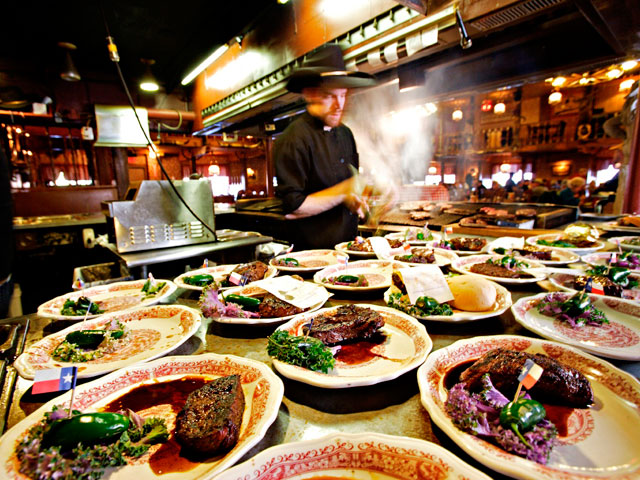 If you're lookin' for a Texas-sized tussle, you'll more than meet your match at The Big Texan Steak Ranch. Perched right along Route 66, the restaurant serves up a challenge fit for only the hungriest cowboys and cowgirls. The star of the show is a titanic 72 oz. steak that'll tease you one delicious bite after another. Yet that's not all. Your steak comes with a shrimp cocktail, baked potato, salad and roll, and you must finish it all in one hour. Clean your plate and your name will be forever elevated to The 72 Oz. Hall of Fame, joining many other brave souls who have taken on the challenge since the 1960s. Unable to finish? You'll have to pay $72 for your meal, but at least you'll have plenty of leftovers.
Although the 72 Oz. Steak Challenge has made it famous, The Big Texan Steak Ranch has plenty of other tasty things you can sink your teeth into. Flavorful steaks, baby back ribs rubbed with a special seasoning and hearty sandwiches are all on the menu. Enjoy it all as you take in the charming Old West ambiance and sip on a pint of craft beer brewed in house.
---
Leave Your Mark at Cadillac Ranch
Set out west on I-40 from Amarillo and it won't be long before you come across one of the most curious sights around. Ten Cadillacs, each covered in a kaleidoscope of spray-painted colors, stand in an empty field as if a child buried his or her Hot Wheels in the ground. This Stonehenge-esque public art installation, created in 1974, is now one of Texas' most notable roadside attractions. Bring a can of spray paint and add your own bit of art or snap a few photos for your Instagram page. A stunning slice of Americana featured in music videos and across pop culture, Cadillac Ranch is a bucket-list worthy stop out here in Amarillo.
---
Get Your Kicks on Route 66
At its peak, there was nothing that represented America's adventurous spirit more than Route 66. Running from Chicago to Santa Monica, California, this 2,448-mile highway was a major route taken by road trippers and travelers, elevating it to its own spot in pop culture. Encounter a piece of the past as you explore the Route 66 Historic District, a 13-block area neighborhood that runs along 6th Street. Take your time as you wander from one of the more than 60 antique shops and boutiques and check out such local landmarks as The Natatorium and the San Jacinto Fire Station. Then step into a bakery or restaurant for a refresher or indulge in a few drinks at one of the several bars and pubs in the area.
Uncover treasures of a bygone era and savor delicious drinks and food in the Route 66 Historic District.
---
Explore Palo Duro Canyon
Jaw-dropping rock formations, sloping cliffs glowing orange in the sunlight and rugged valleys covered in mesquite and cottonwood trees. Take in all this spectacular natural beauty when you visit Palo Duro Canyon, the second largest canyon in the United States. With more than 30 miles of hiking, biking and equestrian trails to follow, there's more than enough here to keep you busy. Pause for a moment, observe the silence and you might hear the chirps of painted buntings, orioles, and woodpeckers. Look at the canyon walls and you'll see layers of color that appear as if they were painted. Instead, they show the layers of sedimentation exposed as the canyon formed over millions of years.
Make your way to the canyon floor to visit The Trading Post, where you can browse for souvenirs and get a bite to eat before exploring even more trails. Open throughout the year, Palo Duro Canyon State Park is a must-visit in the summer when you can catch a performance of TEXAS, an outdoor musical drama that that tells the story of Texas with songs, dances and plenty of humor. If you're looking to get the most out of your time here, camp under the stars or book one of the four cozy cabins that offer remarkable views. Wake with the sunrise, but don't take too long to get started. After all, there's always something new to discover in Palo Duro Canyon.
---
Halt Your Hunger at Coyote Bluff Cafe
When you're hankerin' for hamburgers done the right way, head on over to Coyote Bluff Cafe. Step inside the unassuming country shack and you're greeted by the heavenly aromas of sizzling beef and fried potatoes. Coyote Bluff Café is known for its inventive burgers made with half-pound patties and fresh buns made by a local baker. The restaurant's own standout is the Burger from Hell, a tongue-melting concoction topped with fresh sautéed jalapenos, Tabasco, Coyote Hell Sauce and your standard fixings. Of course, burgers aren't the only thing on the menu, as the restaurant also serves up steaks, chicken sandwiches and salads. Lunch is the cafe's busiest time, so stop by then to experience the rush with all the locals.
---
Play at the Starlight Ranch
Find your way through a maze, play your way through an 18-hole mini-golf course and catch a performance by some of the best musicians around. There's only one place you can do all these things together: The Big Texan Steak Ranch's Starlight Ranch. Hit a few golf balls on the driving range and soar above it all on the Route 66 Zip Line. It wouldn't be a day out without some great food, so head over to the concessions area for something that'll please your palate. Cap it off with some wine tasting before settling in for the show on the main stage. The ranch has a bit of something for everyone, making it one of the top family-friendly attractions in Amarillo.
---
Giddy Up to Oliver Saddle Shop
Even the roughest and toughest cowboys need to gear up, and the ones here in the Texas Panhandle do so at Oliver Saddle Shop. A 100-year-old Texas institution, the shop's forte is high-quality leather saddles that you'll see right when you walk through the front door. Get an up-close look at some of the more expensive saddles (that are priced as high as $7,000) to admire the intricate designs etched into the leather. No horse? No problem. You may still find another piece of cowboy gear to take home with you, such as leather chaps, belts and wallets, as well as handmade knives and spurs. Don't forget to pick up a souvenir t-shirt on your way out to remember your visit.
---
Ride the Range Like a Cowboy
Far West Texas is cowboy country, and you can't come this way without feeling like one yourself. You can do just that with Cowgirls and Cowboys in the West, which offers immersive rides on the rim of Palo Duro Canyon. Take in the breathtaking scenery as you trot along remote trails as skilled cowboys and cowgirls lead the way. The one-hour tour is a gentle ride best suited for families, children and new riders, while the immersive two- and three-hour excursions offer plenty of time in the saddle (and a bit of history along the way). Breathe in the fresh air and enjoy a day out on the trail, just like a cowboy would.
---
Hear the Tales of the Old West
It's not every day you get to walk through thousands of years of history, but that's exactly what awaits at the Panhandle-Plains Historical Museum. Get an up-close look at prehistoric arrowheads and pottery, fossils from the Late Triassic Period and firearms from the Old West as you uncover the many tales of the animals and people of the Panhandle Plains. Meander into Pioneer Town and you'll be in the middle of a recreation of a Panhandle community at the turn of the 20th century, complete with a jail, church and a Chinese laundry. The museum's other permanent exhibits cover everything from archaeology and geology to Texas art and the advent of the petroleum industry. With much to see and plenty of interactive exhibits, the Panhandle-Plains Historical Museum provides a great learning experience for folks of all ages.
Nestled high in the Panhandle Plains of Texas, Amarillo is a one-of-a-kind destination home to the kinds of things to do that belong on your bucket list. Plan your visit here.
---
---