---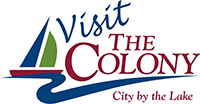 5 of the Best Ways to Experience The Colony's Delicious Food Scene
Sizzling steaks, hamburgers topped with kimchi or grilled pineapples, inventive dishes served by independent food trucks, and elevated dishes best enjoyed with lake views. No matter what you're craving, you'll no doubt find it in The Colony. Home to one of the Dallas-Fort Worth area's most impressive culinary scenes, this North Texas destination is the ultimate foodie getaway. From cozy eateries to restaurants that offer flavors from around the world, The Colony has it all. Read on to sample the many possibilities, then plan your tasting tour here.
---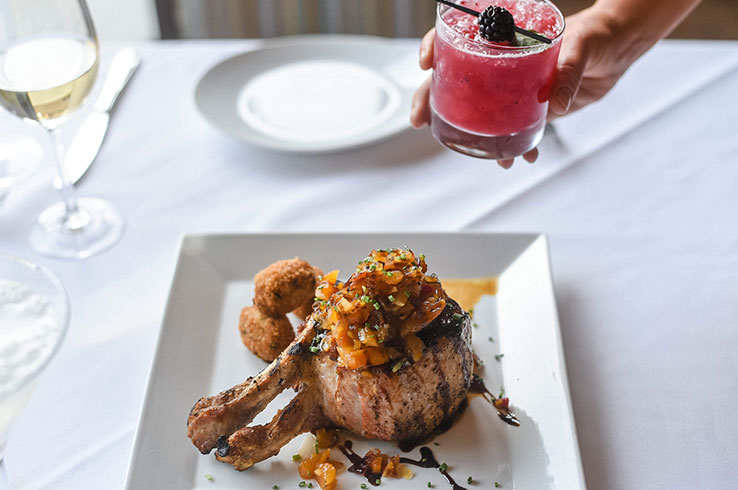 Indulge in Refined Dining
When you're looking for the ideal spot for your next date night, The Colony's sophisticated restaurants offer a full serving of romance. Set in Grandscape, the city's largest entertainment district, Davio's Northern Italian Steakhouse is a must if you're craving prime cuts of beef, handmade pasta, and fresh seafood (that's flown in from Boston daily). Texas' only location of celebrity chef Steve DiFillippo's chain of restaurants, Davio's matches its Kobe beef meatballs, 55-day aged steaks, and dishes like Maine lobster risotto and lemon fusilli with a glass from the eatery's impressive list of wines from Italy and beyond.
Nearby, Seven Doors Kitchen and Cocktails' lively atmosphere and delicious drinks complement a menu full of fresh takes on steak and seafood dishes. Walk through the restaurant and you'll no doubt spot seven French colonial doors from the 1800's that are Seven Doors' namesake. Settle in and sample house specialties like candied bacon, herbed prime rib, the tuna tower, and Korean barbecue tacos along with an abundance of beers, wines, and signature cocktails like the Seven Doors Martini. Made with New Amsterdam vodka, nitro coffee, Kahlua, and simple syrup. For a taste of North Texas, look no further than Twigs American Kitchen. Here, you'll find chef-crafted entrees made with local flavors and seasonal produce providing new dishes and drinks to try throughout the year.
These are just three of The Colony's first-rate restaurants. Discover your other options here.
Tour Texas Travel Tip: Davio's Northern Italian Steakhouse and Seven Doors Kitchen and Cocktails frequently host holiday meals and special events like wine tastings and chef's dinners. Check each restaurant's website for the inside scoop on what's coming soon.
---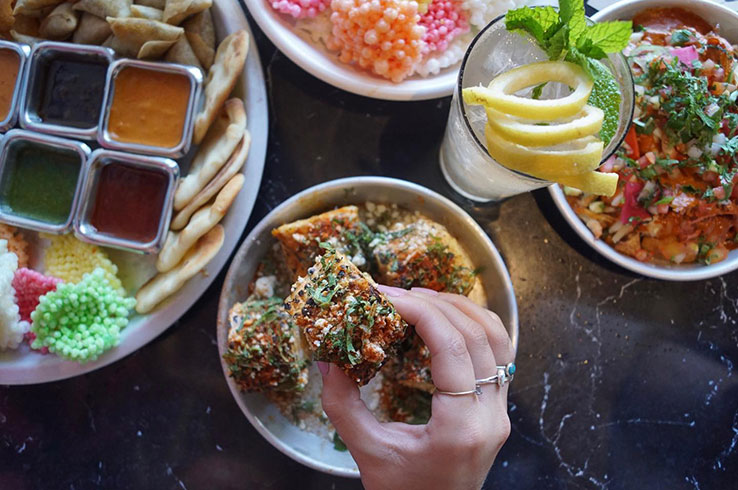 Savor Flavors from Around the World
The Dallas-Fort Worth area is one of the country's most diverse places, and The Colony is no exception. In fact, this destination is full of restaurants that dish out the kinds of globe-spanning tastes that'll please your palate. Sink your teeth into drool-worthy tacos, tortas, and quesadillas that beautifully merge Mexican and Asian flavors at OMG Tacos, a Southern California-style taqueria that's one of six eateries at the Shacks at Austin Ranch. Make sure to try the teriyaki chicken taco, steak and French fry burrito, hot Cheetos elotes, or one of the bites made with all vegetables for vegan fish.
Meanwhile, the inventive Korean-inspired burgers at K-Pop Burger are well worth the visit. Choose from burgers topped with kimchi, spicy ramen noodles, fried Spam and gimmari, and more, with each named after a major Korean city. Hungry? Take on the Bangtan, a hefty burger with five eight-ounce patties topped with grilled pineapple, jalapenos, Spam, American and pepper jack cheese, and K3 sauce. If you've ever wondered what classic American dishes tasted like with Indian spices, explore the menu at Curry Up Now. Dig into a tikka masala burrito, Indian-inspired poutine, naughty naan (a flatbread topped with mozzarella, caramelized onions, jalapeno, and your choice of protein), or traditional dishes like aloo gobi and papdi chaat at this international-inspired restaurant.
Not only can you relish global flavors at these restaurants in The Colony, but you'll find plenty more places that offer creative takes on iconic dishes. Taking your time to try them all is like going on a journey around the world but you can leave your passport at home.
---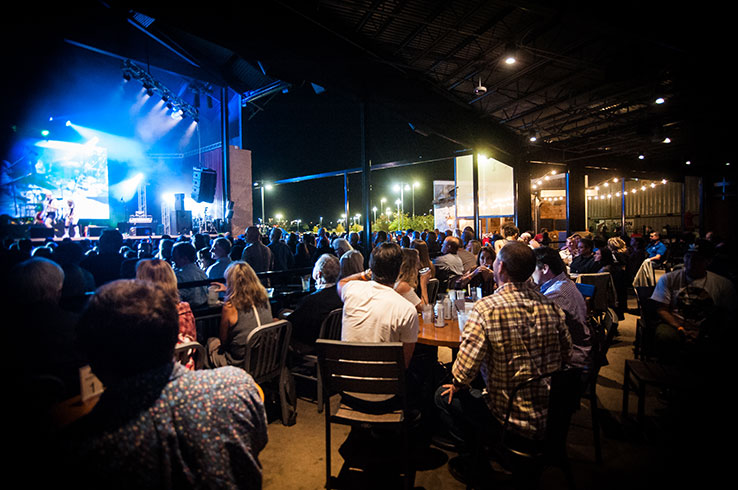 Take in Dinner & A Show
What goes best with a great meal? Some live music, of course. The Colony is home to two of the Dallas-Fort Worth area's top dining and entertainment venues, the likes of which have seen some of the nation's biggest names. Featuring a menu full of Creole-Mexican fusion dishes (you've got to try the Zydeco enchiladas or the amplified shrimp tacos), Lava Cantina boasts a covered, open-air music venue that has hosted the likes of Snoop Dogg, Steve Aoki, and Lance Bass. It's also a great place to catch a family-friendly film screening or a free concert at any time of the year.
If jazz is more your style, Windmills is unlike anywhere you've ever been. The only American location of a craft brewery and restaurant concept hailing from Bangalore, Windmills combines its Indian flavors with dishes like wagyu chicken-fried steak and grilled New Zealand lamb chops. Choose from one of the light or dark brews, ranging from a light and refreshing blonde ale to a hearty Russian imperial stout, or a unique cocktail like the signature Windmills mule made with strawberry-infused bourbon. Make sure you're here for one of the live shows and you'll be in for a treat, as the restaurant frequently showcases the talents of Grammy award winners.
Lava Cantina and Windmills aren't just great places to eat or to get a drink; they're two of the best nightlife spots in the Dallas-Fort Worth area.
---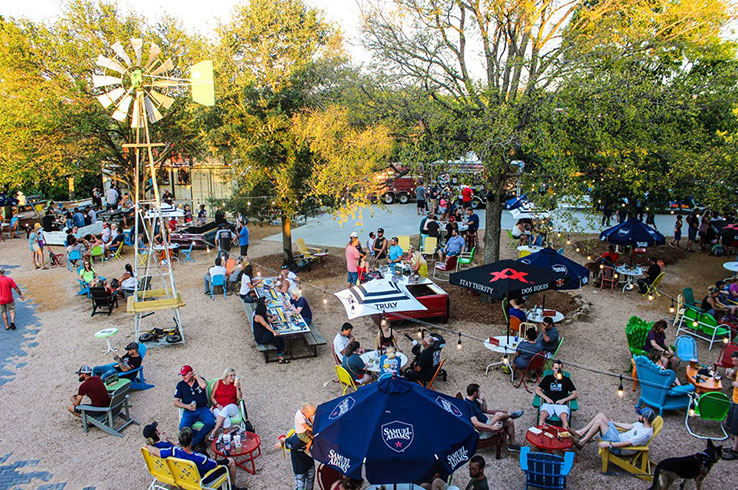 Feast on Food Truck Eats
Whether you're looking for a low-key date night or to dig into seriously tasty fare in the open air, you'll want to head on over to Truck Yard. An outdoor food and beer garden, Truck Yard features a rotating array of some of the region's finest food trucks. Savor Texas barbecue, Tex-Mex, Caribbean, or Asian cuisine as you sip frozen and draft cocktails or the creations of Beard Science, the on-site microbrewery. One constant here is the cheesesteaks cooked to order at Truck Yard's own kitchen. Get your fill and stick around to play a yard game, visit Barney Smith's Toilet Seat Art Museum, or appreciate live music on the weekends. Much more than a culinary destination, Truck Yard is the kind of spot you can spend an afternoon and an evening.
---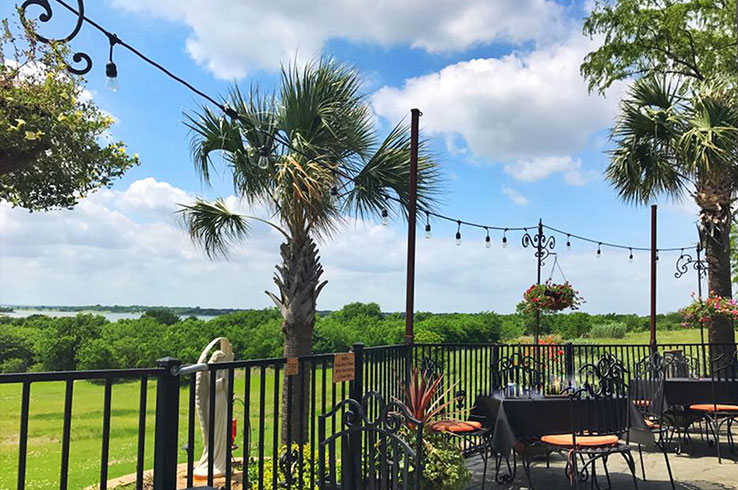 Enjoy Delicious Fare & Amazing Lake Views
There's nothing better than a mouthwatering meal paired with a breathtaking view, an easy find if you're in The Colony. That's because this destination sits along the scenic shores of Lewisville Lake, and boasts several restaurants that dish out stellar food to match the picturesque panoramas. A local institution for Tex-Mex for more than 20 years, Angelina's Don Francisco's outdoor patio is just the place to take in the scenery as you savor sizzling fajitas, flautas, and brisket tacos.
To feel like you're right on the water, Rockin' S Bar & Grill puts you there. With the only floating patio in town, the restaurant's inviting and casual atmosphere and the aromas of fried seafood will transport you to the coast. Set within Hidden Cove Park and Marina, it's a great stopping point to recharge after a day on the lake or to enjoy all the relaxed waterside vibes.
---
Hungry yet? From sidewalk cafes to high-end eateries, The Colony's diverse dining scene has something to satisfy all palates. Discover all your options here, then plan your visit to this Dallas-Fort Worth destination.
About the Author: James Waterson is the head writer and content specialist for Tour Texas. When he isn't writing about the many great places in the state of Texas, he's planning his next epic adventure in the Lone Star State.
---
---