---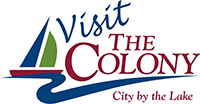 Things to Do in The Colony
The Colony is a lively town on the southeastern bank of beautiful Lewisville Lake that has plenty of appeal for nature lovers, shoppers, and those who love a fantastic round of golf. Swim, fish, kayak, or go waterskiing on the lake, or pack up your tent and stay overnight near the water. Spend a day marveling at all the home furnishing options at the massive Nebraska Furniture Mart of Texas, one of several retailers in the expanding development of Grandscape. Meanwhile, golfers of all levels will find an abundance of well-designed and award-winning lakeside golf courses. There are so many things to do in The Colony. Below are some suggestions on where to begin your adventure.
---
Plan the Ultimate Dinner and Show at Lava Cantina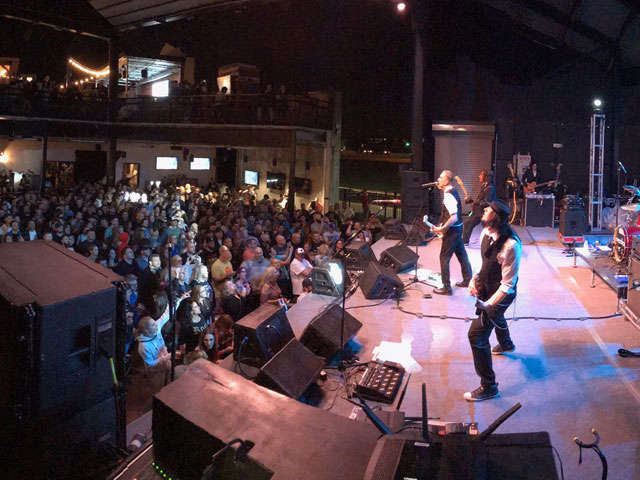 The highly anticipated new concert venue, Lava Cantina opened in 2017 along the evolving boardwalk within Grandscape. The live music venue spans nearly 28,000 square feet and welcomes concert goers with a Bourbon Street exterior. The interior provides both indoor and outdoor stages, multiple levels, VIP seating, retractable roofs and more. The massive concert venue, bar and restaurant seats over 1,500 guests and hosts every type of music from local artists to major international acts.
The menu at Lava Cantina is a creative rock n' roll themed Creole-Mexican fusion that offers selections such as Great Balls of Fire, Stevie Ray Prawns, Motley Mexican Salada and Sharp Dressed Duck.
Treat your guests like the rock stars they are. Lava Cantina makes the perfect setting for private memorable gigs such as wedding receptions, birthdays, reunions, fundraisers and holiday parties.
---
Play a Round at an Award-Winning Golf Course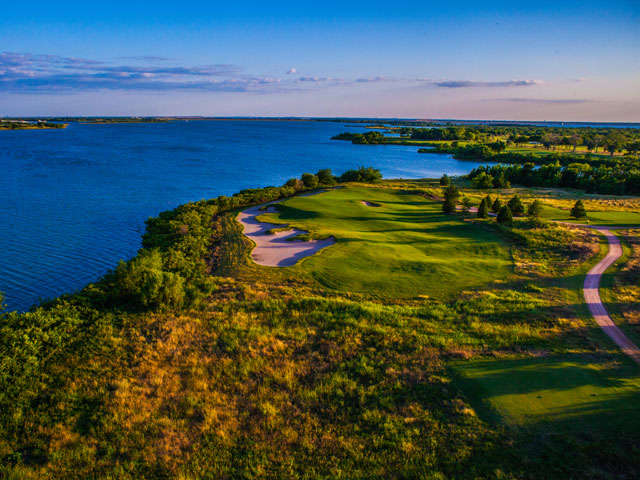 The Colony is home to three top-ranked golf courses that provide beautiful views of Lewisville Lake, unique layouts, and challenging play for golfers of all levels of skill.
Designers Tripp Davis and Justin Leonard created the Old American Golf Club to emulate the timeless golf courses designed in the "Golden Age of Golf Architecture," between 1910 and 1937. Their careful attention to detail is evident in the course's natural contours, hazards, native grasses, and green shapes reminiscent of the classics.
Admire the throwback nature of the course, as well as all the spectacular lake views while you play through each of the 18 holes. Sink your last putt and you'll understand why this course has been ranked among the best in Texas by such publications as Golfweek and Golf Magazine. The Old American Golf Club is proud to host the Volunteers of America Classic LPGA tournament.
Modeled after the sea-washed grasses and wind-swept dunes of Scotland's legendary links courses, The Tribute Golf Links & Guest House offers a playing experience unlike anything else in the Dallas and Fort Worth area. Not only does the 18-hole course take design cues from famous Scottish courses, it emulates famous holes from places such as St. Andrews, Prestwick, and Muirfield.
For even more picturesque views, head to Stewart Peninsula Golf Course, a nine-hole treat built on a peninsula jutting into Lewisville Lake. Featuring meticulous design details like the wind factor changing every two holes, Stewart Peninsula Golf Course is widely regarded as one of the finest nine-hole courses in Texas.
---
Spend a Day on Lewisville Lake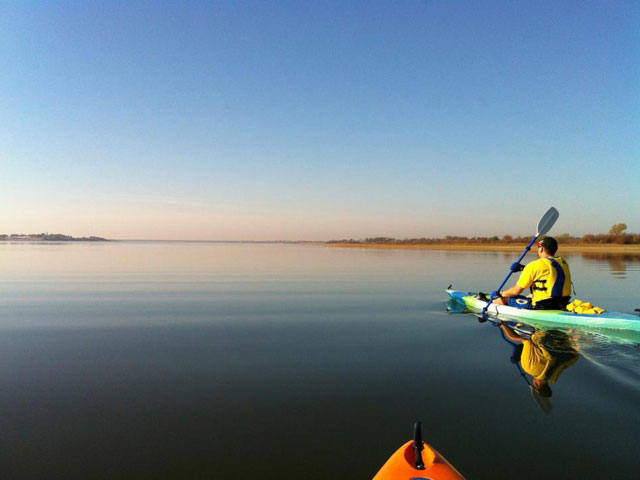 Lewisville Lake, one of the largest lakes in the Dallas-Fort Worth Metroplex, is an idyllic setting and provides visitors to The Colony with a wide array of things to do. When the summers get hot — and you know in Texas they will — Lewisville Lake is the ideal place to cool off.
Enjoy a day out on the water when you launch a boat or rent a jet ski, pontoon boat, stand up paddle board, or kayak at Hidden Cove Park & Marina. For something a bit more relaxing, head to Stewart Creek Park and cast a line, splash at the swim beach, play a game of sand volleyball, or fire up the grill.
Lake Lewisville is a mecca of sorts for fishing enthusiasts.
Find a shady spot on the bank and try your luck at catching a variety of bass, catfish, or crappie, all of which can be found in abundance in the lake. For other types of land-based fun, jog or bike along The Colony Shoreline Trail, 3.5 miles of exhilarating views, birding, and interpretive signs that tell you more about the flora, fauna, and history of the area. Refuel after a long day on Lewisville Lake with a jumbo shrimp cocktail, fried cheese sticks, and a Bloody Mary at Rockin' S Bar & Grill.
---
Shop Nebraska Furniture Mart of Texas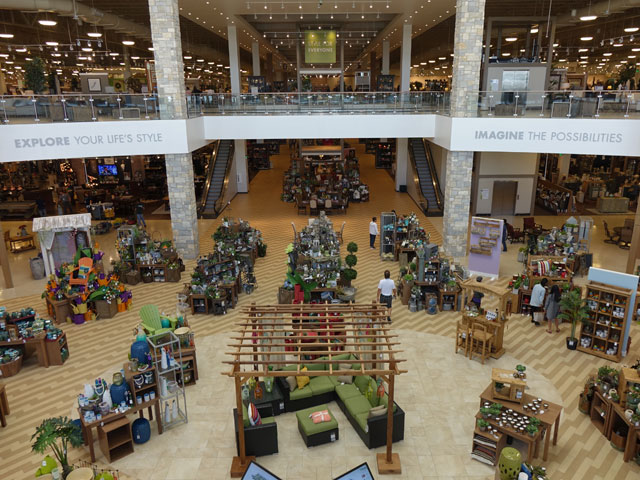 Spread out across 100 acres with 1.8 million square feet of showroom and warehouse space, Nebraska Furniture Mart of Texas in The Colony is not your typical furniture store. This store is a destination unto itself. Pack your comfy walking shoes because this place is worthy of hours of your time.
Don't know if you want a red KitchenAid mixer or a pink one? Just head to the wall of mixers, where a towering rainbow of display awaits your decision. Need to outfit a home theater? Peruse walls and walls of televisions and projectors, as well as a sea of lounge chairs and sofas. You'll find things you never knew you needed, like smart light bulbs and warming drawers.
The professional showroom displays at Nebraska Furniture Mart of Texas make it easy to create a well-executed room in your own home. Find the pieces needed to create a "farmhouse" bedroom or a "boho" dining room with the Magnolia Home by Joanna Gaines brand line. This wonderland has it all: furniture, appliances, electronics, computers, and flooring, to name a few. Don't lift a finger, you won't have to worry about doing any of the heavy lifting since Nebraska Furniture Mart offers drive-through pickup and home delivery.
Anchoring the impressive Grandscape Development, Nebraska Furniture Mart of Texas is surrounded by unique dining and entertainment, all within walking distance.
---
Earn the Highest Score at TopGolf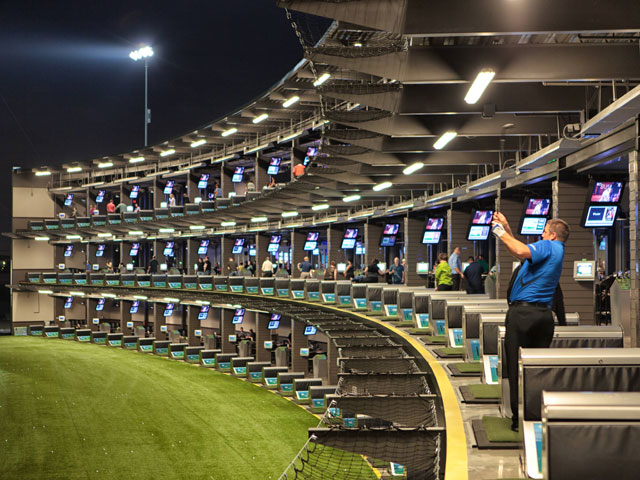 TopGolf is more than just golf and entertaining for all ages and skill levels; even if you've never taken a swing or don't own clubs. Challenge your friends to an exciting interactive round where you'll tee off from a private bay on one of three levels. Aim specialized microchip balls designed to track each shot and calculate scores based on distance and accuracy.
Enjoy delicious food from TopGolf's extensive menu delivered to your hitting bay or in the comfort of the dining area or bar. There's often live music, patio games and special events scheduled throughout the year and catch televised sports games on more than 250 HDTVs throughout the complex.
---
---