---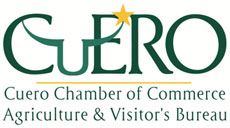 5 Reasons You Will Love to Visit Cuero - The Heart of South Texas
By Alexandra Dedovitch
Charm, comfort, and celebration! Embrace the old West as you sightsee blossoming Texas wildflowers, stroll down an art mural walkway, enjoy award-winning seasonal events, and explore the captivating, historic, cozy little town of Cuero. Located in DeWitt County, Cuero might be tiny, but it is full of vibrant life. Being only about 2 hours from nearly every major city in Texas, including San Antonio, Houston, Austin, and Corpus Christi, this Texas hub will bring you closer to home, in more ways than one!
In fact, so much so, that frequent visitors venturing through this multi-highway nesting spot have packed up and moved to Cuero after only a handful of times because of their love for this bright gem located in the heart of South Texas.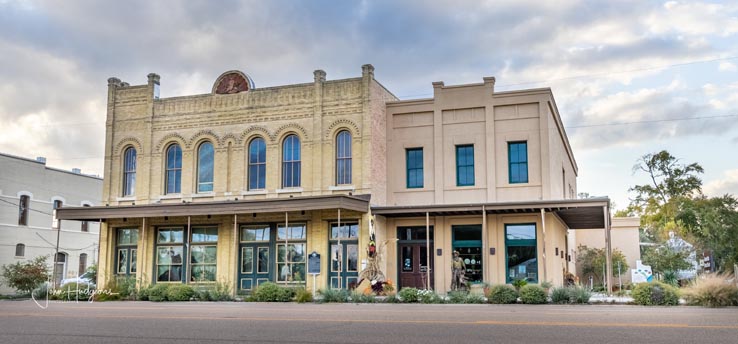 Remarkable Old Western History
For such an intimate Texas town, Cuero is jam packed with rich history. 2023 will mark the grand celebration of Cuero's 150th anniversary from its official town inauguration date in 1873. One of the many provocative aspects of Cuero is its humble origins, which it has stayed true to for over a century.
Cuero is named after Cuero Creek, which was known by the Native Americans as Arroyo del Cuero, or "Creek of the Rawhide." This stems from the Native Americans practice of tanning cattle at the banks of the creek bed before Cuero became well-known as a major stopping point in the great cattle drives during the 1880s.
The famous Chisholm Trail running through Cuero into Kansas was once a major cattle route. Cuero's proximity to the Guadalupe River made it a prime destination for early ranchers and herders. Today, Cuero remains one of the top cattle producers and shippers in Texas.
Being the sight of a major gunfight during the Sutton-Taylor Feud is no tall tale for this Texas town. American Western history buffs will get a kick out of the rootin' tootin' controversy, named "the longest and bloodiest in Texas history." Fortunately, in 1876, Texas Ranger, Jesse Lee Hall, stepped in, took charge and finally put hostilities to rest.
Once you arrive in Cuero, you can delve even deeper into its legendary history by perusing their Chisholm Trail Heritage Museum. You'll find amazing exhibitions and preserved relics from the early settlers, Native Americans, and Texas cowboys in its full Western heritage gallery.
Aside from Cuero being a major player in the cattle industry, this historic Texas town grew in both size and in prosperity largely due to their thriving turkey ranching. Nowadays, turkeys continue to be a claim to fame for Cuero – the unofficial, but possibly truest, "Turkey Capital of the World."
---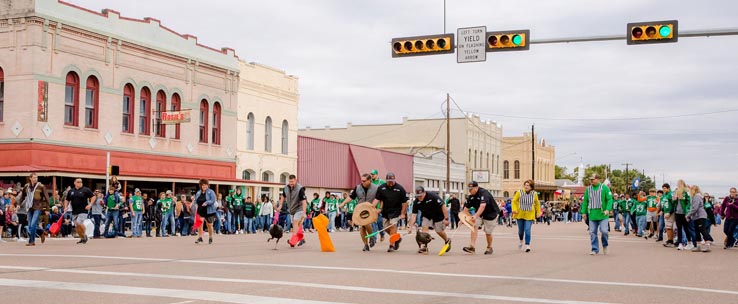 Time Honored Turkey Tradition
There's a lot to love about Cuero. One thing we love the most, the special importance it has for the turkey. This feisty fowl is the cornerstone of the Cuero Turkeyfest celebration every year. This annual event occurs on the second weekend in October.
From its start in 1973, it became a huge hit for townsfolk. Turkeyfest even found its way into other parts of the country, specifically extending into Worthington, Minnesota. Another turkey honoring town in the country, Worthington just so happens to be Cuero's chief rival for official title as fastest turkey at their Great Gobbler Gallop turkey race held during the festivities. Two turkeys go head-to-tail to see which one will reign as champion. Shout out to Cuero's own Ruby Begonia crowned "Fastest Turkey in the South."
The Turkeyfest Parade adds another unique element to this fun 3-day event. Strutting across downtown historic Cuero, feast your eyes on trotting turkeys, decorated floats and applause-worthy adornments. This favored tradition all started in 1912 when the first turkey trot happened unexpectedly. With no modern-day travel, 10,000 turkeys had to be herded in a feathery, frolicking frenzy down main street. Nearly 30,000 people showed up to this flamboyant event!
From that point on, 14 turkey trots have been held, which took a more interesting approach as Cuero natives doubled up the meaning of the word "Turkey." With the use of wordplay, they decided to incorporate actual Turkish Middle Eastern themes, such as celebrating a costumed sultan and a sultana during the festival parade.
Beyond the bonkers bird spectacle, there is a finger-lickin' BBQ cookoff chock full of the most savory, mouth-watering chicken, brisket, and pork spareribs this side of the Guadalupe River! Live music from local acts and big-name talent will be performed throughout the entirety of the festival, along with a jalapeno-eating contest, a canoe race, Turkey Trot 5k (for humans only!), carnival activities, games, arts & crafts, shows, and a slew of other annual Turkeyfest attractions.
---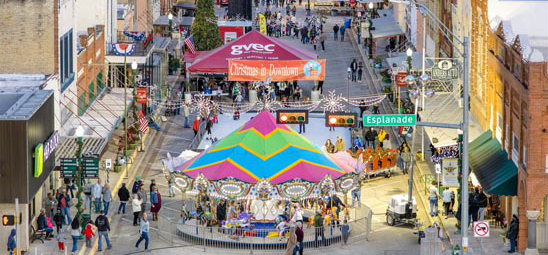 Heart-Warming Winter Holidays
Families looking for a delightful and homely feel to add to their holiday agenda can venture to Cuero around this spirited time of year. During the 2nd week of December, Christmas in Downtown kicks off the winter festivities with a nostalgic extravaganza bringing you back toward tradition and intrigue for this memorable season.
Take a vintage ride on a horse-drawn carriage, get a gander of real live reindeer, rejoice in a 30-foot Christmas tree with an abundance of gifts towering above you, all while tapping your toes to the joyous sounds of jovial Christmas music. There are plenty of festival attractions including a petting zoo, holiday shopping market, and ice skating on Main Street, only a few blocks away. This is a great opportunity to take share-worthy holiday photos as you relish in the warm, inviting closeness of the season.
Another wondrous Cuero December event will dazzle you and your loved ones with an unforgettable festival of lights and magnificent holiday staged scenery. In fact, Cuero's Christmas in the Park was named "The Best of the Best" for 11 years running in "Best Holiday Event" for The Victoria Advocate. Christmas in the Park is the real deal for those who love a brilliant, perfectly orchestrated Christmas display. While one holiday scene is magnificent, simply imagine over 250 lighted holiday displays, many with high-tech animated scenes, for a truly grand Christmas soiree. Christmas in the Park lasts from the first Monday before Thanksgiving through New Year's Day.
---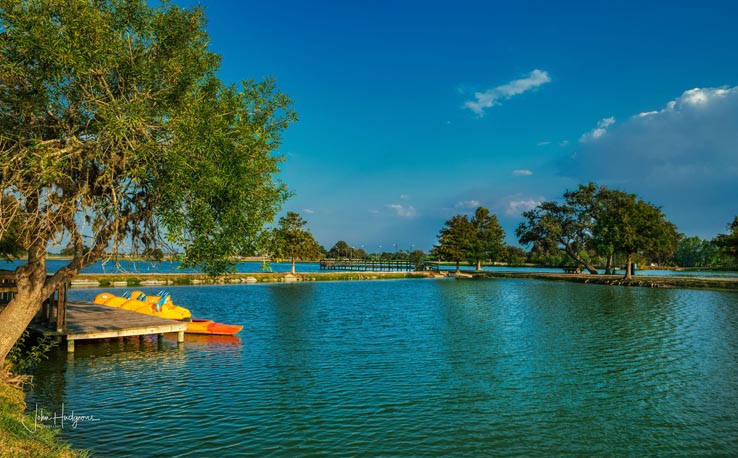 Scenic Outdoor Activities
Wherever a river flows, a man is sure to go. Flowing amidst Cuero is the eminent Guadalupe River. Its gently rhythmic, pulsating waters are ideal for an array of watersports, including kayaking, canoeing, and paddle boarding. Cuero has made it easy to do all three. The Guadalupe Valley Paddling Trail has convenient access points around Cuero for an active full day at sea or for a few hours taking in the majestic oak trees from a wavy perspective.
Take a leisurely walk throughout Cuero and you'll find art is afoot around every nook and cranny. Turn a corner and you could be presented with a larger-than-life butterfly being taken by the wind, or perhaps a towering, enchanted garden adorning the walls of a rural building. Full-scale art murals depicting heritage, history and symbolism can be discovered around town with an easily walkable route for anyone eager to see more artwork on their visit. Many iconic art murals found on Cuero Landmarks have been painted by world-renowned artist and Cuero native, Rafael Acosta, Jr.
Cuero Municipal Park will make enjoying the outdoors a breeze with an 8.5-acre lake for fishing and paddle boating, multiple pavilions, plenty of firepits to get cozy around, and a variety of barbecue pits to grill on.
There are safe and fun places to play for the little ones, including a full playground, splashpad, and outdoor swimming pool with water slides. Tee-up at their 9-hole golf course for a round or play a game of volleyball at one of their four courts. Walking trails, comfortable benches, community gardens and shaded picnic areas are all a part of the Cuero outdoor experience.
Before leaving the park, don't forget to get a closer look into classic American Western culture by visiting the Harvey and Jane Mueller Rodeo Arena.
---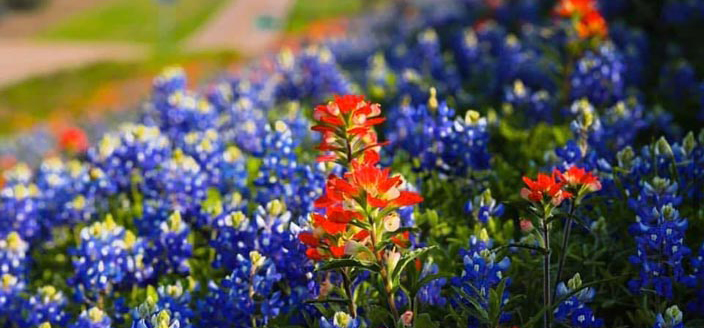 Blooming Colorful Wildflowers
The delicate aroma and colorful array of wildflowers that grow rampantly throughout the Lone Star State bring a sense of whimsical wonder and blissful appreciation for all of those who embark on this natural journey. Cuero is plentifully bestrewn with rustic beauties in vivid cobalt blues, effervescent fuchsias, sprinkled with pops of fiery orange and lemon yellows. Throughout the course of the year, DeWitt County has over 1,000 different species blossoming about. It comes as no surprise, DeWitt County is known as the "Wildflower Capital of Texas."
Cuero shows appreciation for their marvelous natural attraction by hosting serene wildflower tours from March until May. In fact, they have dedicated an entire Wildflower Month in April as an official annual celebratory affair for these delightful florals. Don't be discouraged if you plan your trip on their off-season, all year around, visitors are invited to grab one of their nifty color-coded, self-guided, wildflower route maps to make your wildflower exploration an even greater success. Whether you go by bike or by automobile, there is sure to be an incredible feast for the eyes along the way.

Cuero is alive and thriving. If you appreciate small town vibes enveloped in American Western lifestyle, you are going to love to visit Cuero, TX. Explore more Cuero activities, events, and attractions.
---
---
Cuero, Texas
210 E. Main Street, Suite A
Cuero, TX 77954
(361) 275-2112
www.cuero.org