---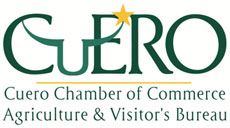 Events in Cuero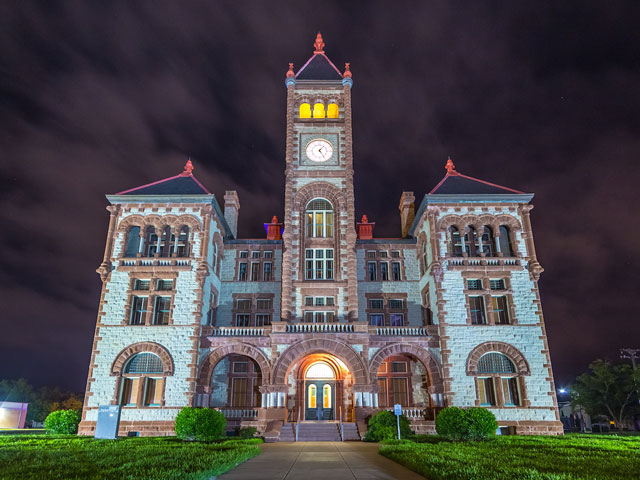 Nestled among the gently sloping hills between San Antonio and the Texas Gulf Coast lies a charming town full of character: Cuero. This community, known as the "Heart of South Texas," is an easy town to get around and a perfect spot to explore the many reasons why travelers love to visit small towns in Texas.
As if you needed more of a reason to visit Cuero, the town's events provide a great excuse to get away for a memorable adventure. See for yourself why Cuero is designated the "Wildflower Capital of Texas" as you drive through the scenic Texas wildflower routes March through May.
Learn how to rope and hear trail drive stories at Cowboy Camp. Discover why Cuero is called the "Turkey Capital of the World" at Cuero Turkeyfest, when you can dance the night away to favorite bands like Turnpike Troubadours and Larry Joe Taylor. There's much more going on here than these festivals, so make sure to check out the following list of events in Cuero so you don't miss out on anything during your stay.
---
March - May
Wildflower Tour
More than 1,000 species of wildflowers are indigenous to DeWitt County, and in the spring there's an explosion of vibrant colors in the hills and fields surrounding Cuero. Get your Wildflower Tour color-coded route maps at the Cuero Chamber of Commerce and participate in fun events celebrating the wildflowers throughout the blooming season like a cycling race, a 5K run/walk, and photography exhibits throughout the town.
124 East Church Street
Cuero, TX 77954
---
July
Fourth of July Celebration in Cuero
Celebrate at the quintessential Fourth of July Celebration in Cuero that kicks off at 10 a.m. each July Fourth with cake walks, dunking booths, face painting, watermelon seed spitting contests, barbecue, and ice cream. There will be a fireworks show that night.
Cuero, TX 77954
---
August
Annual Wine Run
This is the best kind of run – no running involved, but lots of wine and shopping! Registration begins at 9 a.m. at The Venue on Church Street, where you'll receive your custom wine glass and playing card for your "Wine, Dine & Shop" adventure. Visit all the shops in Cuero on your card for wine tastings, finger foods, and great shopping.
125 East Church Street
Cuero, TX 77954
World Series of Cuero Fundraiser
Get your poker face on and head to the World Series of Cuero Fundraiser for a fun day that starts with the Wine Run, then you'll enjoy a great meal followed by a Texas Hold 'Em tournament. Cash and prizes — plus bragging rights — go to the winners.
125 East Church Street
Cuero, TX 77954
Cowboy Camp at Chisholm Trail Heritage Museum
Cowboy Camp at the Chisholm Trail Heritage Museum is a great opportunity for children to spend a week learning what life was like on cattle drives with fun activities like leather tooling, pioneer crafts, and storytelling.
302 North Esplanade
Cuero, TX 77954
---
October
Cuero Turkeyfest
Cuero is also known as the "Turkey Capital of the World," and Cuero Turkeyfest, one of the largest events in Cuero, is the perfect opportunity to see why. This annual festival is always the second weekend in October and is a weekend full of festivities like a parade, food, dances, live music, and the much-hyped Great Gobbler Gallop.
Leonard Roy Harmon Drive
Cuero, TX 77954
---
November - December
Christmas in the Park
Celebrate Christmas in Cuero at Christmas in the Park, which kicks off just before Thanksgiving each year and is a winter wonderland throughout Cuero Municipal Park. There will be more than 100 lighted displays like a 17-piece Nativity scene on the lake island, an 85-foot paddlewheel boat, Old Man Winter making snowflakes, nutcrackers, and Santa Claus. There's also a live Nativity scene and hot chocolate on select nights.
Leonard Roy Harmon Drive
Cuero, TX 77954
---
---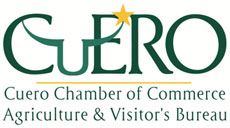 Cuero, Texas
210 E. Main Street, Suite A
Cuero, TX 77954
(361) 275-2112
www.cuero.org