---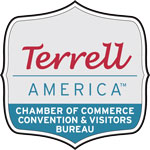 6 Reasons Terrell is the Texas Western Small Town of Your Dreams
By Alexandra Dedovitch
Terrell doesn't always toot its own horn, but this small Texas town knows it's something special. Rootin' tootin' gun clubs, ice cold brews frothin' at saloons, and a rich history to boot, Terrell has Texas Western written all over it.
In 2023, Terrell's 150th anniversary falls perfectly in line with nationally acclaimed, Southern Living Magazine's, the "Year of the Small Town." It's truly a Texas sesquicentennial celebration for Terrell!
A southeastern suburb of Dallas, Terrell is a shining Lone Star for all the world to see. Trust us, you'll want to do more than set your sights on Terrell, check out these 6 reasons to visit Terrell and discover how it could surely be the Texas small town of your dreams.
---

1. Silver Saloon
Dig those dusty ole' cowboy boots out from the back of your closet and get ready for a spiffy day of succulent, dripping off the bone BBQ and a chill night of live music, two-stepping, and plenty of spirits to go around, the Silver Saloon ups the ante in Terrell, featuring a huge dance floor, four full bars, and a variety of music, you really can't go wrong at this world-class barbeque restaurant and Western-style performance venue.
Don't be fooled by the classic honky tonk appeal either. There is a diverse selection for those who appreciate versatility to their musical palette. From twangy acoustic country and laid-back classic mariachi to smooth bluegrass and head-bobbing Americana, Silver Saloon has the chill vibes and great atmosphere for any true Texas trip.
---

2. The Scuba Ranch
Plunge deep into scuba action at this spacious, 22-acre, spring-fed lake smack dab in the middle of Texas. It isn't every day you get the opportunity to spot the world's only freshwater quarry shark, "Sisco The Shark." You can also catch him romping around in his blue onesie after he sheds his sea-legs for a quick photo-op with his guests.
Of course, you'll have a lot more to see down below the surface at The Scuba Ranch, such as iridescent schools of tropical fish and smooth gliding, underwater turtles – the natural scuba divers of the sea. This is also a great first-time diver experience in a secure lake with trained professionals to guide you every flipper of the way.
If you're not down to make the dive, feel free to hang out along the unshorn banks for a splash of sunshine and wildlife scouting as well. Be sure to check ranch seasonal hours before your visit to Terrell, as some seasons are by reservation only and must be made 48 hours in advance.
---

3. Texas Gun Ranch
A passion for guns barely skims the surface of the entertainment you'll plan out at the Texas Gun Ranch in Terrell. If you're a real straight shooter, mosey on over to this safe, private, and exclusive marksman venue featuring two 12 station sporting clay courses, two 5 stand courses, along with state-of-the-art helice, rifle, pistol, and long-range bays.
In the zone for a touch of healthy competition? In an exciting collaboration between Texas Gun Ranch and Elm Fork Shooting Sports in Dallas, they are offering four Texas Sporting Clays Tours throughout the year on select dates. This privileged event includes four stops, each stop is a two-day occasion, held on both Texas Gun Ranch and Elm Fork. There are 16 overall shooting events, four per tour stop, and participants are given the opportunity to keep their 10 best scores.
If this all sounds like malarkey to you, but you have a gun enthusiast in the family, or if you're interested in stepping up to the challenge, the family-friendly Texas Sporting Clay Tour offers more than just flying targets, scoreboards, and a Texas Tour Champion crown for the big winner.
Everyone is invited to take part in sponsored cash prizes, awards, raffles, and huge giveaways like high-caliber guns and brand-name merchandise too! The competing deadeyes are making out like bandits with an even louder bang than when first arrived, as all targets are NSCA registered, gaining you points towards future classes along the way.
Whether you're a noob shooter or a totes pro marksman, be sure to pull the trigger on visiting Terrell's Texas Gun Ranch during your stay.
---

4. British Flying Training School Museum (BFTS)
A must-see, fascinating, and historic attraction is the British Flying Training School (BFTS) Museum on your visit to Terrell. Terrell happens to be the first and largest of the schools where thousands of British pilots earned their wings during World War II.
Tour Texas Fun Fact: British flyers were unable to train in England due to the Nazi blitz.
Once the U.S. entered the war, American Aviation Cadets were trained at BFTS, along with Royal Air Force and American Army Air Force pilots.
Another fun fact about this special time in Texas history is about the women in Terrell who were asked to train pilots between 1941 and 1945. This was such an extremely rare occurrence that a book was written about it. Titled "Girls of Flight City" by Lorraine Heath, it is a novel inspired by true events of Terrell (referred to as Terrace) women who helped in these WWII pilot training war efforts.
Browse the BTFS museum's inspiring collection of artifacts, uniforms, training materials, and exclusive World War II memorabilia. Even more remarkable, its archives have the most comprehensive record of the No. 1 British Flying Training School in existence.
The British Flying Training School Museum has free admission and is open to the public.
---

5. Downtown Terrell Art Murals
No need to step into a lofty art gallery, beautiful artwork is wide open to all and on display around Downtown Terrell. Take a stroll along the town's corridors and paved side streets to discover one-of-a-kind art murals sprawled across municipality walls, prominent historic buildings, and other eminent structures.
Historic murals such as "Movie Posters" showcasing original, hand-painted replicas of old movie posters cascading across the side of a vintage movie theatre, and the "Spearman Kaydet PT 17 Biplane" honoring the No.1 British Flying Training School bring to life Terrell's rich history through the power of creative expression.
Visitors are also encouraged to join in on the Historic Downtown Terrell Mural Walk on specified dates to enjoy a safe, and self-paced tour with the chance to win prizes along the route for "passport" points.
---

6. Discover Terrell GeoTour and Historic Homes
"Play, stay, cache" is the motto for Terrell's geocaching tour. Discover Terrell by venturing on a self-guided treasure hunt through their GPS-enabled GeoTour Passport. It's a fun way to explore the town of Terrell, even the more inconspicuous areas, on your next visit.
If you'd prefer a more niche historic self-guided tour, explore Terrell's list of historic homes and buildings.
Dating as far back as 1865, many of Terrell's antique homes and buildings are registered as National Historic Landmarks giving visitors an up close and personal look into a variety of architectural styles, such as Victorian and Tudor Revival. Visit the oldest home in Terrell, known as the "Round House," due to its unique octagon shape. Other noteworthy mentions include the Cartwright House, the L.E. Griffith House, and the Walter Allen house.
If you're in the mood for shopping, be sure to stop by Canton First Monday Trade Days, also known as the Canton Flea Market on your stay in Terrell. It is the world's largest flea market, and it is only 30 minutes outside of Terrell with several annual market dates, occurring on each month of the year.
Located a short drive outside of Dallas, come and see what all the fuss is about in Terrell, Texas! From captivating art walks and an authentic WWII museum to lake scuba diving and country western tunes in a stylish saloon, visit Terrell, TX to get in on the action! This is one dreamy Texas Western small town to add a notch to your belt this season.
---
About the Author: Alexandra is the head writer and digital content creator for Tour Texas. She is an avid traveler, lover of the arts, and enthusiast of all things Texas!
---
---