---
Experience 5 Best Arts & Culture Attractions in Victoria
By Alexandra Dedovitch
The arts in Victoria, Texas are blossoming! From fine arts in luxurious venues to on-the-go downtown art walks, Victoria is exploding with creativity for all visitors to enjoy.

Be Captivated at Victoria's Major Performing Arts Venues
Planning a classy night out on the town is simple when there are two distinguished fine arts performance venues in Victoria. For sparkling symphonic music, the Victoria Fine Arts Center orchestrates remarkable and elegant shows hosted by the Victoria Symphony Orchestra, along with other captivating performances by local acts. This is also the premiere performance arts venue for the highly acclaimed, annual Victoria Bach Festival and favored holiday Conspirare Christmas show.
For those eager to be entertained by live theatre and ballet, the Leo J. Welder Center puts on a variety of fine art experiences including the illustrious Victoria Ballet Theatre, Theatre Victoria, Charity Concert Series, and a multitude of splendid holiday concerts and renowned shows for the season.
---

Take a Stroll to Discover Artwork Around Every Corner
Make your way downtown and you'll discover a creative collection of art below, above, and all around. The Victoria Downtown Art Walk includes a diverse mixture of artists and local businesses participating in art of all mediums and sizes, in large-scale and wall art murals.
In fact, you might even find yourself stepping on one of these incredible murals! Of course, it is expected, as Victoria's Crosswalk Murals compilation is a key component to their richly unique street artistry.
Victoria has even combined art with music in its Downtown Music Walk series, facilitating art and music to come together for an enriching creative experience!
---

Find Inspiration at Victoria's Art Museums
Peruse the incredible art galleries in Victoria during your visit. These carefully curated art exhibitions feature contemporary, classical, and modern artwork by national and regionally recognized artists.
Five Points Museum of Contemporary Art seeks to celebrate the cultural diversity of South Texas and brings together community efforts to spread art education throughout the area.
The Nave Museum's distinct Greek Revival architectural style compels many art patrons to visit Victoria. Even more artistic treasures await inside. Within its gallery, museum guests will find six to eight multifarious, interesting, and annually changing art exhibits. Art classes are also offered to continue art education for both children and adults.
---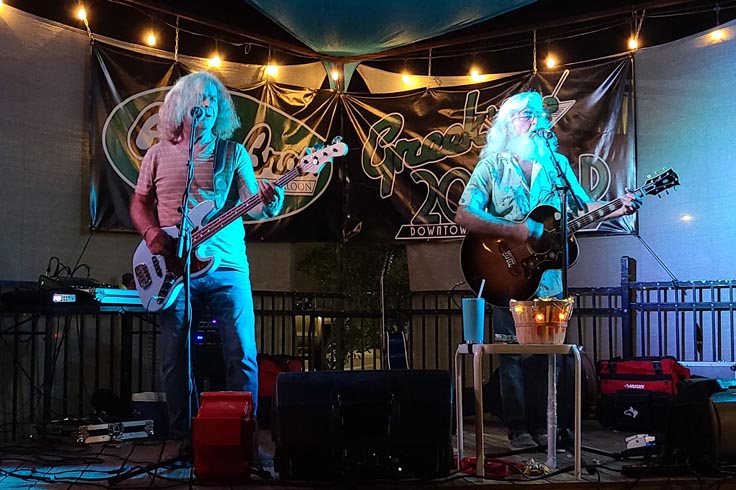 Music, Spirits & Food in Victoria's Live Music Scene
It isn't all visual artistry in Victoria either. Come out to any of their many live music venues to experience a night of melodic harmony paired with spirited drinks and scrumptious food. Downtown Victoria music venues include El Paso Tacos & Tequila, 5D Tavern, Moonshine Drinkery, and Greek's 205 Bar with performances by local legend Jerry James every Wednesday evening.
El Paso Tacos & Tequila combines Tex-Mex cuisine with ice-cold drinks and shots of your favorite agave plant spirit. 5D Tavern is a great upscale bar featuring signature cocktails, wine, and top-shelf drinks. Be sure to check their calendar to find out live music events for the night.
Romantic evenings and friendly group outings are perfect for the warm and comfortable ambiance of Moonshine Drinkery. Visitors can catch a live show at Greek's 205 Bar on their beautiful outdoor patio area as they indulge in a well-crafted cocktail and mouth-watering steak or prime rib.
For more outdoor entertainment, visitors are invited to check out Aero Crafters for nightlife on their outdoor patio area. Live music, corn hole, washers, giant Jenga and more for outdoor recreation under the stars. You can't beat the vibrant and colorful Texas sunset as you munch on some of the most creative bar food in town and sip on any one of their 22 craft beers on tap.
---

Create Your Own Artwork in Victoria
Now that you know where to find great artwork, it's time to know where to make it!
Crossroads Art House is an artistic hotspot for anyone interested in getting their own paintbrush involved. They offer art classes for all ages ranging from mixed-media and pottery to canvas painting and home crafts workshops. Be sure to check out their full list of calendar events for more information on classes happening during your stay.
The Colorful Canvas is a locally celebrated creative space for social paint parties. Whether you are painting solo, going as a couple, or have your whole family involved, they offer fun and easy paint classes for every level of artist. Their motto is "It's Fun Art, Not Fine Art," so everyone can feel free to get creative without any worry about their skill level.
Flourishing Texas art museums, live performance arts venues, downtown art walks, and special creative classes, Victoria has art abound! Only a short 30-minute drive from the Texas Coast, visit Victoria TX for an exciting art and music trip in Texas.
---
About the Author: Alexandra is the Head Writer and Digital Content Creator for Tour Texas. She is an avid traveler, lover of the arts, and enthusiast of all things Texas!
---
---