---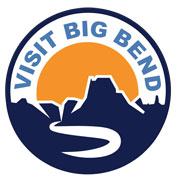 10 Adventures That Make Big Bend an Awesome Place to Visit in the Summer
Beautiful mountains, stunning valleys, and wide-open skies that host both vibrant sunsets and all the stars of the Milky Way. All of this natural splendor awaits you in Texas' Big Bend region. Although a popular destination in the cooler times of the year (it is in the Chihuahuan Desert, after all), that's not to mean that Big Bend isn't an awesome place to visit in the summer. Not only does it not get as hot as you'd expect, it's the region's slow season which means smaller crowds and less traffic to get in your way as you explore all the glorious hiking trails, captivating canyons, and scenic highways.While the number of incredible adventures you can have in Big Bend in the summer is limitless, we've narrowed it down to 10 to whet your appetite.
---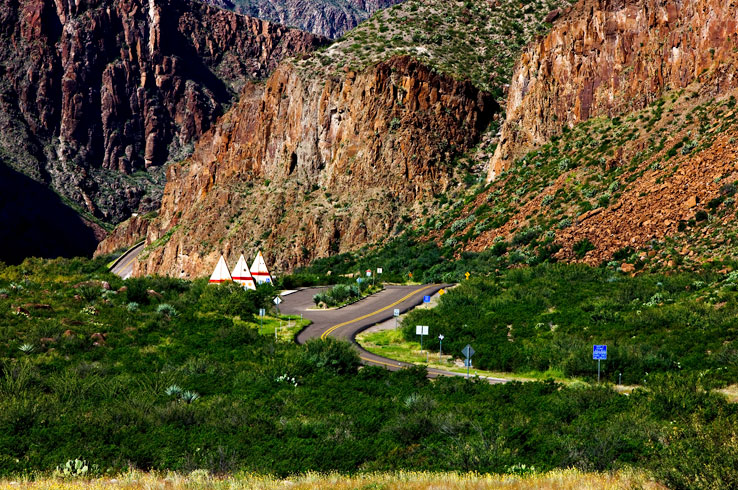 Explore Big Bend's Scenic Driving Routes
No matter how many photos you look at, none can adequately capture the awe-inspiring beauty of Big Bend. This natural splendor is a part of just about everything you can do out here, yet one of the best ways to take it all in is by hitting the road. When the daytime temperature reaches its peak, hop in your car, crank up the air conditioning, and choose a highway to explore.
One of the most popular scenic byways is the Ross Maxwell Scenic Drive, a 38-mile sojourn that passes mountain peaks and overlooks desert valleys. Another is the stretch of Highway 170 that follows the Rio Grande west of Lajitas. Cruise the blacktop as it winds along the river and between rocky cliffs, an unforgettable journey that leads you to the small town of Redford. Stop for an ice-cold drink and relax a moment. After all, your return journey will be just as amazing.
Tour Texas Tip: For the ultimate Big Bend driving experience, download the mobile app that includes an audio tour of the entire region. Listen to it as you cruise and you'll be educated and entertained. The best part? It's totally free, so get downloading!
---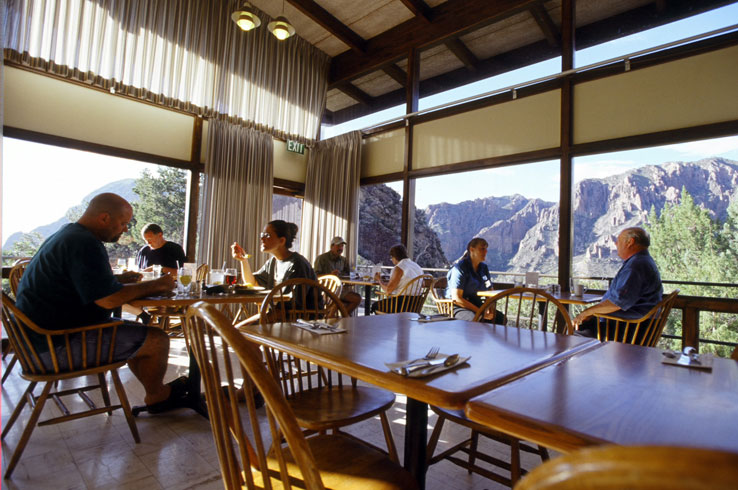 Stay in Style
Although the Big Bend region is known for its rugged mountains and stark desert landscapes, that doesn't mean you have to forego the comforts of home when you visit. In fact, there are quite a few unique hotels where you can hang your hat. Get the best of both worlds when you stay at the Chisos Mountains Lodge, the only hotel in Big Bend National Park that offers everything from basic motel-style rooms to spacious stone cottages. In Marathon, you'll find Mexican-style adobe haciendas with a distinct West Texas artistic flair, as well as the historic and luxurious Gage Hotel. To splurge on something truly upscale, indulge in a stay at the world-class Lajitas Golf Resort. With a variety of rustic rooms and cottages, you'll enjoy the good life in the lap of West Texas luxury.
Regardless of where you want the starting point for your summertime Big Bend adventure to be, you'll find somewhere comfortable to stay. See all the possibilities here.
---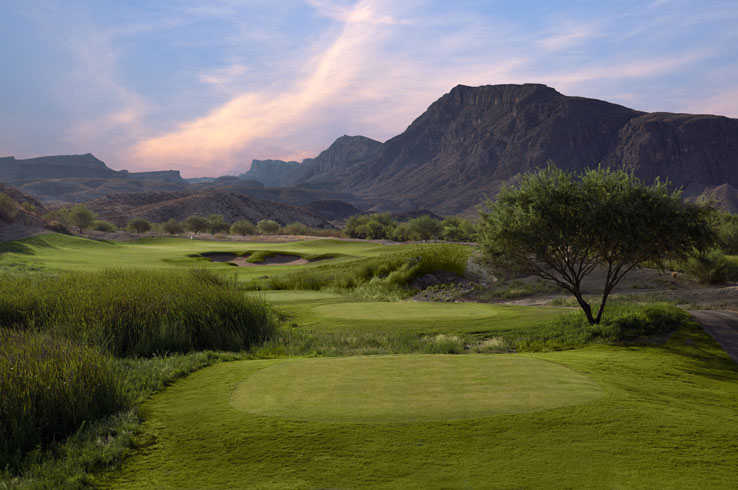 Play On One of the Best Golf Courses in Texas
Glance down the fairway as you prepare to tee off at Black Jack's Crossing and you'll have to try to not have your jaw hit the turf. Before you stretches a verdant fairway that winds between arid ravines and at the feet of towering cliffs and breathtaking mountains. Play your way through the 18-hole course and your eyes will be treated to one stunning vista after another, an experience akin to walking through an art gallery full of beautiful landscape paintings. Frequently named among the very best courses in Texas by Golf Magazine, Golfweek, and the Dallas Morning News, playing a round here is a must if you're the type who packs your club bag whenever you travel.
Located at Lajitas Golf Resort near the Rio Grande River, Black Jack's Crossing is both a world-class golf course and a sensory experience. Visiting in the summer? Make sure to bring plenty of water and your camera, but try not to hold up play as you may get distracted taking pictures.
---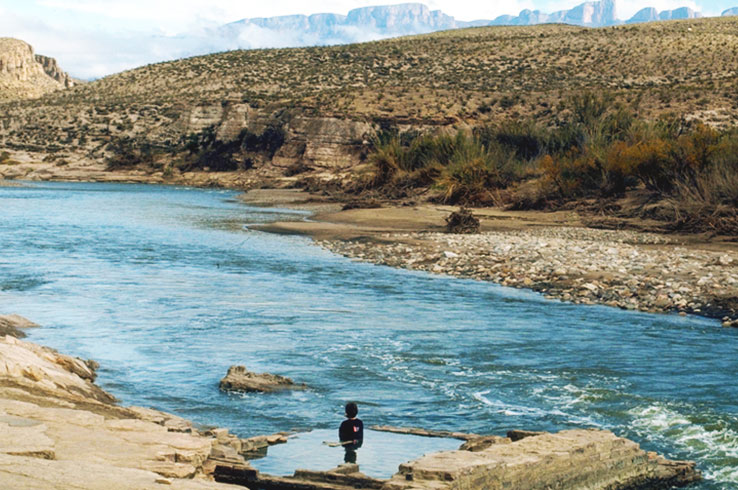 Relax in the Langford Hot Springs
Spend a full day exploring the hiking trails in Big Bend National Park and your muscles may cry out for some relief. That's exactly what you'll get when you take a dip in the Langford Hot Springs. Full of naturally heated spring water, the pool has long been renowned for its powers of healing and rejuvenation. Ease into the 105-degree water and enjoy the view of the Rio Grande River, which is so close that you can touch it. To get to the hot springs, hike the Hot Springs Trail found in the far southeastern section of the park. For even more hiking after you've soaked in the springs, follow the trail east to Hot Springs Canyon for unbelievable panoramic views of the rugged canyons and the Rio Grande.
---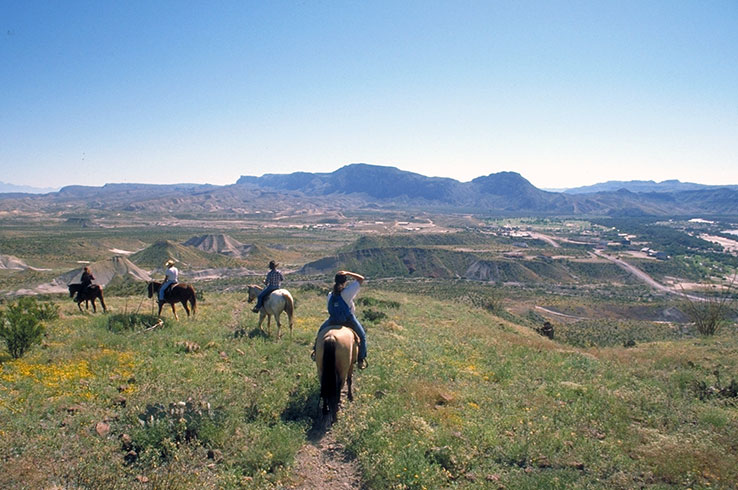 Ride Horseback in the Desert
There's nothing like greeting a summer sunrise in the Chihuahuan Desert. Unless you're riding horseback, of course. If you've always dreamed of feeling like a cowboy or cowgirl, you can make that fantasy a reality on a tour with Lajitas Stables. For a morning adventure, opt for the half day excursion. This tour, starting at 9 a.m., takes you along dusty trails to an oasis on the top of a mountain that happens to be an idyllic spot to savor a Texas-sized lunch. Meanwhile, Big Bend Stables in Study Butte has a few options of its own, such as the morning two-hour Old Mine Tour and a half day trot through the Chihuahuan Desert that immerses you in the beauty of the Ocotillo Mesa. New to riding? Big Bend Stables has a one-hour beginner ride that provides an easygoing introduction to horseback riding.
---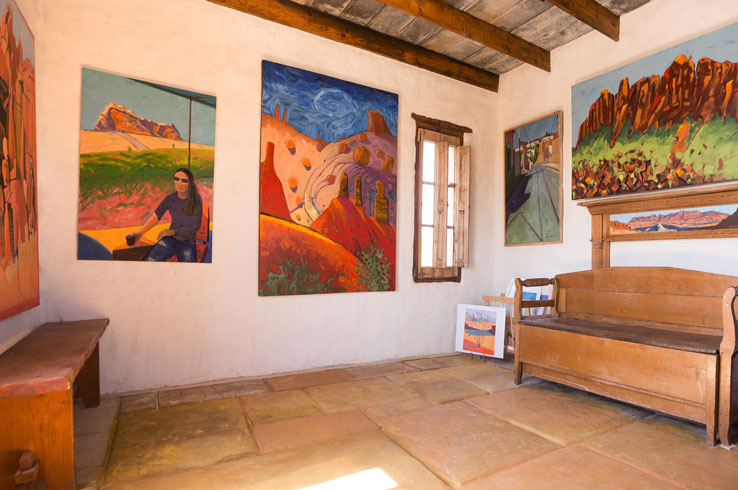 Discover Big Bend's Art Galleries
With its wide-open skies and scenic vistas as inspiration, it's no surprise that artists have flocked to Big Bend. As such, there are plenty of art galleries to explore while you cool off in the air conditioning. In downtown Alpine you'll find numerous working studios and galleries that showcase illustrations, paintings, photography, and other works created by local artists. An abundance of art is also on display throughout the galleries, restaurants, and places to stay in Marathon, including the Gage Hotel. Despite their remote nature, even Terlingua and Study Butte have art galleries that show off the talents of local jewelry and ceramics artisans, painters, sculptors, and more.
---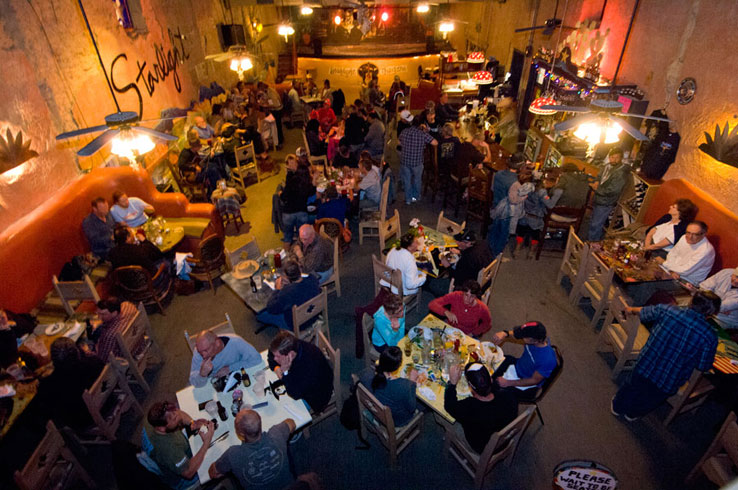 Get Your Fill at a Unique Restaurant
Spend any time exploring Big Bend and you'll work up a Texas-sized appetite. Fortunately, Big Bend is something of a destination for foodies. Throughout the region you'll find one-of-a-kind restaurants serving up hearty palate-pleasing dishes. Terlingua is also where you'll find the Starlight Theatre, purveyors of award-winning chili and mouthwatering Tex-Mex. Pull up a chair, order your meal, and hang out for one of the concerts the venue hosts throughout the year.
Marathon has its fair share of restaurants as well, ranging from the V6 Coffee Shop and Big Bend Pizza to The 12 Gage Restaurant, an upscale eatery with an extensive wine list paired with its rustic West Texas charm. IF you're hungry for meats smoked to perfection, check out Brick Vault BBQ & Brews. Named among Texas Monthly's top 25 new barbecue joints in the Lone Star State in 2019, this is the place to go for mouthwatering brisket, pulled pork, and housemade sausage that all tastes even better with a pint of the restaurant's own craft beer.
Want to see Big Bend's menu of restaurants? Click here.
---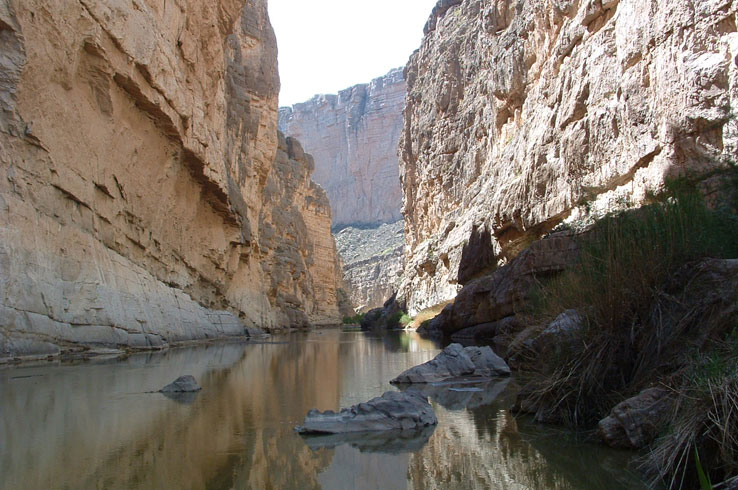 Kayak the Rio Grande River
Sure, there are many places you can kayak. But how often do you get to paddle an international border? Unless you live on the border, the answer is probably never. Although having the chance to kayak along a border is notable enough, the Rio Grande River trip is nothing but exceptional. Go it alone or embark on a guided tour (recommended) and your journey will take you through majestic canyons and past stunning cliffs and wide-open valleys. Your paddling experience will vary greatly by water conditions, as there are times when the river flows quickly and others where the level is not very high. Regardless of whether you choose an afternoon excursion or a multi-day trip, you'll have an adventure unlike any other in Texas.
---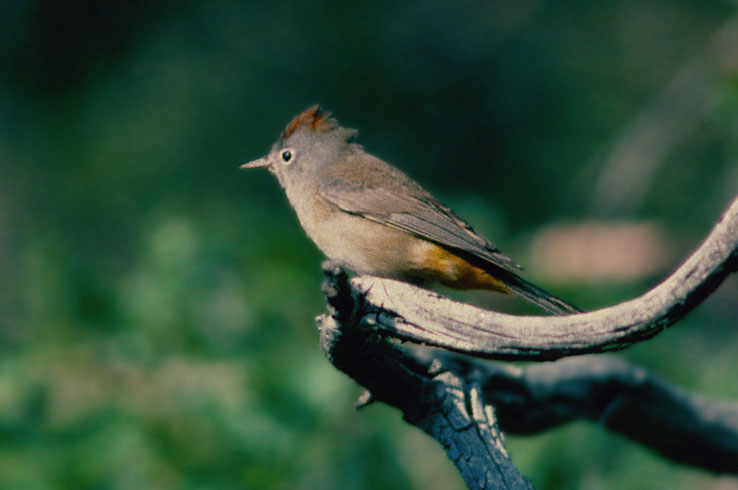 Search for the Colima Warbler
Throughout the year, Big Bend is home to more than 450 species of birds that are either native or migrate during various seasons. As such, birding is one of the most popular things to do here regardless of the time of year. Yet the summer time is your only chance to cross one bird off of your list. In April, a small group of Colima warblers crosses the border to nest, making Big Bend the only place in the country where you can find these gray birds. To cross them off your birding bucket list, ascend the heavily forested Boot Canyon Trail to the Colima Trail, a strenuous journey during which you may also see numerous hummingbirds, woodpeckers, and Mexican jays. Take your time and bring your camera (and plenty of water) and you just may spot one of these rare birds.
---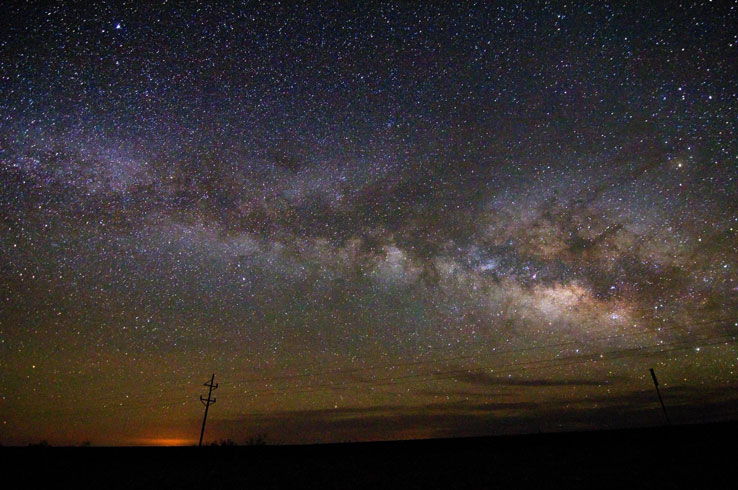 Admire the Milky Way
The setting sun heralds the arrival of another Big Bend attraction that sets it apart from just about anywhere else on the planet. As the skies darken, the heavens reveal themselves in a bright kaleidoscope of near incomprehensible clarity. Find a dark spot and gaze up at all the celestial bodies of the Milky Way Galaxy that illuminate the night sky. As one of the least light polluted places on Earth, there's no end to what you can see. For some of the best stargazing, visit the Rio Grande Village Nature Trail or the McDonald Observatory. Yet even if you're camping on a remote trail you're guaranteed a remarkable view on a cloudless night.
---
About the Author: James Waterson is the head writer and content specialist for Tour Texas. When he isn't writing about the many great places in the state of Texas, he's planning his next epic adventure in the Lone Star State.
---
---