---
Events in San Benito
February
Resaca City Bike Tour
The Third Annual Resaca City Bike Tour is scheduled Saturday, Feb. 9 at Heavin Resaca Trail and Park, 705 N. Bowie Street in San Benito. Tour lengths are 20 miles, 40.4 miles and 62.2 miles. Medals will be given to all participants. T-shirts will be issued to the first 100 registrants. To register, visit the San Benito Chamber of Commerce go online to chamberofsanbenito.com.
223 S. Sam Houston Blvd.
956-361-9111

Pre-Valentine Dance
The Texas Conjunto Music Hall of Fame and Museum present their annual fundraising dance with quality music and an evening of dancing at the San Benito Knights of Columbus Hall.
956-241-1666.
---
February – March
Window to the Past
The San Benito Historical Society will host a series of lectures of local interest at dates to be announced, at the San Benito Community Building. The topics will feature the unique nature of people, culture and architecture in the City of San Benito. The event is free and open to the public.
210 E. Heywood Street
---
March
Happy Birthday Texas Fest
Reorganized for a bigger and better festival for the whole family. Celebrate Texas Independence with a renowned group of lectors at the Texas History Symposium, and stay for the Battle Reenactments, Cook-off, Market Days & Art Show.
The event is taking a new name, "Happy Birthday TexasFest" a two-day festival held at the San Benito Show Grounds. This event has been very successful for the past twelve years, drawing crowds ranging from 6,000 to 10,000 in a given year. Our objective is to educate, celebrate and participate by creating a fun-filled lineup of activities for the entire family.
Over the two-day period, we have educational symposiums open to school teachers, history enthusiasts, and the general public to teach awareness of the history and key battles leading to Texas' independence. We will have cultural performances from various Native American groups and folkorico dancers. The event will provide music, food, entertainment, IBCA state sanctioned Bar-B-Que Cook-off, Texas history exhibits, school district art show, arts and crafts plus many other activities for the entire family. A major lineup of Country, Tejano and Conjunto bands will headline Friday and Saturday evenings culminating in an extravaganza of fireworks for all to enjoy.
A "Riderless Horse" ceremony will take place Saturday morning to pay tribute to all veterans lost throughout the years. From the men who fought valiantly for Texas at the Battle of the Alamo to present day fallen soldiers. The "Riderless Horse" ceremony is a single horse, without a rider, and with boots reversed in the stirrups, to symbolize fallen soldiers.
If you are interested and need further information regarding sponsorship, please email info@happybirthdaytexas.com.
The 6th Annual Sanctioned Barbeque cook-off is scheduled to begin on March 13, with winners to be announced the following day. March 10, features three live re-enactments of battles, leading up to the State's freedom from Mexico. Battles include the famous Battle of the Alamo, the Battle of San Jacinto, and the Battle of Bexar with actors in period attire. Also on site will be demonstrations of vendors baking pan de campo, quilt-making and other old-time skills. Vendor spaces available for foods, arts/ crafts and corporate/businesses. Other events include the Annual Elks Lodge Chili Cook-off, a brisket plate sale, period parade, Declaration of Independence signing ceremony, live music, raffles and refreshments. Food & Drink and Arts & Crafts vendors are wanted. For more information, please email Fred Garza at stmshrltx@sbcglobal.net or call 956-367-3155. Event to be conducted at San Benito Fairgrounds off of FM 510 in San Benito.
---
May
Cinco de Mayo Golf Tournament, sponsored by the San Benito Chamber of Commerce will be held at the Treasure Hills Golf Club in Harlingen from 9 a.m.-1 p.m.
361-9111

Hog Waddle Country Concert and Sanctioned BBQ Cook-off
City of San Benito Hog Waddle Country Concert and Sanctioned BBQ Cook-off is scheduled at the San Benito Fairgrounds. 4-11 p.m. Country-western music will be showcased, along with some quality BBQ meats.
FM 510 and Cesar Gonzalez Parkway
956-361-3830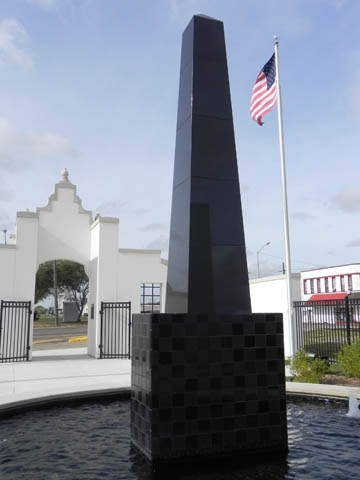 Memorial Day & Silent March of Veterans
8:45 a.m. in front of City Hall, 485 N. Sam Houston. Veterans and Survivors carrying photos of deceased veterans march silently down Sam Houston Blvd. to Veterans War Memorial Site for ceremony at 9 a.m. Ceremony honors all military personnel who gave their lives in defense of freedom for the United States of America. To purchase a commemorative, engraved brick to honor your loved one, please call Martha McClain at 96-361-3804 Ext. 301.
---
July
ResacaFest 2020
Celebrating the Spirit of America. Sponsored by the City of San Benito's Special Events Board from 4-11 p.m. Day of live music, refreshments and performances on the Resaca at Heavin Memorial Park, capped by a fireworks display over the resaca. Arts & Crafts & Food Vendors welcome.
705 N. Bowie Street
956-361-3830
---
September

South Texas Music Festival
Celebrates the Valley's rich musical heritage with a mix of Tejano, Conjunto, Country-western and Norteno music. WH Heavin Memorial Park, 4-11 p.m.
705 N. Bowie Street
956-361-3830
---
November
Veterans Day March & Ceremony
Remember our Proud Veterans on Veterans Day. The March of Veterans begins at 8:50 a.m. when Veterans and surviving family members are invited to march down Sam Houston Street with a police escort to the San Benito Veterans War Memorial site (Railroad Tracks and Rowson Street) for a patriotic ceremony paying tribute to our veterans who fought and died to keep our freedoms. Commemorative engraved bricks to honor your special veteran can be purchased by contacting Martha McClain at 956-361-3804 Ext. 301.
---
December
Community Christmas & Tree Lighting In The Park
Enjoy the Christmas holiday season featuring perky performances by local school choirs. Do some Christmas shopping from local vendors featuring arts and crafts, and enjoy some tasty foods here. Community Christmas and Tree Lighting is scheduled the first Saturday in December from 5-7 p.m. at Heavin Memorial Park. Admission is free, and all are welcome. Sponsored by the San Benito Special Events Board.
705 N. Bowie Street
956-361-3830

Annual Christmas Parade
Sponsored by the San Benito Special Events Board from 6-10:30 p.m., the Christmas Parade is the longest lighted Christmas street parade in South Texas. Theme for 2018 to be announced. Marching bands, strutting groups, novelty and religious themed floats will be featured in the parade through downtown San Benito.
956-361-3830
---
---