---

Attractions in Belton
No matter what time of year you visit, Belton offers many great locations for sightseeing, exercising, and just generally having a good time. It's definitely not the place to come if you've just started a diet.
Belton has great BBQ, great lakeside dining, Italian cuisine, rooftop dining, thai food, creekside dining, river side dining, and more, Belton has a medley of world flavors with great views.
Of course, you could work off some calories at one of the city's excellent parks, if you're not too busy checking out the fascinating historical hot spots of Bell County. The following are just a few of the top attractions to visit.
---
Historic Walking/Driving Tour
A walking & Driving Tour of Local History and Architecture
---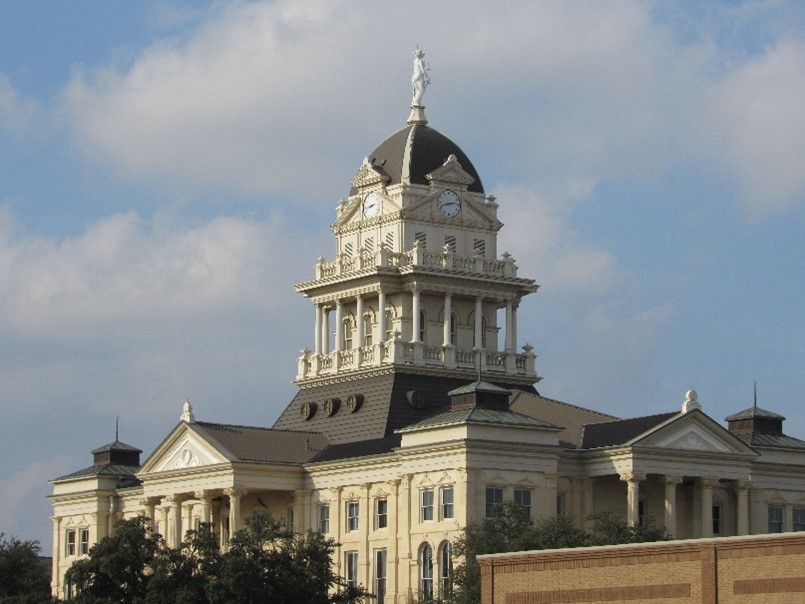 Bell County Courthouse
In 1999, this historic Belton landmark was restored to its original 1884 look, with a replica statue, dome, and clock tower installed. It's a can't-miss stop for lovers of Texas history and Renaissance Revival architecture.
1201 Huey Drive
Belton, TX 76513
(254) 933-5160
---
Bell County Expo Center
Professional rodeos, high-flying motocross, and concerts by some of the biggest music acts in the world are hosted at the Bell County Expo Center throughout the year. Rooms are also available to rent for family reunions and other events.
101 E Central Ave, Belton, TX 76513
(254)939-3521
---
Bell County Museum
The Bell County Museum exists to engage and educate the community by collecting, preserving, and interpreting the prehistoric and historic heritage of Bell County. The museum has permanent exhibits for the public to enjoy year-round: Discover Bell County, Gault Site, Marshall Log Cabin, Sanctified Sisters, and miniature historic homes. The museum also offers an enormous host of family and adult programming throughout the year. The Spring Lecture, established in 2018, has become a highly anticipated series. Admission to the museum is always free. Programs are free. Please visit the Bell County Museum soon!
201 North Main
Belton, Texas 76513
(254) 933-5243
---
Belton Lake Outdoor Recreation Area
BLORA is Belton Lake's 89-acre home for watersports, camping, biking, paintball, and wildlife spotting. Stay in an on-site cottage or hook up your RV to one of the many full-featured pads. Kayak, canoe, ski, wakeboard, and tube rentals are available at the checkout center.
Cottage Road
Belton, TX 76513
(254) 287-4907
---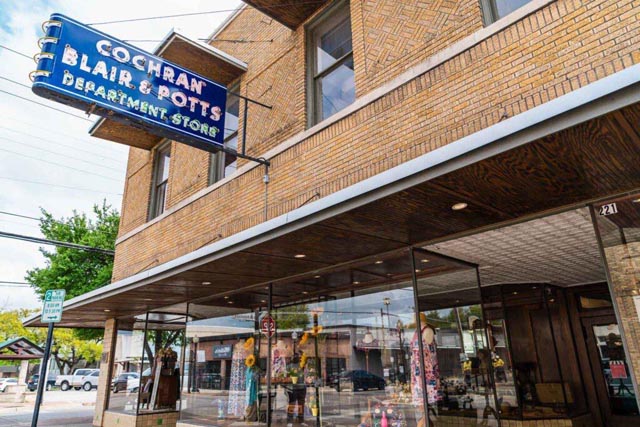 Cochran, Blair and Potts
Since 1884, Cochran, Blair and Potts has provided the good people of Belton with everything from coffee beans to coffins. You can still step into the oldest operating department store in the state for clothes or footwear, or some memorabilia from the in-store museum.
221 East Central Avenue
Belton, TX 76513
(254) 939-3333
---
Dead Fish Grill
Come for the comfort food and stay for the most unbeatable view in town. Enjoy some surf and turf with a refreshing beer to wash it down as you look out over Belton Lake.
2207 Lake Road
Belton, TX 76513
(254) 939-5771
---
Miller's Smokehouse
Texas Monthly anointed this Belton eatery one of the 50 best barbecue joints in the world. It's known for its three versions of pork-and-beef sausage and brisket that practically melts in your mouth.
300 E Central Ave
Belton, TX 76513
(254) 939-5500
---
Miller Springs Nature Center
The 260 acres that comprise this nature park include 10 trail loops totaling over 10 miles of hiking, jogging, and biking space. The diverse ecosystem of wetlands, forest, canyon, and prairie land make for fantastic wildlife viewing.
1473 FM-2271 Highway
Belton, TX 76513
(254) 933-5412
---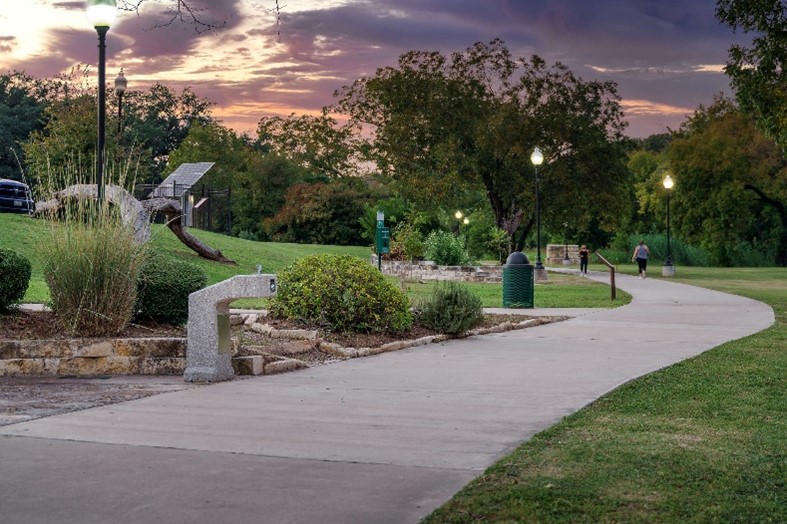 Nolan Creek Hike and Bike Trail
This trail connects three parks in the heart of Belton: Liberty, Yettie Polk, and Harris Community. The latter features a butterfly garden, fishing deck, and splash pad, while the highlight of the trail is a 400-foot bridge over Nolan Creek.
700 Liberty Park Drive
Belton, TX 76513
(254) 933-5860
---
Schoepf's Bar-B-Que
Schoepf's is well-known for serving up mouth-watering brisket and tender ribs to the folks in Belton. It has also become a hub for live Texas music, hosting a free concert series in the summer. Best of all, it's open for breakfast, lunch, and dinner, so you can get three squares there in a single day if you just can't get enough of their barbecue.
702 East Central Avenue
Belton, TX 76513
(254) 939-1151
---
South Belton Cemetery
An official Historic Texas Cemetery, South Belton is the final resting place for many of the earliest settlers of Belton and Bell County, with the earliest gravestone dating back to the year 1851.
South Penelope Street
Belton, TX 76513
---
The Gin at Nolan Creek
Get your fill of hearty meat and potatoes inside a former cotton gin that was built in the late 1920s. During the warmer months, you can hear live music on Thursday through Saturday nights or simply hang out on the patio that overlooks the creek.
219 South East Street
Belton, TX 76513
(254) 613-4446
---
The Beltonian
Classic movies and live events since 1922. This historical movie theatre in the heart of Downtown Belton, Texas showcases classic movies
219 E Central Ave, Belton, TX 76513
(254) 831-3161
---
Grand Avenue Theater
On May 4, 2012, Belton's very own Grand Avenue Theater was opened. A group of active community members saw a chance to meet a need in the Belton area for a family-friendly movie theater. A place to meet, dine, and enjoy. From the get-go, "Clean. Courteous. Classy." was used as a guiding principle for the quality and service. With community events like National Night Out, Movies in the Park, and others, Grand Avenue seeks to continually serve and better our community. The people of Central Texas have graciously supported this theater and the staff and Grand Avenue hopes to support them for many years to come.
2809 Oakmark Dr, Belton, TX 76513
254-939-5050
---
Napoli's
Local authentic Italian Cuisine restaurant located in the courthouse square.
110 E Central Ave, Belton, TX 76513
(254) 831-3101
---
Narunya's
Local Thai restaurant located in downtown Belton. They also run a Bubble Tea Shop next door called Toast & Tea along with an Italian Restaurant called Pastarico.
316 E Central Ave, Belton, TX 76513
(254) 613-5244
---
Arusha's
A local coffee and tea shop that offers light fare food and baked goods in a laid-back atmosphere.
126 N East St, Belton, TX 76513
(254) 933-2233
---
That Art Place
A family-friendly art studio that offers pottery painting, classes, parties, and fused glass classes.
108 Lake Rd, Belton, TX 76513
(254) 613-4292
---
Oak Fire Pizza
Belton's rooftop restaurant, oak fire pizza, and brewing is a local brewery that serves craft beer and woodfire pizza, with fresh local ingredients and small-town hospitality.
107 N East St, Belton, TX 76513
254) 613-7551
---
Belton Depot & The Katy Building
Built in 1899, the Belton Depot served as a train station for the Katy Railroad and later the Belton Railroad company for many decades until it fell into obscurity. Thanks to local developers it has been renovated into the latest retail hotspot downtown. New businesses have found their home in the old station complex including: Off the Rails Wine Bar, Railway Express Diner, 100x35 Latin Cuisine, Sly Fox Coffee House, Warm Cookie Company, Pizza PieRos, Blackbird Books & Spirits, Early Light Creperie, Z&H Candy, Toys & Soda, and the Katy Deli.
201 N East St. & 203 N East St.
---
Lodging in Belton
Whether you're here to visit family, take part in one of Belton's many great events, or just passing through, Belton offers several great places to stay.
River Forest Inn
1414 E 6th Ave, Belton, TX 76513
(877) 501-0782
Expo Inn & Suites
235 W Loop 121, Belton, TX 76513
(254) 613-5289
Budget Host
1520 I-35, Belton, TX 76513
(254) 939-0744
La Quinta Inn & Suites
229 W Loop 121, Belton, TX 76513
(254) 939-2772
Knights Inn
1102 E 2nd Ave, Belton, TX 76513
(254) 939-3745
Bryn Oaks Bed & Breakfast
410 N Main St, Belton, TX 76513
(254) 291-3240
---
---