---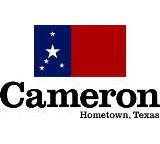 Things to Do in Cameron
If you're from a small town, life in Cameron will be very familiar to you. Come here to slow down and enjoy some good old-fashioned fun (you may even meet some nice people, too). That's why Cameron is known as "Hometown, Texas." Read on for some suggestions of the best things to do in Cameron.
Enjoy the Parks
One of the best ways to experience the natural beauty of Cameron and Milam County is to get out and play or relax in one of the town's six parks. Wilson-Ledbetter Park is one of the most popular venues in town, hosting a number of annual events. It offers hiking, biking, picnicking, and wildlife viewing in more than 25 acres of lush green scenery. One of Cameron's newest spots, City Pool Park, delivers all kinds of fun with a pool and splash pad, sand volleyball and basketball courts, hiking and biking trails, horseshoes, and washers. Another option is Orchard Park, an inviting place to enjoy a picnic, jog, and go birdwatching. The park's Mayor's Mansion was built to house purple martins, a type of bird that migrates from Brazil to Canada, passing through Texas in February.
---
Discover the Cameron of Yesteryear
Cameron is a wonderful place to go if you are interested in admiring preserved pieces of Texas history and culture. The city is full of historic homes, buildings, and sites that date back to the late 19th century. Start your history tour downtown at the Milam County Courthouse & Cameron City Hall-McLane Municipal Center, where Victorian and Renaissance Revival architecture of the 1890s is on full display. While you're in downtown, check out the murals on several of the buildings that capture important aspects of local heritage in stunning detail. The Milam County Museum preserves that heritage, as well, showcasing artifacts from local offices and residents over the last century.
Other points of interest around town include the 1895 Magnolia House, Cameron's cemeteries, and the 100-plus steel bridges from the turn of the 20th century such as Brushy Creek Bridge in Wilson-Ledbetter Park.
---
Sample the Arts
Fans of the theater will be happy to hear that Cameron is a true arts town. The Milam Community Theater is a community fixture that has provided locally produced plays for more than 25 years. At the Cameron ISD Performing Arts Center, you might catch a touring country or Tejano band, a concert by the Temple Symphony Orchestra, or some other entertaining show that makes the perfect end to an evening on the town. Travel downtown and visit on of our Art Walk scheduled throughout the year.
Try the Food
Ask any Texan what they miss the most about their hometown, and you'll likely hear that it's that good eatin' they just can't find anywhere else. The story is the same in Cameron, where you'll find several unassuming eateries that skip the accoutrements of fine dining and focus on serving up delicious down-home grub. Central Avenue Bistro & Marketplace, a fine dining experience, where you can order a 44 Farms Steak, while enjoying a glass of wine or cold mug of craft beer, also peruse their menu for other delicious appetizers, entrees, and desserts. Dining inside in the historic renovated home or outside on the patio, where Saturday nights you can enjoy live music. Tex Miller's Hamburgers is an iconic burger joint since 1947. Still serving old fashion burgers, and hot dogs, just the way Tex made them. Looking for some great Texas BBQ. Visit Hecho En Texas Barbeque for some mouthwatering, finger-licking barbeque. They have been featured in Texas Monthly best places to eat BBQ.
There are many more restaurants to enjoy than these two. Click here for a list of restaurants in Cameron.
---
---