---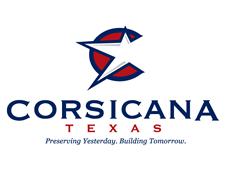 Attractions in Corsicana
Here are a few highlights when visiting Corsicana. The Corsicana Visitor Center, located at 301 S. Beaton St., has information, brochures and maps.

Angelita Vineyard & Winery
Enjoy locally-grown and -produced award-winning wines in a beautiful setting overlooking the vineyard at this venue just south of Corsicana. The winery's inviting tasting room is open for visitors and special events, and often hosts indoor and outdoor entertainment, including live music, yoga, art and conversation.
254 Shady Creek Lane
Angus, TX 75109
903-875-0036
---
Bowling
Corsicana Park Lanes is a 16-lane bowling center with modern synthetic lanes, pool tables, a snack bar and a classic jukebox.
2801 W. 7th Avenue
Corsicana, TX 75110
903-874-3746
---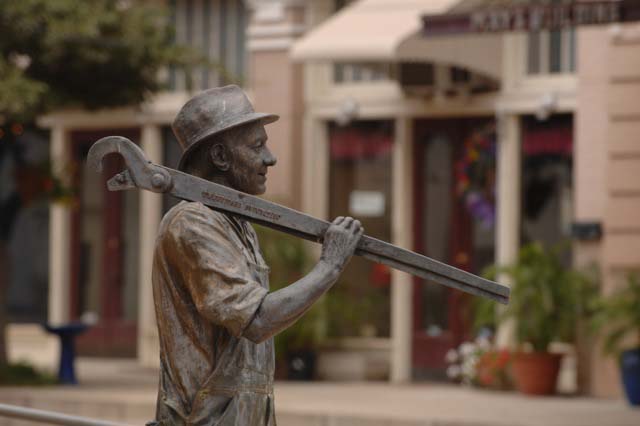 Bronze Statue Tour
History is present throughout Corsicana in a magnificent display of privately-funded bronze statues, which began at the corner of Beaton Street and Sixth Avenue when a statue depicting a hardworking oilfield worker making his way home after a long day was placed there to celebrate the discovery of oil in 1894. Each statue has a plaque with a brief history plus a QR code so everyone can easily "hear the history." The statues can be found throughout downtown and at the Pearce Museum, Navarro County Courthouse, Corsicana Public Library and Corsicana Municipal Airport.
---
Carriage District
One of our designated historic neighborhoods is the Carriage District, where most of the homes were built between 1846 and 1900, many with side entrances to allow carriages to stop under shelter. Most of the homes are along Second, Third, and Fourth Avenues west of 15th Street, but there are buildings throughout town marked with a Texas Historic Landmark or Corsicana Historic Landmark plaque. A touring map, presented by the Corsicana Preservation Foundation, is available at the visitor center.
---
Cook Center Planetarium
This planetarium is the second-largest in Texas, with a 60-foot diameter dome and seating for 200. Regular programs and themed events run throughout the year. Located adjacent to the Pearce Museum on the Navarro College campus, parking is free.
3100 W. Collin St.
Corsicana, TX 75110
903-874-1211
---
Corsicana Opry
The Corsicana Opry is housed in an historic cherry red brick building, built downtown circa 1905, with three levels of floor space. A handmade wooden oil derrick surrounds the staircase to the second floor, with original wooden beams creating the 27' high rafter ceiling. The building is considered one of the first clear span buildings in Texas and even has its own vault with the original Mosler safe. As the name suggests, the Opry hosts live entertainment, concerts, weddings, receptions, and community events. Used in several film and photography shoots, it's just a short walk from shopping and dining options, and historic tours are available.
215 East 5th Ave.
Corsicana, TX 75110
903-872-6779
---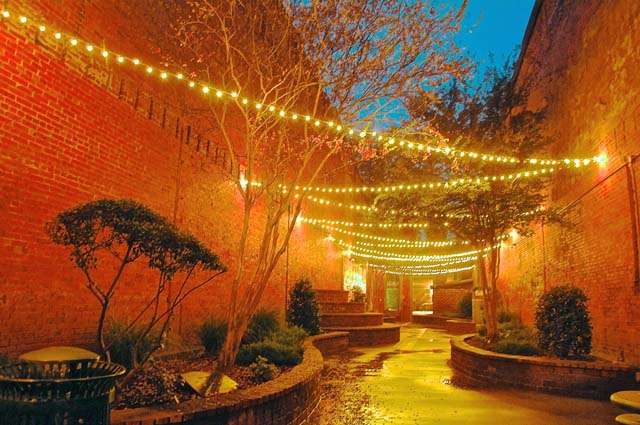 Downtown Corsicana
Unique shops, boutiques, locally-owned restaurants and coffeeshops, plus a burgeoning art scene with galleries and scheduled art walks, line the brick streets and historic storefronts that make up Corsicana's downtown. The main thoroughfare is Beaton, but all of downtown is noticeably marked by the original brick streets. The bronze statue tour begins here, and visitors can "hear the history" in a recorded narrative via a QR code placed at each statue. Two pocket parks provide public restrooms and places to sit for a while. Don't miss the "I was here" selfie walls on the corner of Beaton and Fifth Avenue. Downtown is also the location of the original Collin Street Bakery corner, marked with a bronze statue of a fruitcake-bearing baker, as well as the corner where Wolf Brand Chili was first sold from a wagon for five cents a cup. Park, stroll the tree-lined streets, and explore.
Corsicana Visitor Center
301 S. Beaton St.
Corsicana, TX 75110
903-654-4850
---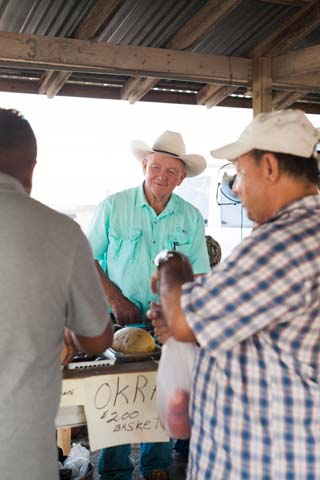 Farmers Market
Every summer, the Navarro County Farmers Market offers the freshest fruits and vegetables, jellies and jams, honey, herbs, free-range eggs and scratch-made baked goods on Tuesdays and Saturdays from 7 a.m. – 12 p.m.
408 E. Sixth Ave.
Corsicana, TX 75110
---
Historic Cemeteries
Oakwood Cemetery is one of the oldest cemeteries in Navarro County, dating back to the early 1800s. Owned and maintained by the City of Corsicana, Oakwood's first burial dates to the pre-Civil War year of 1851.
The cemetery is not only a place of architectural substance, but also one of historical significance. Among the graves are many who died in service for their country from every war except the Revolutionary War, including more than 500 Confederate Army veterans and two generals. Graves of Navarro County's founders; movers and shakers; and the famous, not-so-famous and infamous can all be found among the rolling hills, including several "ladies of the night." Corsicana was one of only two towns in Texas that had licensed red-light districts. Contact the visitor center for information on the annual Oakwood Odyssey tour.
The Hebrew Cemetery has served Jewish residents of Corsicana since the late 1800s, when the first Jewish settlers arrived by rail from Houston in 1871. Today there are more than 400 graves in the cemetery, which remains a hallowed ground that chronicles the history of Corsicana's Jewish residents, many of whom played a vital role in the community's civic, cultural and economic growth. One of the most popular grave sites is that of "Rope Walker," a one-legged tightwire walker who fell to his death while performing his act downtown on Beaton Street with a cast iron stove strapped to his back. He stated that he was a Jew, but no one knew his name.
---
Lake Halbert Park
This 145-acre natural park area on the south side of Lake Halbert is just minutes from downtown but offers a heaping helping of nature. A playground, picnic area, soccer fields, camping sites, RV spaces, and a miniature aircraft field make up this unique city park. A pier provides a platform for fishing flathead for catfish and crappie.
1600 Lake Halbert Park
Corsicana, TX 75110
903-654-4853
---
Lodging
Corsicana's central location at the crossroads of Interstate 45 and State Highway 31 makes it a great place for a short getaway, an affordable stop before heading to Dallas, or a great halfway point to overnight on the way to the beach. The city has several trusted-brand hotels, including Best Western, Comfort Inn, Hampton Inn, Holiday Inn, Kingsway Inn, La Quinta, Quality Inn, Red Roof Inn, Super 8 and Travelers Inn. View all of the options and check availability at www.visitcorsicana.com.
---
Navarro College CHEER
Corsicana is the home of the popular Netflix series CHEER, based on the Grand National Champion cheer team at Navarro College. Under the direction of Coach Monica Aldama, the team cheers at football and basketball games during the season and makes numerous event appearances by popular demand. Official "CHEER gear" is available on campus at Beautique & Books, which also serves Starbucks coffee.
3205 W. 2nd Ave.
Corsicana, TX 75110
903-872-8008
---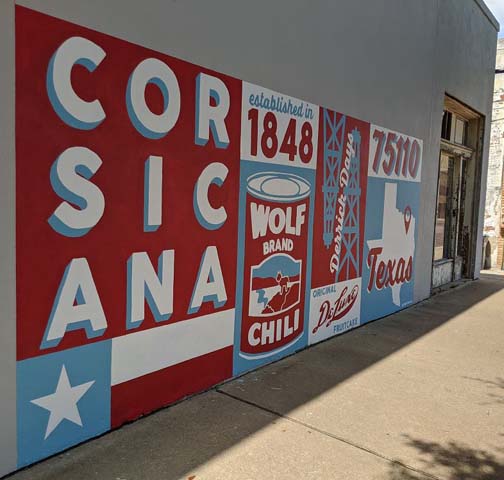 Outdoor Murals
Originally called ghost signs, which were hand-painted advertising signs that had faded but were still preserved on a building, Corsicana's art murals are favorite selfie spots, used in local movie production and as backgrounds for photo sessions. The famous Dr. Pepper mural on the brick wall at Across the Street Diner promotes a former restaurant name, Dee's Place. The latest mural faces the Dr. Pepper mural on Fifth Avenue and pays homage to Corsicana's history as the home of Deluxe fruitcakes from Collin Street Bakery, Wolf Brand Chili, and the annual Derrick Days Festival. Another mural, located in the 100 block of West Seventh Avenue is a combination of art deco, old west and Corsicana oil. Less obvious is a mural in an alley behind 109 S. Beaton St. that is regularly used as a background for fashion photography, with its vibrant pick and green cactus.
---
Palace Theatre
This 1921 Vaudeville-era restored theater is the cornerstone of Corsicana's arts scene and hosts concerts, comedies and musicals in an intimate, 535-seat setting. The entertainment lineup includes a wide variety of musical and entertainment styles. The season's schedule and tickets are available at www.corsicanapalace.com.
110 West 6th Ave.
Corsicana, TX 75110
903-874-7792
---
Parks
It's easy to play outside in Corsicana. The city has 19 parks covering 470 acres, including 5.2 miles of hiking and biking trails; 12 playgrounds for active play including ballfields, pavilions, a BMX bike course, a zip line and multiple aquatic features such as the Jester and Bunert Park pools, open about 50 days during the summer. Two spray parks, located at Bunert Park and Community Park, are free.
---
Pearce Museum
Witness some of the most important moments in American history from the perspective of those who lived them at the Pearce Museum, which has an extensive collection of letters written by soldiers on the front lines of the Civil War. The collection, located on the campus of Navarro College, includes more than 15,000 documents. The adjacent gallery showcasing art of the American West includes 250 paintings, sculptures and other works depicting life on the American Plains, while the Hunters and Gatherers of the Blackland Prairie houses a collection of 44,000 prehistoric artifacts.
3100 W. Collin St.
Corsicana, TX 75110
903-875-7438
---
Petroleum Park
Petroleum Park is much more than an inviting greenspace, it is the site of the first oil discovery in Texas, in 1894 – an event that forever changed the future of both Corsicana and the Lone Star State.
418 St. 12th St.
Corsicana, TX 75110
---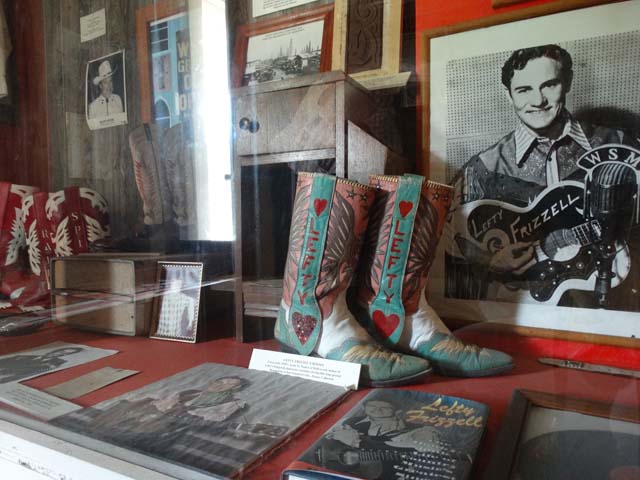 Pioneer Village
Experience life on the Texas frontier with a visit to Pioneer Village. Containing historic log structures and military artifacts from the Civil War to the present day, the Village provides a look at the history and experiences of the people of Navarro County. It is also home to the Lefty Frizzell Museum, which features a collection of the iconic country singer and Corsicana native's song manuscripts, records and unique costumes. Pioneer Village also hosts a variety of special events, including the Out on the Porch live entertainment series.
912 West Park Avenue
Corsicana, TX 75110
903-654-4846
---
Richland Chambers Reservoir
Richland Chambers Reservoir is Texas' third-largest inland reservoir by surface area and the eighth largest by volume, formed by the impoundment of Richland Creek and Chambers Creek. Located southeast of Corsicana, south of Kerens, and even crossing into Freestone County, it has 330 miles of shoreline and a dam on the east end of the lake.
Predominant fish species include white and hybrid striped bass, blue and channel catfish, largemouth bass, crappie, smallmouth buffalo, and carp. Primary access is via U.S. Highway 287, where there are a number of sites to launch boats. Guided hunting and fishing tours are available, as are a variety of boat rentals.
---
Senior Activity Center
Visitors are welcome to join residents at the Senior Activity Center for weekday amusements including bingo, birdwatching, guest speakers, ceramics, dance lessons and live music.
919 W. Park Ave., across from Pioneer Village
Corsicana, TX 75110
903-654-4980
---
Schulman's Movie Bowl Grille
For indoor fun under one roof, Schulman's Movie Bowl Grille offers new releases, family nights, cosmic bowling, an arcade with more than 40 old-school and new-school virtual games, axe throwing, a full-service bar eatery, and much more.
3501 Corsicana Boulevard
Corsicana, TX 75109
903-641-0049; showtimes available on 903-874-3456
---
The Oaks Golf Course
Established in 1935, The Oaks is one of the oldest public nine-hole courses in Texas. This par-36 course is both affordable and challenging, set on rolling hills among mature trees, with seven of the nine holes incorporating one of the several creeks that flow through the area. Its restaurant, the Moontower at the Oaks, offers lunch and dinner, patio dining, and outdoor live entertainment.
2509 Business 45
Corsicana, TX 75110
903-872-1801
---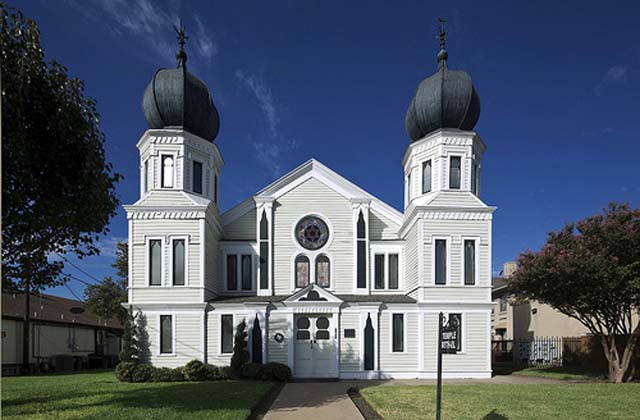 Temple Beth-El
This synagogue, built in 1989, is one of Corsicana's most historic and distinctive structures, showcasing the Moorish Revival style of architecture, a true rarity in Texas. The wood-frame building features a pair of octagonal towers topped with onion domes. No longer a full-time synagogue, the building is used for various events and managed by the Corsicana Parks and Recreation Department. Tours may be arranged at 903-654-4874.
208 S. 15th St.
Corsicana, TX 75110
903-654-4874
---
Warehouse Living Arts Center
The Warehouse Living Arts Center is a performing-arts venue that conducts a wide range of shows starring local actors and emerging talent at its downtown theater. Past performers include Glenn Cooley, a member of the Tony Award-winning Manhattan Theatre Club, and Terry Fator, the winner of the 2007 season of America's Got Talent. The intimate setting creates an exclusive experience, and several productions move across the street to the Palace Theatre for larger audiences. The season's schedule and tickets are available at www.thewlac.com. The WLAC's lobby gallery also hosts art shows and annual events, and is open to the public.
119 W. 6th Ave.
Corsicana, TX 75110
903-872-4556
---
---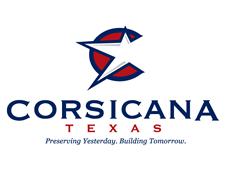 Corsicana, Texas
301 S. Beaton St. Corsicana, TX 75110
Corsicana, TX 75110
(903) 654-4850
www.VisitCorsicana.com