---
Things to Do in Midland
There are many things to do in Midland that are unique to The Tall City and several experiences for travelers with a range of preferences. Catch a live performance at an award-winning venue, ride on a BMX track, enjoy the many flavors of West Texas, hear the stories of presidents and petroleum, and renew your appreciation —and perhaps expand your collection— of art.
Visit Midland and you'll discover there are an almost overwhelming number of things to do here. So many, in fact, that you might have a tough time planning your vacation here. Don't worry; we have you covered. Read on to see some of the great ways you can enjoy your time in The Tall City.
---
Attend a Live Performance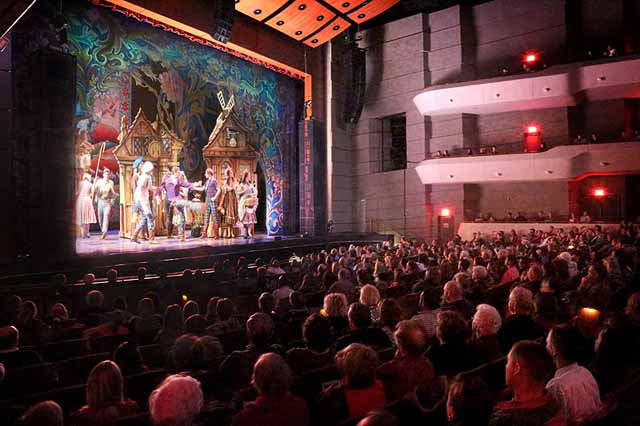 One thing's for sure: Midland embraces performing arts in a big way. In 2011, the $81-million Wagner Noël Performing Arts Center opened with its inaugural Grand Gala Celebration, headlined by Rod Stewart. Since then, the Wagner Noël has showcased world-renowned talent like Fifth Harmony, Tony Bennett, Loretta Lynn, and Willie Nelson, as well as Cirque du Soleil and off-Broadway productions. The Midland-Odessa Symphony & Chorale also performs here, alongside the Midland Festival Ballet.
For plays and musicals, head to the nationally ranked Midland Community Theatre (MCT), the first community theater in the U.S. to produce Rent, The Producers, Les Miserables, and Shrek the Musical. MCT conducts shows throughout the year at the Cole Theatre and the Historic Yucca Theatre downtown. If you're in Midland any weekend in the summer, don't miss MCT's Summer Mummers. It's the oldest continuous melodrama in the U.S. where spectators throw popcorn at the villain (and each other), and cheer on the hero. You can also laugh the night away at a hilarious performance by the Maverick Players at the VFW Hall, complete with homemade desserts during intermission.
---
Become a Foodie
West Texas is well-known for its Tex-Mex and barbecue, both of which you will find an abundance of in Midland. That doesn't mean there isn't anything else to snack on out here. On the contrary, the Tall City offers a significant line-up of all types of cuisine, from inventive burgers to authentic Italian and Greek eats. At Venezia Restaurant, owner Carmine Scarcelli brings his culinary craft from his home country of Italy to your table along with the largest wine list in West Texas at more than 700 labels to choose from. Head to Basin Burger House and try the Shiner Bock braised brisket quesadillas or the Basin Black & Blue burger while you listen to some live music or play a round of trivia.
The Garlic Press is well-known as one of the hot-spots for a great dining experience in Midland. It holds true to its name, as guests are greeted with warm bread and roasted garlic and their own press to make a spread. The menu offers delights like seared diver scallops with lobster shiitake crepes and duck breast with black cherries, bacon, and shallots. For dessert, go tour Susie's South Forty Candy Factory, the Guinness World Record holder for the world's largest piece of toffee, and indulge in some of Susie's Winners Caramels, Fudge Richey, or Texas Trash.
---
Make it a Presidents and Petroleum Trip
Midland is famous for being home to presidents and petroleum. Former President George H.W. and Barbara Bush, along with their family that included George W. Bush, moved to the Permian Basin in the late 1940's, and in 1951 they moved into their home at 1412 West Ohio Avenue in Midland. Today, the house is the George W. Bush Childhood Home, a museum dedicated to the Bush family's years in West Texas with exhibits that celebrate the lives of two presidents and their first ladies.
The Permian Basin Petroleum Museum is a must-see when you're in Midland, the headquarters of the Permian Basin, which is the largest oil production region in the country. Explore the history of the petroleum industry in a fun and interactive way as you tour the museum that recently completed an $18 million renovation. While you're here, don't miss the jaw-dropping mineral gallery or the world's largest collection of antique oil drilling equipment. A guided tour of an oil rig is also part of the experience at the Permian Basin Petroleum Museum.
---
Make it a Weekend for Art Lovers
Midland boasts some impressive art venues, so if you enjoy viewing and shopping for art when you travel, you won't be disappointed. The Museum of the Southwest houses the Turner Memorial Art Gallery and sculpture garden (along with a children's museum and a planetarium), and it offers frequent art shows from the likes of Brian Selznick and original art from The Golden Books. It also hosts The Business of Art lecture series, Art Socials, and the hands-on Art Works, where you can learn a new art technique or try out a new medium. Next door is the Haley Memorial Library & History Center, home to an incredible collection of bronze sculptures, Western paintings, and artifacts. Twice a year, the Haley Library hosts a major Western art show.
These two museums have more than enough to keep you busy, but there's even more to see. Stop by the Permian Basin Petroleum Museum to see acclaimed oil paintings that tell the story of the American West by artist Tom Lovell. Check out local Midland artists at the Kamiposi art gallery, open 6 to 9 p.m. on Fridays. The Arts Council of Midland hosts several events throughout the year including the Artist Studio Tour and Celebration of the Arts.
---
Take a Ride on the Wild Side
Enjoy an active day at the West Texas Motocross Park, the RTD Skatepark, or the West Texas BMX track then head to the Chaparral Race Cars gallery at the Permian Basin Petroleum Museum. Legendary racecar driver Jim Hall hails from Midland and is revered worldwide for introducing the movable wing on race cars in 1965. He returns to Midland fairly regularly, so if you're lucky you might just get to see him driving one of his million-dollar cars around the Petroleum Museum grounds. Wind down the night in your own car with a movie at Big Sky Drive-In. Make sure to try their original Chihuahua sandwich!
---
---