---
Attractions in Rockdale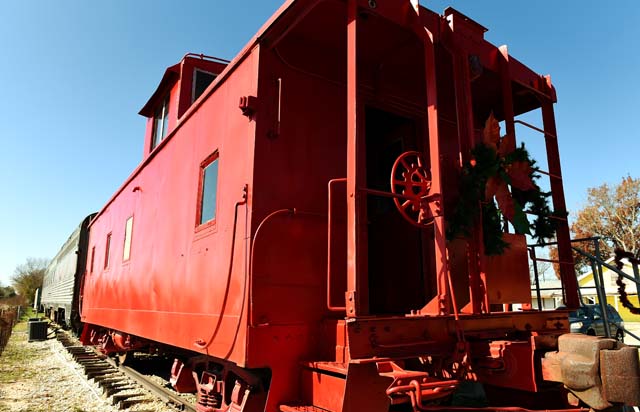 International & Great Northern Depot
Construction began on the Rockdale International & Great Northern Railroad freight and passenger depot in on Main Street in 1905, and was completed and dedicated in 1906. Primarily an agricultural community the new railroad gave farmers access to markets for their crops, and Rockdale became a shipping point for other local businesses. The San Antonion & Aransas Pass (later called Southern Pacific) Railroad operated a north-south route through Rockdale from 1891-1959, further contributing to economic growth. Several lignite coal mines were established in the 1890s, and the Rockdale, Sandow & Southern Railroad was chartered in 1923 to carry lignite coal to area customers, becoming Rockdale's third rail line. In 1925 the I&GN was leased by Missouri-Pacific Railroad and operated as a division of Missouri-Pacific until 1955, when it officially merged with Missouri-Pacific. When a new roof was added in 1936 the depot lost its landmark cupola, a cost-saving measure.
By 1957, the only job remaining at the Rockdale depot was railroad agent. That post was eliminated and the final passenger train left Rockdale July 15,1970.
The Depot remained shuttered for nearly 40 years, being used as feed storage and even surviving a fire, until the Rockdale Historical Society purchased the Depot on Dec. 1, 1999, from Adolf McVoy Jr, and began a decade-long project which restored the building to its Victorian Era glory, including restoration of the cupola. The Rockdale I&GN Depot reopened June 7, 2008, and beat out two other finalists for the Texas Downtown Association's cherished award of "Best Restored Building in Texas" in 2009. Competition was intense. The other projects were the Whitmire & Whitmire Insurance Building in Wichita Falls and the Hepker Building in Bastrop. "When we got to the gathering and saw photos of that insurance building we were just blown away," Rockdale Historical Society member Joy Graham said. But a blue-ribbon jury panel composed of architects, historians and writers selected Rockdale's I&GN Depot as the overall winner. Judges termed the Depot project "a great anchor recaptured for the community" and praised "attention to architectural details and lighting".
Today, the Rockdale I&GN Depot stands as a proud reminder of Rockdale's history, and serves as Rockdale's Weekend Visitors Center.
This authentic restoration of the 1906 I&GN Passenger Station features an original Station Agent's Desk, Telegraph Desk, and Ticket Office, as well as hosts displays of railroad memorabilia to delight train enthusiasts of all ages. The I&GN Depot is also home to two vintage railroad cars, the "Cheyenne Mountain" Missouri Pacific Diner #36 and the Missouri Pacific Caboose #12263, as well as a Blacksmith shop at which they periodically host demonstrations.
---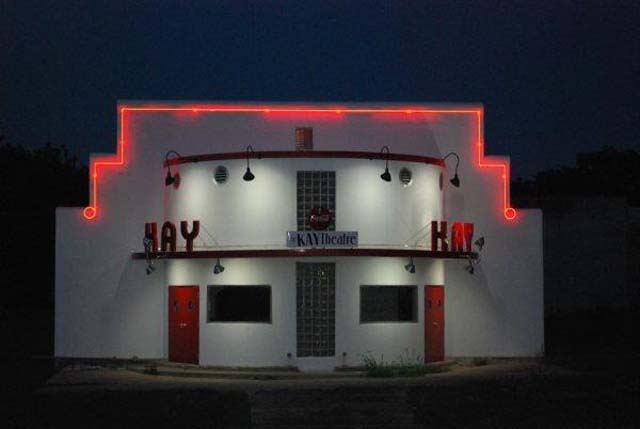 Kay Theatre
In 1947, E. L. Bryan and the Foy Arrington Family bought a surplus military Quonset hut, one of thousands of the all-purpose metal buildings made during World War II. The Hut was moved to Rockdale to become the core of the second movie theater in town. Local carpenter Jack Kyle, Sr. directed several Rockdale High School students to build the sloping style Kay Theater, named for the Arringtons' daughter, Katherind. A half-cylinder of corrugated steel sheets forms the walls and roof. The entry includes a stepped plaster wall outlined in neon, an entry drum of plaster and glass blocks, paired double doors, a central sign and large letters spelling K - A - Y on each side of the rotunda.
The owners, Mr. And Mrs. Foy Arrington, said the quonset hut architecture "lends itself naturally to excellent acoustics and a pleasing interior appearance." Construction of the Kay Theater was completed in Time for a Thanksgiving 1947 opening. At a dedication ceremony the next night, Postmaster Clyde Franklin was Master of Ceremonies and Mayor J. B. Newton introduced "Rolling Home," starring Russell Hayden, Jean Parker and Raymond Hatton. Large box fans made the Theater one of few air conditioned locations in town. Mr Arrington manned the ticket booth and was the projectionist, and his wife managed the concessions. As with similar facilities at the time, African American patrons walked upstairs to separate balcony seating.
The Kay Theater closed in 1962 and was vacant for many years. In 2004, a group of concerned citizens formed The Friends of Kay Theatre Foundation with the goal of buying and revitalizing the downtown theatre. In 2006, the Noack family donated the property and structure to The Kay Theatre Foundation. After renovating and restoring the building, The Kay Theatre re-opened in 2010, and was recorded as a Texas Historic Landmark by the Texas Historic Commission in 2013.
Today, as the last remaining theater in Milam County, The Kay Theatre recalls a time when going to the movies was a cultural event and central to the social life of many young people. The Kay Theatre once again serves as a community center, hosting special events, weddings, music & theatrical performances, and movie screenings.
---
Bridge Park Historic Bridges & Calaboose
Bridge Park is the site of several historical preservation projects and the new home to some of Milam County's historical treasures. The Galbreath Bridge was once located on CR 240, just north of the Cameron Airport, spanning across Big Elm Creek. This Bedstead Truss Bridge is estimated to have been built circa 1912 by the El Paso Bridge & Iron Company and has a span of 70 feet. As part of a historic preservation project, the Galbreath Bridge was reclaimed from a field and relocated to Rockdale's Bridge Park in 2015, after the bridge had been replaced by modern bridge in 1988. Also now residing at Rockdale's Bridge Park is the Sheckels Bridge which once spanned the San Gabriel River at CR 429A. The Sheckels Bridge was built in 1923 by JF Brown and is a Metal 5 Panel Bolt Connected Warren Pony Truss bridge. The bridge is over 13 feet wide and has a main span length of 79 feet and a structure length of 134 feet. The Sheckels Bridge was relocated to Bridge Park in 2015 after being replaced by a modern bridge in 2003. These and others historic bridges located in and around Rockdale, are featured in the book Historic Bridges of Milam County by area resident authors David Galbreath, Carolyn Temple, Lucile Estell and Joy Graham.
The century-old Calaboose at Bridge Park is originally from Burlington, Texas in northern Milam County. The term "calaboose" comes from the Spanish "calabozo" which means "jail, dungeon, or cell" and was used to describe small structures used as jails throughout Texas and the United States until the early 20th century. This calaboose is representative of the one which existed in Rockdale in the early 1900's. Rockdale's Calaboose was located downtown near Bell and Ackerman. This historic structure was graciously donated by Billy and Frances Prescott of Burlington, who were insistent that the calaboose be preserved. As more of these unique buildings disappear, the few that remain are an important. The Burlington calaboose is one of four still standing in the county.
---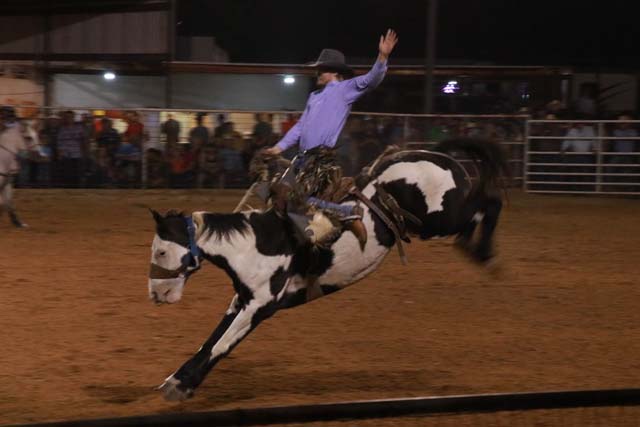 Rockdales' Fair Park
Fair Park is home to the Rockdale Fair and Rodeo, as well as host to events such as Roping & Barrel Racing Competitions, Livestock Shows, Carnivals & Circuses, Barbecue & Chili Cookoffs, Corporate Picnics & Family Reunions, Concerts & Dances, Horseshoe & Washer Tournaments, Car Shows and more. Bring your private or public event to this flexible, fully-fenced and gated venue, perfect for managing access to your private or ticketed public event. Fair Park features many amenities to accommodate a variety of events, including a 9300 square foot covered Pavilion with a 1300 square foot stage; Covered Picnic Table areas and Vendor Kiosks with electric – plus four large Barbecue Grills under a cover; Rodeo Arena; Livestock Show Ring; Livestock Pens & Barn.
---
Patterson Civic Center
Adjacent to Fair Park, Rockdale's Patterson Civic Center offers the perfect intimate venue for weddings, family reunions, conferences or meetings. Surrounded by huge oak trees, the grounds offer ample space for outdoor activities or ceremonies. Indoors, the venue provides a total 6200 square feet of space which can be divided into three sections.
---
El Camino Real De Los Tejas Trail
In October 2004, President George Bush signed into law a new national historic trail, the El Camino Real de los Tejas National Historic Trail. By creating this Trail, recognition was given to its importance as it connected Mexico to Louisiana during Spanish rule. The Trail is not one single pathway, but a series of connected trails. The National Park Service has identified sites of high potential interest along the trail, including Apache Pass, the three San Xavier Missions and Sugarloaf Mountain, all in the vicinity of Rockdale. The ill-fated missions of San Francisco Xavier de Horcasitas, Mission San Ildefonso, and Mission Nuestra Señora de la Candelaria del Cañón were built along the San Gabriel River. The San Xavier Mission Complex Archeological District are listed in the National Register Historic Places. Although the buildings no longer exist, and people cannot go visit the sites, roadside markers commemorate this brief and tumultuous chapter in Spanish and native interactions.

---
---