---
Shenandoah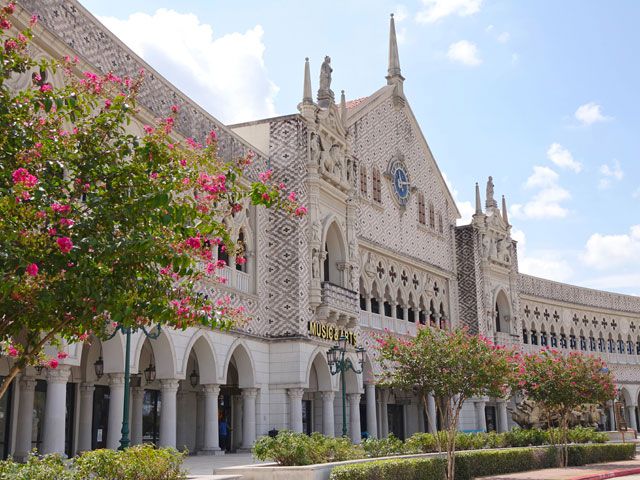 Travel to the northern reaches of Greater Houston and you'll encounter Shenandoah, a small community located just a stone's throw away from some of the best shopping and dining in the Gulf Coast region. The star of the show is the Portofino Shopping Center, a sprawling mall built with Venetian architecture and Roman-style statues and fountains that appear as if they have been plucked right from Italy.
Yet that's not the only option. After all, Shenandoah has three more shopping centers, and it affords easy access to all the stores, restaurants, and attractions of The Woodlands and Conroe. However, don't let all these urban pursuits fool you. Shenandoah's ideal location means it's a spectacular place to experience the beauty of the Texas Piney Woods region.
Your time in Shenandoah should begin at the state-recognized Visitor Center, which has everything you need to learn about the town. Along with its collection of information from across the state, the Visitor Center has an exhibit dedicated to David Vetter, a Shenandoah native known as the "Boy in the Plastic Bubble."
The Visitor Center is just a short distance away from the Portofino Shopping Center, where you can browse, shop, and dine to your heart's content. There are about 60 shops and restaurants to experience in Portofino, including Old Navy, Bath and Body Works, BJ's Brewhouse, and Pei Wei. Looking to do even more shopping? No problem! Visit the boutique clothing and jewelry stores of the Sam Moon Center, or head across I-45 to the massive The Woodlands Mall. Stay in Shenandoah and you're just minutes away from some of the best shopping in all of Houston.
Shopping may be a full-contact sport in Shenandoah, but it's not the only way to enjoy your stay here. In fact, the town has much to offer those who enjoy exploring the outdoors. Shenandoah is near a number of scenic natural areas, such as Lake Woodlands and the WG Jones State Forest. At Lake Woodlands, rent a kayak and paddle around the 200-acre lake or try your luck at fishing. While you're at the WG Jones State Forest, hike on the scenic nature trails that wind between towering pine and oak trees.
Once the sun sets, head to Main Event Shenandoah and take on your friends in the laser tag arena, knock over some pins in the bowling alley, or play games in the arcade. Don't forget to stop by Main Event's restaurant, where you can enjoy a variety of delicious dishes along with something from its extensive wine, beer, and cocktail menu.
Terrific shopping, a wealth of hotels, and a fantastic location makes Shenandoah a great place to stay if you want to experience all that north Houston has to offer. Plan your next trip here and you'll see why.
---
---