---

Attractions in Shenandoah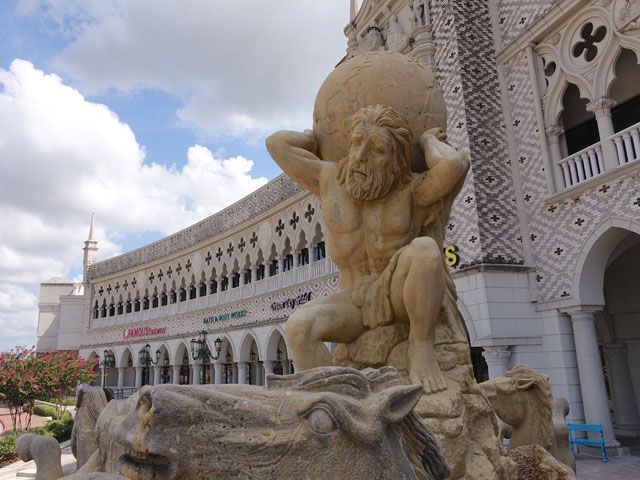 Unique shopping centers, great restaurants, a top-notch natatorium and football stadium, and the Main Event are among the attractions in Shenandoah. Read on to discover what this small city, located on the growing northern corridor of Houston, in the middle of The Woodlands, Conroe and Spring, has to offer travelers.
In Shenandoah
Aveda Institute
If you're looking for a wonderful, self-indulgent, spa experience for less, then the Aveda Institute might be it. As one of the largest Aveda training schools in the U.S., the Aveda Institute is a training center for those looking to begin their career in the salon business. Here, you can find a large number of spa services for less, as master-level stylists monitor and work with students to provide customers with great haircuts, color processing, manicure, pedicure and massage services. Just be prepared to provide them with some extra time, as they are still finishing up their training.
19241 David Memorial Drive
Shenandoah, TX 77385
(936) 271-7700
---
Conroe Independent School District (CISD) Natatorium
CISD's Natatorium is a world-class indoor swimming and Olympic training facility that hosts local, regional and national competitions. It is also open to the public for wellness swimming seven days a week.
19133 David Memorial Drive
Shenandoah, TX 77385
(936) 709-3901
---
Main Event Shenandoah
Dominate the laser tag arena, demolish some pins, and run the table at Main Event in Shenandoah, a popular attraction that has a wide variety of fun for all ages. Along with the laser tag, bowling, and billiards, this Main Event location has plenty of video games, karaoke, a bar, and a restaurant with a menu full of tasty treats and flavorful entrees. Main Event Shenandoah is open seven days a week throughout the year, including Christmas and New Year's Day.
19441 I-45 South
Shenandoah, TX 77385
(281) 355-5511
---
Shopping and dining at our five shopping centers
Shenandoah offers a shopping experience like no other. Whether shopping at Portofino Shopping Center (the city's original shopping area known for its striking architecture), Sam Moon Center (home to a number of resale and discount shops), or the city's latest new development, Metropark Square, home to the state-of-the-art AMC Metropark Square 10 with IMAX, you're sure to find just the store or shop you need in Shenandoah. Additionally, the city is also home to two other shopping centers, Research Forest and Research Plaza, that are also home to several restaurants. Learn more at our website, http://www.visitshenandoahtx.com.
---
Woodforest Bank Stadium
Woodforest Bank Stadium is a 10,000-seat artificial turf stadium located in Shenandoah, TX that is owned and operated by CISD. It is used primarily for football and soccer, and it lies directly north of the CISD Natatorium. They share a 3,300-space parking lot. In 2018, it also hosted the NCAA Division III Football Championship, known as the Stagg Bowl.
19133 David Memorial Drive
Shenandoah, TX 77385
(936) 709-3901
---
In Conroe (within a 3-10-mile drive of our Shenandoah hotels):
Heritage Museum of Montgomery County
The Heritage Museum of Montgomery County is housed in the Grogan-Cochran home. These two families owned & operated 25 sawmills over the years, where Shenandoah and The Woodlands now stand. Tours of the museum and its buildings are available from 9 am – 4 pm, Wednesday-Saturday. Admission is $2 for adults and $1 per child.
---
WG Jones State Forest
Visit WG Jones State Forest and you'll be in a protected forest teeming with native flora and fauna, the ideal backdrop for a range of outdoor activities. Explore hiking, biking, and horseback riding trails; go fishing in one of the forest's two small lakes; and try to spot the many birds and animals that occupy the area. Don't miss the Sweetleaf Nature Trail (where you'll find the State Champion Sweetleaf Tree) and the Red Cockaded Woodpecker Management Area.
Middle Lake Trail
Conroe, TX 77384
(936) 273-2261
---
Scrap Yard Sports
Scrap Yard Sports, located near The Woodlands, Texas, is the premier sports facility in the Houston Area. Sixteen all-turf fields are being created to support baseball and softball tournaments, league play, kickball, lacrosse, and other sports. No one else offers this quality of fields and facilities in the Houston area.
29607 Robinson Rd.
Conroe, TX 77385
(281) 719-9335
---
Three Palms Action Sports Park
For high-octane fun, it's hard to beat the heart-pounding action offered at Three Palms Action Sports Park. This 255-acre park, located just a few miles north of Shenandoah, is one of the top motocross parks in the greater Houston area. It features three premier motocross tracks, two peewee tracks, a BMX track, and spots ideal for fishing, swimming, and camping.
15100 I-45 South
Conroe, TX 77384
(936) 321-8725
---
In Spring (approximately an 8-mile drive from our Shenandoah hotels):
Old Town Spring (https://oldtownspringshopping.com/)
This historic, turn-of-the-century settlement just a few miles south of Shenandoah a variety of Victorian-style restaurants and shops, and is renown for its numerous festivals and annual events, including its spring "Texas Crawfish & Music Festival" in April, and its multi-week-long "Home for the Holidays" celebration.
403 Main Street
Spring, TX 77373
(281) 353-9310
---
Six Flags Hurricane Harbor SplashTown
Six Flags Hurricane Harbor SplashTown is a waterpark in Houston that offers nearly 20 rides perfect for helping you escape the heat of a Texas summer. Enjoy all the thrills and spills on rides like the Brain Drain, a seven-story-tall waterslide that spins you in 360 degrees, or kick your feet up and relax on an inner tube as you float down Paradise River. The waterpark is only open during the summer, and admissions tickets can be purchased online or at the gate.
21300 I-45 North
Spring, TX 77373
(281) 355-3300
---
In The Woodlands (just a 1-3-mile drive from all of our Shenandoah hotels):
Cynthia Woods Mitchell Pavilion
Internationally famous musicians routinely perform at Cynthia Woods Mitchell Pavilion, one of Houston's premier concert venues that sits just a few minutes from Shenandoah. Along with the covered seating, the venue has an open-air lawn ideal for watching a performance under the stars. A full schedule of events, along with ticket purchases, is available on the pavilion's website.
2005 Lake Robbins Drive
The Woodlands, TX 77380
(281) 363-3300
---
George Mitchell Nature Preserve
The lush pine and oak forests that surround Shenandoah provide a captivating environment well worth exploring. You can do just that at the George Mitchell Nature Preserve, a gorgeous park where you'll find three miles of single-tract bike trails and a wider two-mile natural-surface loop. The preserve is part of the Spring Creek Greenway, which encompasses other parks and attractions in Montgomery County and Harris County.
5171 Flintridge Drive
The Woodlands, TX 77381
---
Montgomery County Preserve
Montgomery County Preserve is one of the top birding and wildlife watching destinations in North Houston, and it's just a few miles away from Shenandoah! The 71-acre preserve, settled on the northern bank of Spring Creek, has a wide variety of flora and fauna, such as white-tailed deer, flying squirrels, bobcats, and red-headed woodpeckers.
1118 Pruitt Road
The Woodlands, TX 77380
(936) 539-7817
---
The Woodlands Mall
Explore more than 170 high-end shops at The Woodlands Mall, one of the premier shopping destinations in Houston. Major retailers such as Nordstrom, Pottery Barn, Michael Kors, and Godiva are among the stores in the mall, which also has a broad range of full-service restaurants. The Woodlands Mall is open seven days a week throughout the year.
1201 Lake Woodlands Drive
The Woodlands, TX 77380
281-363-3409
---
---