---
Attractions in South Padre Island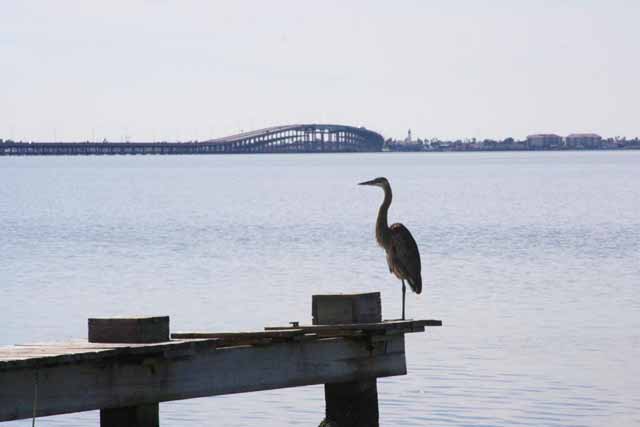 Whether you're visiting South Padre Island in the spring, summer, winter, or fall, there is no shortage of adventures to have at this popular Texas beach getaway. The natural beauty is as big a draw as anything man-made, with hundreds of species of birds and fish making their homes here in the ocean and the marshlands.
Of course, South Padre Island's most popular attraction just might be its beaches, which are among the cleanest and widest in Texas. So come for a party, an exciting adventure, a rare look at wildlife, or an unforgettable time with the family at these top attractions in South Padre Island.
---
Clayton's Beach Bar
Take in the Gulf views from the deck of Texas' biggest beach bar. Clayton's hosts many of the Island's most popular events, from weekend fireworks to Sandcastle Days.
6900 Padre Boulevard
South Padre Island, TX 78597
(956) 761-5900
---
Gravity Park South Padre Island
When the sun goes down and the swimsuits are hung up to dry, head to Gravity Park for a night of fun family-friendly activities. An arcade, climbing wall, go-karts, a mini-golf course, a Skycoaster, and the tallest reverse bungee ride in the world are just a few of the on-site attractions.
106 West Marlin Street
South Padre Island, TX 78597
(956) 761-8588
---
Isla Blanca Park
With more than a mile of beautiful beachfront, Isla Blanca Park is one of the best places in South Padre to live it up along the Gulf of Mexico. Fishing, snorkeling, diving, jet-skiing, and parasailing can all be found going on here on a daily basis, as well as some of the best surfing in Texas. Bring the RV and stay at one of the partial or full hookup sites, or try your luck at claiming a tent site (reservations are not taken).
33174 State Park Road 100
South Padre Island, TX 78597
(956) 761-5493
---
Laguna Madre Nature Trail
A 1,500-foot boardwalk that crosses four acres of marshland. Berries on the fiddlewood bushes that grow along the trail help attract many of the 300-plus species of birds that pass through South Padre every year. Open 24 hours a day.
7355 Padre Boulevard
South Padre Island, TX 78597
(956) 761-3000
---
The Original Dolphin Watch
Dolphins would have to be the unofficial mascot of South Padre Island. One of the best ways to see them is a sunset cruise with this tour company that takes you past lots of spinners and bottlenoses, and ends with a fireworks show in Laguna Madre. Original Dolphin Watch also offers professionally guided snorkeling and diving trips.
33256 State Park Road 100
South Padre Island, TX 78597
(956) 761-4243
---
Queen Isabella State Fishing Pier
No boat? No problem. You don't need a bowrider to get out to the fish in South Padre's waters, thanks to this long pier on the south side of South Padre Island. Food is available at the snack bar, as is bait to aid you in your hunt for specks, sand trout, drums, croaker, sheepshead, or catfish. There is a fee per pole, so it's best not to bring more than you need.
501 East Maxan Street
South Padre Island, TX 78578
---
Sandcastle Lessons
Master the most intricate architectural details need to build some truly epic sandcastles. Take a sandcastle lesson from one of the Island's master sculptures that can help you take your sandcastle building to the next level. Sandcastle lessons are a great beach activity for children and adults of all ages.
---
Schlitterbahn South Padre Island
The South Padre location of this popular chain of waterparks packs all the wet-and-wild fun that Texans expect from the Schlitterbahn name. Indoor and outdoor rides, multiple river systems, and in-park beaches are all part of the park. If you stay at the resort, special packages and discounts are available for enjoying the waterpark or skydiving, golfing, cruising, horseback riding, and more.
33261 State Park Road 100
South Padre Island, TX 78597
(956) 772-7873
---
Sea Turtle, Inc.
Sea Turtle, Inc. is a non-profit where the public is invited to come and meet rescued sea turtles and the organization's conservation efforts. "Turtle Talks" and "turtle enrichment" activities happen throughout the day, and guests can tour the outdoor facility or take part in a scavenger hunt. Open 10 a.m. to 4 p.m. (5 p.m. during the summer) Tuesday through Sunday.
6617 Padre Boulevard
South Padre Island, TX 78597
(956) 761-4511
---
South Padre Island Birding and Nature Center
Nature lovers won't want to miss this incredible destination for eco-tourism in South Padre. As you walk the trails, wait in the blinds, or look out from the five-story viewing tower, you'll see the flora and fauna of the Laguna Madre Bay and observe a variety of migratory and regional birds. Open daily from 9 a.m. to 5 p.m.
6801 Padre Boulevard
South Padre Island, TX 78597
(956) 761-6801
---
South Padre Island Dolphin Research & Sea Life Nature Center
The Nature Center brings you closer to the ocean than just about anywhere else. The Sea Life Center exhibits live, rescued starfish, crabs, octopi, snails, and more, with touch tanks for hands-on discovery. But the star feature is the dolphin tours, where groups of six get up-close views of the wild dolphins living in the Laguna Madre Bay.
110 North Garcia Street
Port Isabel, TX 78578
(956) 299-1957
---
South Padre Island Golf Club
Considered one of the finest courses in the Rio Grande Valley, South Padre Island Golf Club provides challenging play in a beautiful setting. The links-style holes were designed with the wind in mind, but water comes into play on nearly half of them, so pack lots of balls. Amenities include a driving range, putting green, pro shop, and a restaurant and bar.
1 Ocelot Trail Road
Laguna Vista, TX 78578
(956) 943-3622
---
---
South Padre Island, Texas
610 Padre Boulevard
South Padre Island, TX 78597
1-800-SOPADRE
www.sopadre.com