---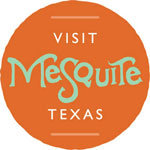 5 Reasons You Should Hang Out in Authentic Downtown Mesquite
Massive and impossibly colorful murals, a farmers market loaded with fresh North Texas produce and handmade goods, and lively restaurants that serve a tantalizing array of worldwide cuisines. Welcome to Downtown Mesquite, the beating heart of the city of Mesquite that has authentic experiences, luscious eats, and treasures that are just waiting to be uncovered. Located a little east of Dallas, Mesquite is easy to reach but feels like a destination all its own. Read on to see why you should come experience Mesquite's growing downtown area for yourself, then plan your visit here.
---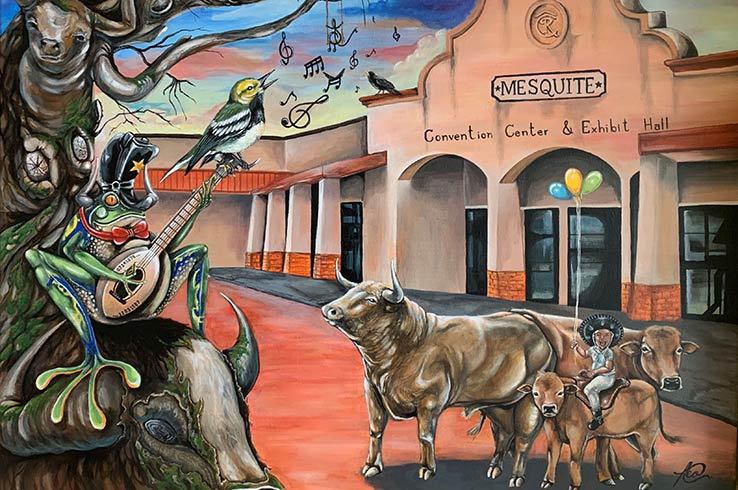 Evolving Downtown Mesquite is Full of Surprises
Eye-catching murals, refreshed storefronts, new eateries, and a brand-new event space and hangout spot. Whether or not you've been to Downtown Mesquite before, this part of town is everchanging. Much of this evolution is centered around Front Street Station, the ideal spot for markets and concerts thanks to the vendor spaces and a performance pavilion. Even if there's not an event going on when you're here, stop by to check out the eight recently created seven-by-10-foot murals chosen among 40 submissions by amateur and professional artists, as well as local students. This fall, you'll be able to stop by the eagerly awaited Alejandro's at Front Street Station, a chic Mexican restaurant that will serve bold and fresh flavors (more on that later).
Take all of Front Street Station in, then explore the rest of Downtown Mesquite and you'll find change everywhere. Storefronts throughout the area are being rehabilitated, so no two visits here will be the same. Admire the captivating mix of 1880's era to mid-century architecture as you check out the multiple historical markers that outline Dallas County's early history, including the story of a train robbery that happened here by famed outlaw Sam Bass on April 10, 1878. Journey through the past, then breathe in some fresh air at the nearby City Lake Park. Run on the half-mile trail, try your luck at hooking a fish, or enjoy a picnic as you wait for a magnificent North Texas sunset. Don't miss the park's Official Texas Historical Marker, which celebrates its status as Mesquite's first public park.
---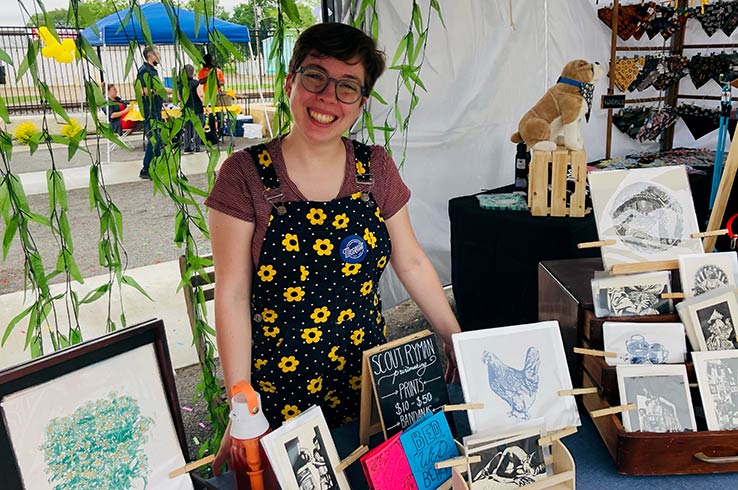 The Downtown Mesquite Farmers Market is a Must See
Craving an authentic taste of North Texas? Look no further than the Downtown Mesquite Farmers Market, held at Front Street Station every Saturday morning from April through November. Browse a selection of locally grown produce, tasty fare, and artisanal products from more than 25 vendors, then dig into something delicious from one of several food trucks. When you're not noshing on something savory, find a spot in front of the stage and listen to a local band do its thing. Each iteration of the farmers market also features giveaways and drawings, giving you the chance to leave with a special prize along with all your other goodies. Whether you're looking to fill out your pantry or for somewhere to kick back and enjoy good food, great company, and stellar music, the Downtown Mesquite Farmers Market is the place to be.
---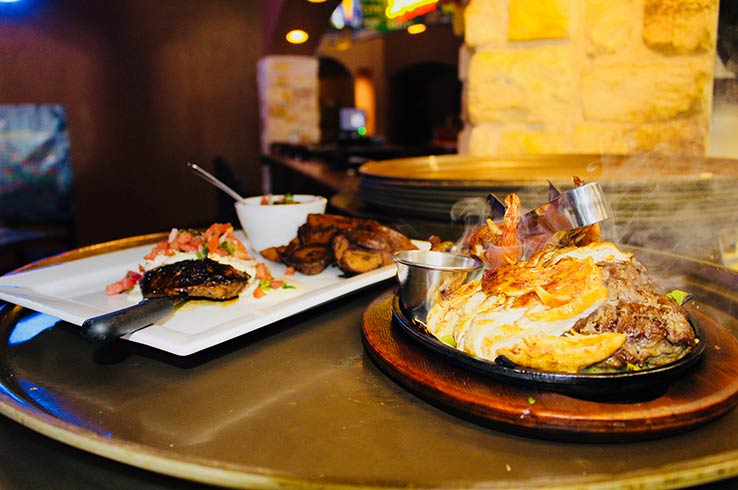 The Southwestern Grill Menu at Downtown Mesquite's Newest Restaurant
Coming this fall to Downtown Mesquite, enjoy sizzling fajitas, steaming quesadillas stuffed with melted cheese, or tequila-marinated chicken breast with an ice-cold margarita. Sink your teeth into mouthwatering traditional Mexican dishes with a hint of Texas flavor at Alejandro's at Front Street Station. Find a spot on the outdoor patio and take your pick from a wide range of choices, starting with stuffed jalapenos or Mexican street corn and continuing with tacos, grilled seafood or Tex-Mex dishes, or even burgers. Enjoy your meal as you take in the lively, welcoming atmosphere of Downtown Mesquite's newest restaurant.
---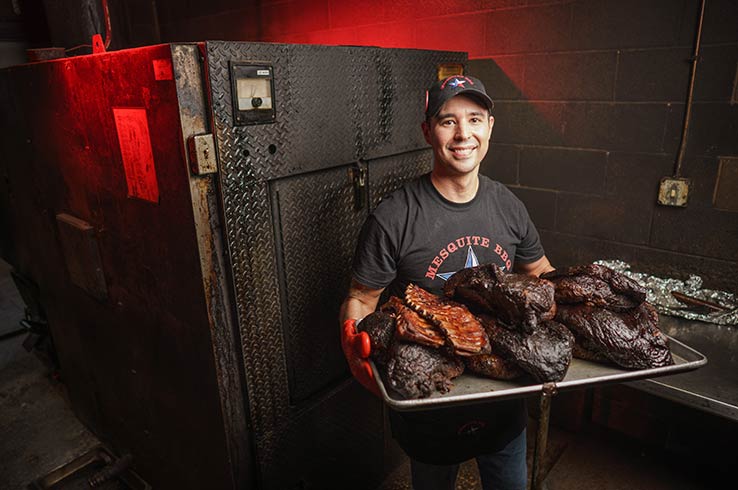 There's Plenty of Great Food to Enjoy
When your appetite gallops like a team of horses, there's no better place to be than Downtown Mesquite. Start your morning off with a cold brew, espresso, or specialty coffee made with beans roasted here in Texas at Bear Cave Coffee. Then head off to Mesquite Barbecue, a local institution that has been serving mouthwatering smoked brisket, ribs, hot links, sausage, chicken breasts, and more for over 60 years. Order up meat by the pound or as a sandwich served on Texas toast, but make sure to save some space for a cake ball, peach cobbler, banana pudding, or a slice of pecan pie. For homemade pizzas and classics like fettuccine alfredo, lobster ravioli, and chicken parmigiana, Joe's Pizza and Pasta Italian Grill will leave you satisfied. Last, but not least, Tasty Chicken and Wings is a favored spot for their take on El Salvadorean food (the pupusas are a must try), but they also have Mexican fare and hot wings.
Hungry yet? See all of Mesquite's restaurants here.
---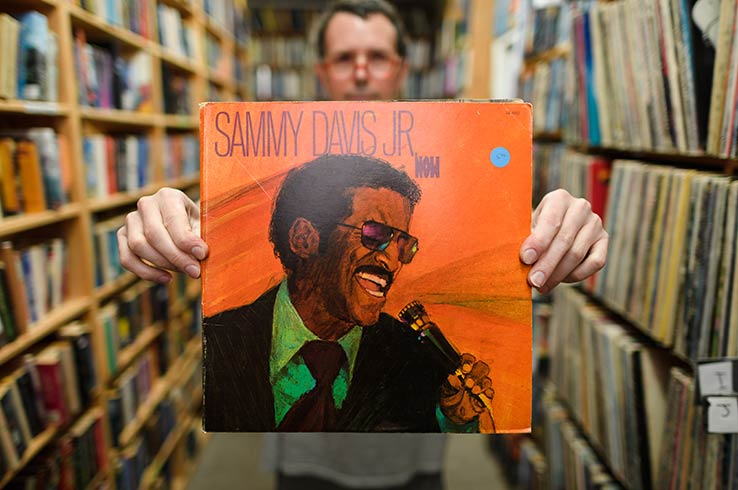 One-of-a-Kind Shops Make it Easy to Shop Local
Wander past the more than 100-year-old buildings that line Downtown Mesquite's streets and you'll encounter an array of shops that you'll want to step on into. Set near Front Street Station, Windsor Florist's home décor and eye-catching bouquets and flower arrangements will surely brighten your day. Not far away, The Book Co. is a spot you can lose yourself in. Browse the family-owned shop's vast collection of new and used books that cover every genre imaginable, from graphic novels and travel guides to thrillers and children's stories. Don't miss the extensive selection of vintage vinyl records.
Of course, there's plenty more where that came from. Get your cup of Joe at Bear Cave Coffee before you check out its selection of t-shirts, caps, collectibles, branded tote bags, and (most importantly) coffee beans, which they will grind for you. Finally, keep an eye out for the abundance of pop-up shops that show up in Downtown Mesquite nearly every weekend. Here you'll find art, clothing, and even cookies that are equally appealing to the eye and palate. Bear Cave Coffee sometimes hosts vendor market days starring more than 20 home-based businesses, so keep an eye out for those as well. No matter what you're shopping for, if you spend enough time in Downtown Mesquite there's no telling what you'll come home with.
---
Full of authenticity and down-home charm, Downtown Mesquite is always worth a visit. Yet it's only one of many reasons to visit Mesquite. Discover all this town has to offer and plan your next trip here.
About the Author: James Waterson is the head writer and content specialist for Tour Texas. When he isn't writing about the many great places in the state of Texas, he's planning his next epic adventure in the Lone Star State.
---
---