---
Things to Do in Salado
As you drive through Central Texas along I-35 between Austin and Waco, you'll find the village of Salado about halfway between the two. Pull over immediately. Stay for a while. You don't want to miss the fabulous art galleries, craft brewery, wineries, performance arts, and boutique and antique shops this artist haven has to offer. Learn how to blow glass at Salado Glassworks, sing along to a live production under the stars at Tablerock's outdoor amphitheater, and unwind with a glass of locally-brewed beer. Salado is a prime spot to slow down and appreciate life's finest moments. Below are some popular things to do in Salado to help in planning your next getaway.
---
Craft Your Own Piece of Art at Salado Glassworks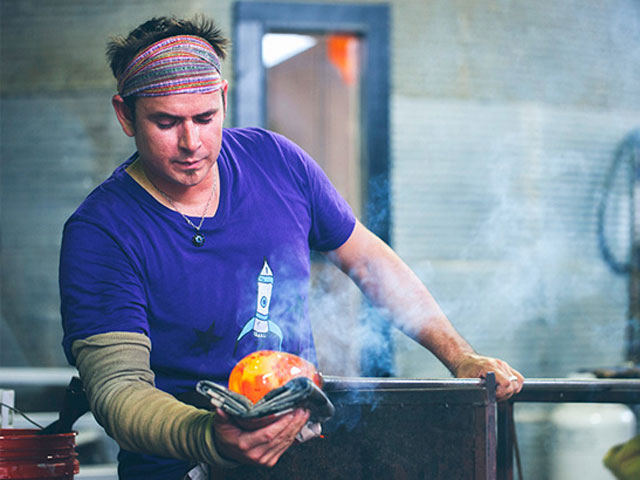 Plan ahead and reserve your spot in a glass blowing class at Salado Glassworks. Join a top-class artist as you shape your own piece of art, create something with your own two hands, and return home with not only a new treasure, but a new skill. Salado Glassworks regularly hosts various classes to make your own tumbler for Oktoberfest, glass-blown pumpkin for Halloween, or a one-of-a-kind ornament for Christmas. Along with making your own work of art, you can watch the pros blow glass (usually Wednesdays through Fridays), shop at the store, or order your own custom piece. Blowing glass at Salado Glassworks is a great way to experience the town's artistic side while also making a treasure you'll be proud to bring home.
---
Tour Salado's Art Galleries
Salado is a destination for creatives and art lovers, and as such is brimming with art galleries of all genres. Start your journey into Salado's arts scene by browsing the gorgeous jewelry at FSG Fine Jewelry, where owner Frankie Sidaras' wares are inspired by the work of the Navajo silversmiths of New Mexico. More colorful, and distinctive, art is available for purchase at Glass River Design. Amazing glass art pieces, even glass sinks that will surely impress your future houseguests, can be found here.
Vibrant oil paintings of brilliant Hill Country bluebonnets to vintage jewelry buckles are part of the collection at the Griffith Fine Art Gallery, a showcase of the works of Salado's brilliant artists. At the Prellop Fine Art Gallery, you can see one of the largest selections of fine art reproductions from artists like G. Harvey, Bruce Greene, and Bob Wygant, and a variety of mediums from oil and acrylic to bronze and metal.
For years, Thomas Kinkade has amazed art lovers with his iconic paintings that reflect the beauty around us. When you visit Salado, shop the large collection of Kinkade's artwork at the Thomas Kinkade Stagecoach Galleries, located in the downtown area. And as you walk up to the Wells Gallery, you just may mistake the bronze wildlife sculptures for actual deer welcoming you here. The gallery, full of paintings and sculptures by award-winning artist Ronnie Wells, is a showcase for the artist's masterful technique and attention to detail.
The art galleries in Salado are prime spots to get to know the landscape of the area and the talented artists that are beautifully documenting it.
---
Attend an Event at Tablerock in Salado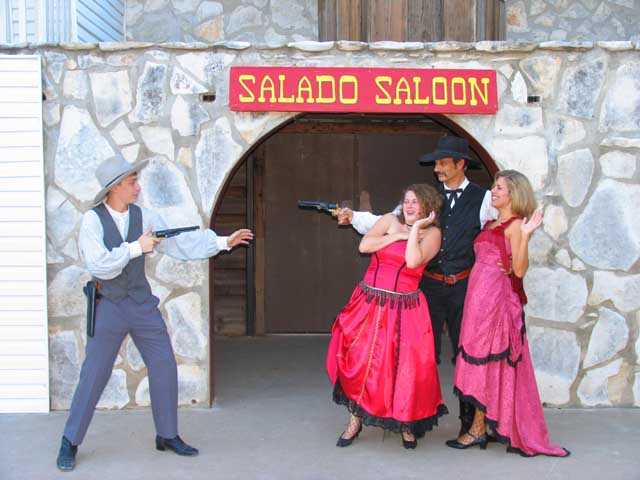 Prepare to be entertained at Tablerock in Salado, where they host everything from Christmas events, musicals, religious dramas, and concerts throughout the year. The skies of Central Texas are gorgeous and Tablerock, an outdoor amphitheater, is a prime location to enjoy live theatrical performances beneath the stars. In May, the Gospel Festival fills Tablerock with joyous music, and in July and August, the Salado Legends musical tells the story of American life at the end of the 19th century.
Lions and tigers and bears. Oh, my! Celebrate Halloween a bit differently this year by taking Salado's Halloween Fright Trail where you'll encounter famous scenes and characters from beloved tales along the walking path. You might encounter favorites like Billy Goat Gruff and the Troll who guards the bridge, Alice in Wonderland, Frankenstein, Dracula, Edgar Allen Poe, the Headless Horseman, and Dorothy and the Wicked Witch. Tablerock's production of A Christmas Carol is the perfect way to end the year.
---
Visit a Local Craft Brewery
For a town with a population of just over 2,000, it's impressive that there is a craft brewery here. It's evident the owners of Barrow Brewing Company love their community and wanted to give back by contributing to the experience one can enjoy here. Sit back and sip on Barrow Brewing's carefully-crafted beers, such as the hoppy citrus Evil Catfish IPA, the full-bodied Tipsy Vicar Stout, or the refreshing 784 Belgian Witte. These beers are inspired by the Barrow's family history and characters from the town. Pair your pint with a bite to eat from one of Salado's food trucks while live music plays in the background.
For craft beer and wine from all over Texas, head on over to Chupacabra Craft Beer & Salado Lone Star Winery. With more than 60 Texas craft beers on tap, this is the prime location to sample the Lone Star State's best beers. You can buy beer flights and receive a souvenir pint glass, as well as get your photo taken with a life-size Chupacabra. If beer isn't your drink of choice, the Salado Lone Star Winery has a menu of 200 reds and whites from around the world. Enjoy it all while watching the game on the big-screen TVs, get some grub at a food truck, and take in the live music on the weekends.
---
---
Salado, Texas
423 S Main St.
Salado, TX 76571
254-947-8634
www.salado.com