---

Attractions in Kingsville
Don't miss out on the full medley of attractions in Kingsville. This beautiful Texas Gulf Coast town has some of the finest museums, cultural landmarks, and outdoor festivities exhibiting legendary history and South Texas lifestyle. From exploring the famous King Ranch and the 1904 Historic Train Depot to experiencing the Monarch USA Butterfly Gardens and fishing along Escondido Creek, there is something special for everyone in Kingsville, Texas.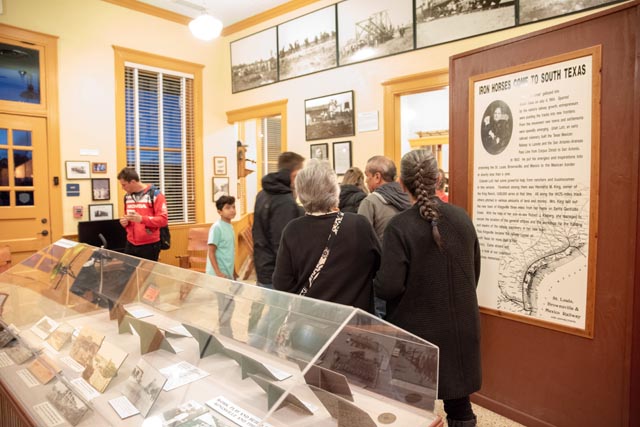 1904 Train Depot Museum – Immerse yourself in the history of Kingsville's legendary railroad
Journey back in time to experience the rich history of the legendary railroad that contributed to the growth and prosperity of Kingsville. There was a deep need for a railroad to connect Brownsville to St. Louis in 1904. King Ranchers and founders, Captain Richard and Henrietta King generously stepped in to donate a large portion of their prized King Ranch to accommodate a site for the railroad to be built.
As railroad workers grew as did the population, turning Kingsville into the flourishing town it remains today. Generous volunteers bring each exhibit to life sharing stories of relatives that worked on and rode the rails as you view custom pieces, artifacts, and memorabilia, including an operational telegraph, from the early 1900s exhibited in this exciting and newly restored museum.
102 E. Kleberg Avenue
Kingsville, TX 78363
(361) 592-8516
---
Historic Downtown Kingsville – Indulge in a variety of fun events, fine restaurants, and shopping
Downtown Kingsville puts on a variety of events throughout the year including an Arts & Crafts Food Fair, Family Fun Day, Festival de la Loteria, and Kingsville, Texas Wine Walk. Experience live entertainment, games, contests, and vendors. On an average day, enjoy delicious dining at one of the many restaurants and shopping at local stores for a leisurely good time.
301-399 E Kleberg Ave
Kingsville, TX 78363
---
John E. Conner Museum - Explore South Texas' rich history with uniquely curated exhibitions
Located on the campus of Texas A&M University – Kingsville, you will find an exciting collection of artifacts and information about South Texas with uniquely curated permanent and temporary exhibitions on display. Be sure to check out "En Mi Familia" and Graves Peeler Hall of Horns. "En Mi Familia" is Inspired by the art of Kingsville native and Texas Arts & Industry University alumna Carmen Lomas Garza. It is a multi-sensory experience through iconic paintings exploring color, sight, and sound. Graves Peeler Hall of Horns features over 200 mounted examples of North American wildlife and Longhorn herd horns assembled by rancher and lawman Graves Peeler.
905 W Santa Gertrudis Ave
Kingsville, TX 78363
(361) 593-2810
---
King Ranch Visitor Center – Venture to "The Birthplace of American Ranching" for a firsthand look into South Texas Ranching
Take a guided tour through the birthplace of American ranching. King Ranch is both a National Historic Landmark and the first ranch to produce a registered American Quarter horse. The King Ranch Visitor Center provides guests with a selection of interesting and educational tours exploring the many facets of the legendary King Ranch.
Take a historical tour, available daily, for a detailed look into ranch operations, including its insightful history, historic buildings built in the early 1900s, and the significant Western ranch animals on the property. Some of these sites include Mrs. King's Carriage House, the Commissary with its lookout tower, King Ranch Quarter horses, Santa Gertrudis breed of cattle, and a resident Longhorn herd. Private special interest tours are also offered for those who want to customize their King Ranch experience.
---
King Ranch Museum – Educational artifacts and entertaining exhibitions about the ranch that started it all for Kingsville
Explore the legendary history of the King Ranch and its founders Captain King, Henrietta King, and her son-in-law Robert J. Kleberg, Sr. This is a captivating museum where ranch lore and the evocation of South Texan Western history take the stage. Permanent collections on exhibit include Toni Frissell's award-winning photographic essay of life on King Ranch, antique carriages, vintage cars, saddles from around the world, and firearms including a King Ranch commemorative Colt Python .357 magnum revolver.
Those eager to delve into the history of horses at King Ranch will love its special permanent showcase entitled "From Old Sorrel to the Boon." This special exhibit chronicles the exciting history of King Ranch Quarter horses, including Assault, the only horse in Texas to win the Triple Crown. Being the first ranch to produce a registered American Quarter horse, King Ranch honors its powerful past and highlights its bright future.
405 N. Sixth St.
Kingsville, TX 78363
(361) 595-1881
---
Barraza Fine Art Gallery – Feast your eyes on multicultural fine art owned by Internationally renowned Chicana / Tejana artist Santa Barraza
Inside the historic Watson Home, built of stone in 1907, this restored Greek revival style architecture has been transformed into an art studio and gallery by internationally renowned Chicana / Tejana artist Santa Barraza. Free admission and open to the public, Barraza Fine Art Gallery showcases a captivating collection of artistic works from sand paintings to watercolor dreamscapes offering visitors a glimpse into the multicultural perspective of a Kingsville native with ancestry rooted in Mexico, Spain, and the indigenous Karankawa Indian tribe.
407 S. 5th Street
Kingsville, TX 78363
(361) 360-5788 or (361) 522-3704
---
Ben Bailey Art Gallery – Peruse an everchanging curation of art exhibitions in this special Texas A&M University gallery
Located on the Texas A&M University campus, the Ben Bailey Art Gallery features artistic works from creators around the world. Its vast selection of exhibitions and chosen artists throughout the year provides dynamic variety to the arts community in Kingsville. It's designed to inspire students attending the university, locals, and for all Kingsville visitors.
916 W. Santa Gertrudis
Kingsville, Texas 78363
(361) 593-2919
---
Dick Kleberg Park – Go fishing, birdwatching, and play a game of disc golf at this active outdoor par
A Kingsville outdoor treasure, the Dick Kleberg Park is a spacious 186-acre park featuring butterfly and hummingbird gardens with educational interactive signs, a wildlife outlook for a closer peek into natural Texas, and plenty of birdwatching and fishing opportunities along Escondido Creek. For activity seekers, play a fun round of disc golf on its course, shoot hoops on the basketball court, batter up at the softball diamond, and make a goal on the soccer field. Children are encouraged to romp around its kid-friendly playground and adults can rent out its BBQ building and recreation hall for special events and gatherings.
501 Santiago Park Lane
Kingsville, Texas 78363
(361) 221-8705
---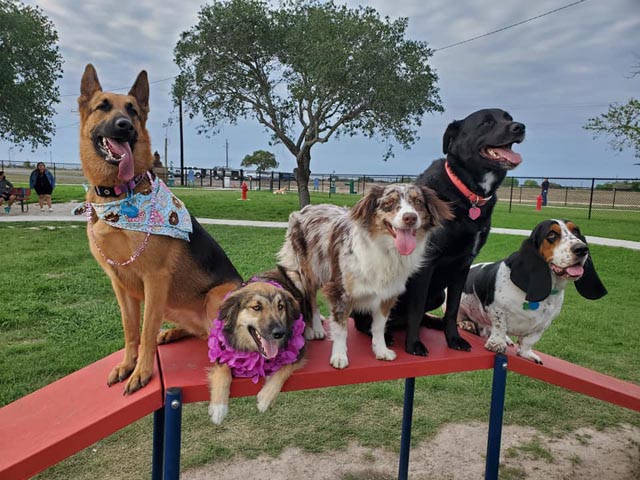 Vishal Raju Bhagat Dog Park – Bring your pooch to this pet-friendly park designed for dogs of all sizes
Not your average dog park, the Vishal Raju Bhagat Dog Park features a fun obstacle course to test your pet's agility. It's a safe and convenient place to give your pooch pal the freedom to roam and socialize with other dogs. It offers separate amenities to accommodate both large and small dogs. Water fountains and benches are located inside of the dog park for a comfortable and leisurely experience.
501 Santiago Park Lane
Kingsville, Texas 78363
(361) 221-8705
---
L.E. Ramey Golf Course – Tee-up on an attractive 18-hole golf course surrounded by lush greenery and wildlife
With warm and sunny weather all year-around, the L.E. Ramey Golf Course is the perfect place to tee-up in Kingsville. This is a spacious 18-hole golf course with a driving range, putting and chipping green, and a practice bunker for the short game. Rustic mesquite trees line its elongated fairways and large greens. Players will spot an abundance of wildlife enjoying the nine ponds sprawled throughout its grounds.
2522 E. Escondido Road
Kingsville, Texas 78363
(361) 592-1101
---
Brookshire Pool – Make waves in this large community pool alongside a kiddie pool for the little ones
Cool off during the hot spring and summer months at the Brookshire Pool. This large community pool features a 3- to 5-ft-deep shallow end extending into a 12-ft-deep area with a diving board. Its Kiddie Pool addition provides a safe and kid-friendly space for toddlers to join in on the fun. Enjoy sunny South Texas afternoons comfortably shaded under its long, multi-person awning with tables for dining or grab a bite under one of its umbrella tables on the deck.
1519 East Kenedy Ave.
Kingsville, Texas 78363
(361) 592-7061/(361) 221-8705
---
Flores Park Splash Pad – Cool off and play around in a free, fun, and outdoor water attraction
Frolic away from the Texas heat and play around at the Flores Park Splash Pad. This free and amusing water attraction is designed for both kids and adults to cool off and to have some refreshing fun! Located at the City of Kingsville Park, it is open to all from spring break until Labor Day.
N. 12th Street & E. Santa Gertrudis Street
Kingsville, Texas 78363
(361) 221-8705
---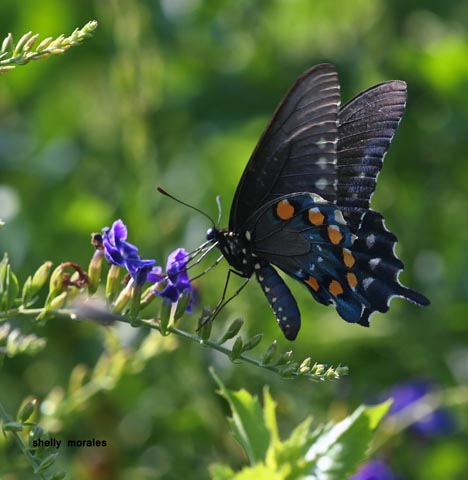 Butterfly Buds Monarch City USA Gardens – Fluttering beauty surrounds you at each of these beautiful butterfly gardens dotted throughout town
Kingsville is officially a Monarch City USA member, and it has built a network of six Butterfly Buds Gardens to prove it! Visitors are invited to explore its numerous locations throughout the city featuring multiple species of butterflies, special butterfly-focused tours, and nature events. Identify and record your butterfly sightings using the iNaturalist Seek App. Log and compare with other visitor's species sightings spotted while in town. Butterfly Garden destinations are located at Kingsville Parks and Recreation, Dick Kleberg Park, King Ranch, Kingsville Visitors Center, King Ranch Visitor Center, the Train Depot, and the Kingsville Xeriscape Garden.
Multiple Locations
Kingsville, TX
(361) 592-8516
---
---