---

Attractions in Kingsville
King Ranch Visitor Center
The King Ranch Visitor Center offers several tours that allow guests to explore the many aspects of the legendary Ranch. Daily Historical Tours guide visitors on an hour and a half journey through the Ranch, providing insight on the history of the Ranch and current operations. King Ranch Quarter Horses, the Santa Gertrudis breed of cattle, a resident Longhorn herd, and an abundance of wildlife can be viewed along the way. Historical buildings include Mrs. King's carriage house (constructed in 1909), the commissary with its lookout tower, and the Main House (completed in 1915). Although no tours are offered of the interior of the Main House, a drive by the exterior will show why it has been designated a Texas State Historical Monument and the Ranch itself has been designated a National Historic Landmark. The King Ranch Visitor Center also offers a private "special interest" tour. This four-hour tour can be customized to the visitor's interest. A knowledgeable guide will lead guests who want to learn more about cattle operations deeper into the Ranch to visit the feed yard and to hear about the cutting-edge technology driving modern ranching. King Ranch farms 70,000 acres in South Texas, and those interested in farming can take a tour of the cotton and milo fields and the Ranch's cotton gin. King Ranch produced the first registered American Quarter Horse and continues to produce quality quarter horses that are used on the Ranch every day. Guides can provide a personalized tour of quarter horse operations and a special quarter horse exhibit in the King Ranch Museum. Unlike the stereotypical "dude ranch," it will be apparent to visitors that King Ranch is an active, working cattle operation. Take a tour of the birthplace of American ranching.
2205 TX-141
Kingsville, TX 78363
(361) 592-8055
Tuesday-Saturday: 10 a.m. – 3 p.m. (Daily Tours leave at 11 a.m. and 1 p.m.)
Sunday-Monday: CLOSED
---
King Ranch Museum
To understand the mythic past of King Ranch, a trip to the King Ranch Museum is a must. The museum is housed in the Henrietta Memorial Center in downtown Kingsville. The building was originally constructed as an ice and electrical plant soon after the founding of the town in 1904. The museum is the definitive repository of ranch lore and the items on display clearly evoke the bygone days of Captain King's legendary spread. The King Ranch Museum's permanent collections include Toni Frissell's award-winning photographic essay of life on King Ranch in the early 1940s; saddles from around the world, guns, and rifles including a King Ranch commemorative Colt Python .357 magnum revolver (serial number KR1), and antique carriages and vintage cars, including El Kineño, a custom-designed Buick Eight hunting car built for Congressman R. M. Kleberg, Sr., in 1949 by General Motors. Upon arriving at the King Ranch Museum, you are welcomed with a bronze sculpture of Mrs. Henrietta King and her son-in-law Robert J. Kleberg, Sr., as well as a sculpture of the first artesian well that was drilled on King Ranch in the summer of 1899. Visitors can view videos about the history of King Ranch and its main residence.
The museum has a special permanent exhibit entitled "From Old Sorrel to the Boon," chronicling the history of the King Ranch Quarter Horses, and a special exhibit highlighting Assault, the only horse from Texas to win the Triple Crown.
From May 21 through Sept. 5 the King Ranch Museum participates in the Blue Star Museum program, offering free admission to active-duty military and their families.
405 N. Sixth St.
Kingsville, TX 78363
(361) 595-1881
Tuesday-Saturday: 10 a.m. – 4 p.m.
Sunday-Monday: CLOSED
---
John E. Conner Museum
While on the Texas A&M University-Kingsville campus, visit the John E. Conner Museum and explore the bilingual, interactive 'En Mi Familia' exhibit inspired by the works of artist Carmen Lomas Garza. Discover the life and legacy of South Texas natives General Richard Cavazos, World Champion Boxer 'Lil Oscar Cantu, and Graves Peeler. Visitors can also experience a variety of North American game species in the Gravels Peeler Hall of Horns. The Caesar Kleberg Hall of Natural History showcases replicas of South Texas & Norther Mexico's flora and fauna. The Conner Museum also serves as a hands-on teaching laboratory for the faculty and students of Texas A&M University-Kingsville. Temporary exhibits, lectures, and educational events are scheduled throughout the year. The Conner Museum is free and open to the public Tuesday through Saturday and on some holidays.
905 W Santa Gertrudis Ave
Kingsville, TX 78363
(361) 593-2810
Hours: Tuesday & Wednesday 2 p.m. to 4:30 p.m.
Thursday – Saturday 10 a.m. to 4 p.m.
---
1904 Train Depot Museum
The restored train depot downtown displays artifacts and the history of the railroad's impact on the city. A collection of photos and artifacts tell the story of Kingsville's past, founded on July 4, 1904, when the first passenger train headed south to the Rio Grande Valley and opened travel to all of South Texas. Visit a reproduction of a 1904 bandstand, located adjacent to the train depot. Spot a variety of butterfly species in the Butterfly Buds Garden out front. Free Admission.
102 E. Kleberg Avenue
Kingsville, TX 78363
(361) 592-8516
Tuesday – Saturday 10 a.m. to 3 p.m. and during special events downtown. Closed at noon for lunch.
---
Barraza Fine Art
Gallery and studio owned by Internationally Renowned Chicana Artist Santa Barraza. Located inside the historic Watson Home, constructed of stone in approximately 1907. The restored Greek revival-style home has a story of its own and the art displayed inside is constantly changing as pieces are sold. Free admission. barrazafineart.com.
407 S. 5th Street
Kingsville, TX 78363
(361) 360-5788 or (361) 522-3704
---
Dick Kleberg Park
Dick Kleberg Park is a 186-acre park with a butterfly and hummingbird garden dotted with interactive informational signs, a wildlife outlook, and many opportunities for birding or fishing along Escondido Creek. This park, located on the south side of town, offers great opportunities to play a round of disc golf, enjoy a day at the baseball, softball, or soccer fields or take advantage of the playground amenities on-site for the kids. Barbeque building and recreation hall available for rental.
501 Santiago Park Lane
Kingsville, Texas 78363
Hours: Monday-Sunday: 7:30 a.m. – 10 p.m.
(361) 221-8705
---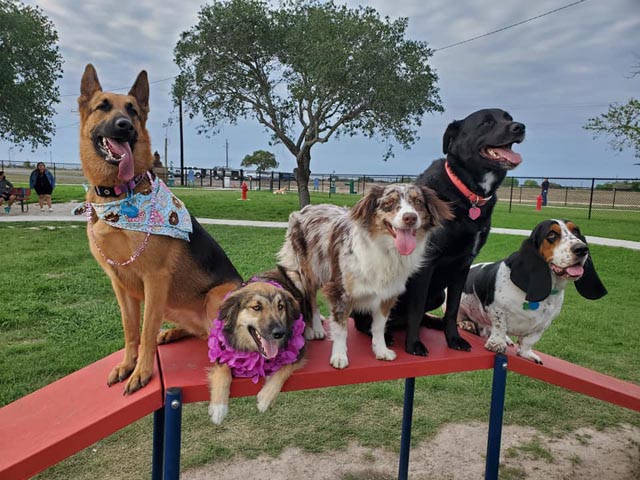 Vishal Raju Bhagat Dog Park
Test your pet's agility on the obstacle course in the Vishal Raju Bhagat Memorial Dog Park. Water fountains and benches are located inside the dog park. This dog park offers separate amenities for large and small dogs.
501 Santiago Park Lane
Kingsville, Texas 78363
Monday-Sunday: 7:30 a.m. – 9:00 p.m.
(361) 221-8705
---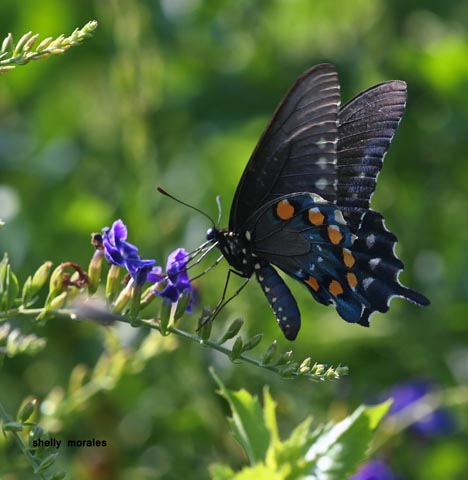 Butterfly Buds Monarch City USA Gardens
In 2020, Kingsville became an official Monarch City USA member. The community has built a network of six Butterfly Buds Gardens for visitors to explore numerous locations and experience Mother Nature at its best. Visit our Monarch City USA Butterfly Buds Gardens to spot & identify your butterfly sightings using the iNaturalist Seek App. Log your sightings and find out what species other visitors have spotted while in town.
---
L.E. Ramey Golf Course
Kingsville's 18-hole public golf course measures 6,479 meters in length and is lined with mesquite trees along the elongated fairways and large greens. Visitors will spot abundant wildlife along with the golf course's nine ponds. The L.E. Ramey Golf Course is equipped with a driving range, putting and chipping green, as well as a practice bunker for the short game.
2522 E. Escondido Road
Kingsville, Texas 78363
7:00 a.m. to 7:00 p.m. daily
(361) 592-1101
---
Ben Bailey Art Gallery
The Texas A& M University-Kingsville Gallery, located in the Ben Bailey Art Building showcases faculty exhibits, student exhibits, and visiting exhibits both national and international that reflect the full range of artistic expression. The staff works to showcase the considerable artistic talent of the South Texas region. Free admission.
916 W. Santa Gertrudis
Kingsville, Texas 78363
8:00 a.m. to 5:00 p.m. Monday through Friday with a series of special event hours.
(361) 593-2919
---
Brookshire Pool
This city pool provides a great spot to cool off in the hot Spring and Summer months. The 75'X 96' commercial pool goes from 3' to 5' in the shallow area and extends to a 12' diving area with a board. The pool also has a new Kiddie Pool installed recently adding safer play space for toddlers.
The pool area has a 100' long shaded area with tables and two large umbrellas on deck with tables underneath.
1519 East Kenedy Ave.
Kingsville, Texas 78363
Vary by season. Please visit website.
(361) 592-7061/(361) 221-8705
---
Flores Park Splash Pad
Free Splash Pad is located at our City of Kingsville park. The Flores Park Splash Pad provides great fun and a way to cool off in the Texas heat. Open Spring Break to Labor Day.
N. 12th Street & E. Santa Gertrudis Street
Kingsville, Texas 78363
Hours: 8:00 a.m. to 8:00 p.m.
(361) 221-8705
---
---