---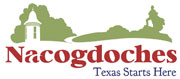 Things to Do in Nacogdoches
Explore the earliest days of Texas history, tour gardens full of colorful flowers, and hike stunning trails that wind through thickets of towering trees. These are just a few of the many things to do in Nacogdoches, an East Texas town with fascinating historical sites, natural beauty, and a one-of-a-kind small-town charm. Read on to discover what adventures await in this Piney Woods gem.
---
Explore Historic Downtown Nacogdoches
Standing in historic downtown Nacogdoches feels like being in a different era. Colorful old-fashioned storefronts stand above red brick streets, and window shoppers stroll along wide tree-shaded sidewalks. Beyond being a picturesque throwback to a bygone era, downtown Nacogdoches is full of fascinating shops, astounding art galleries, and locally-owned restaurants where you can get a taste of East Texas.
When the sun sets, make sure to check out some live music at one of the area's entertainment venues or stop for a drink at a low-key bar. There's enough to see and do here that no two visits are the same.
---
Learn the History of the Oldest Town in Texas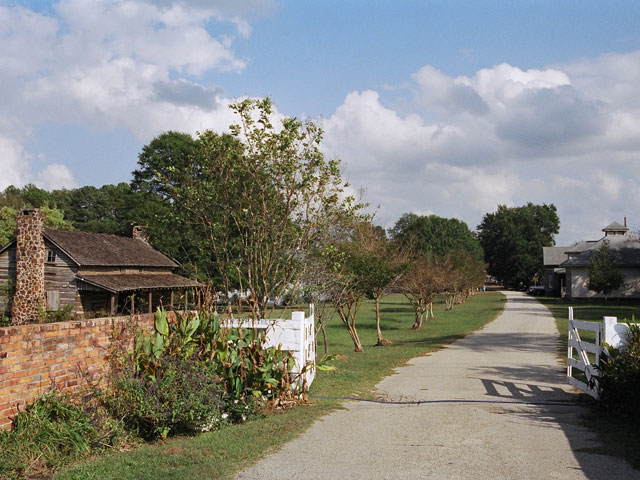 They don't call Nacogdoches the Oldest Town in Texas for no reason. Unlike many other places in the Lone Star State, Nacogdoches can claim a history that dates back to 1250 AD, when the Nacogdoche Indians lived in the area. Founded in 1779 by Spanish colonists, the town would be the backdrop for multiple small rebellions and some of the events that led to the Texas Revolution. To explore this history, start with a visit to the Charles Bright Visitor Center in downtown Nacogdoches. Browse the collection of historic artifacts and watch a video of the town's history before visiting the Oak Grove Cemetery, where four signees of the Texas Declaration of Independence are buried.
Spend any time exploring Nacogdoches and you're bound to run into many of the other historic sites. Check out the Stone Fort Museum to see flintlock, flint knives, and tools showcased within a late 18th-century mansion. Meanwhile, the Durst-Taylor House & Gardens and the Sterne-Hoya House Museum are two 1830's homes that offer glimpses into life on the Texas frontier. For a truly immersive step into the past, head on over to Millard's Crossing Historic Village. Tour the grounds and you'll see homes as old as 1837, as well as a chapel from 1905 and a pre-1920's caboose.
---
See Why Nacogdoches is The Garden Capital of Texas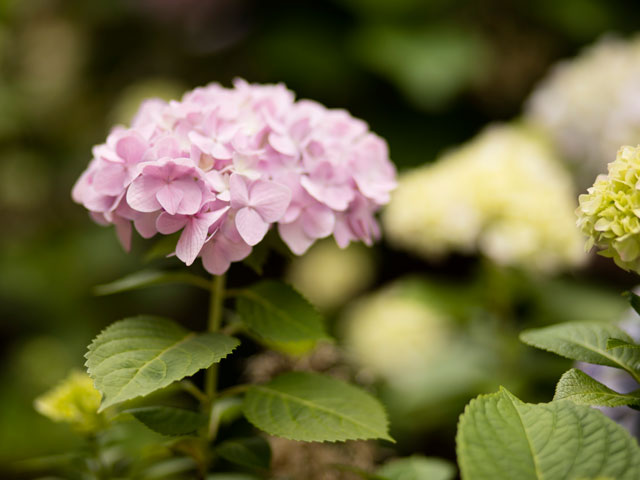 Stroll the largest azalea garden in Texas and explore trails set among blooming flowers when you visit Nacogdoches. Known as The Garden Capital of Texas, the town is home to four massive nature centers that show off East Texas' beauty. Explore the Ruby M. Mize Azalea Garden and you'll encounter more than 7,000 azaleas throughout its eight wooded acres.
There's plenty to see at the 42-acre Pineywoods Native Plant Center that showcases the plants and varied landscapes of East Texas. The SFA Mast Arboretum (the first of its kind at a university in Texas) and the Gayla Mize Garden are the two other gardens in Nacogdoches you can visit.
Each of these provides an escape to nature that can't be missed, so take your time so you can appreciate everything.
---
Play a Round of Golf
Enjoy a relaxing day on the green, and golf to your heart's content at Woodland Hills Golf Course. Designed to incorporate the rolling hills and breathtaking forests of East Texas along with devious sand traps and water hazards, you'll have a hard time getting mad about an errant shot because of the gorgeous surroundings. Need to work on your short game? Take on the mind-bending obstacles at Nacoville Mini Golf, a fun and family-friendly putt putt course in Nacogdoches open from March through December.
---
Get Outdoors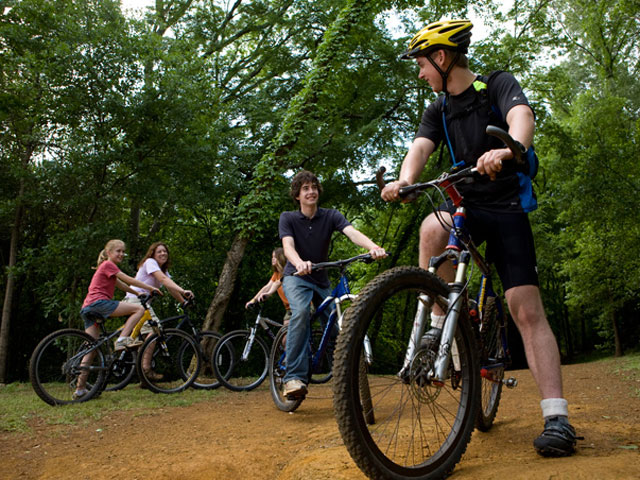 The towering pine trees and verdant forests of East Texas provide much more than a captivating backdrop. Instead, Nacogdoches' scenic beauty sets the stage for some truly spectacular places to enjoy the outdoors. There are three major trails in town to explore, each of which is long enough to keep you busy for an afternoon. The longest of these is the Lanana Creek Trail, a 5.89-mile old Indian footpath that takes you through thickets of paw paw and dogwood.
For birding and wildlife watching, meander along the two trails that make up the SFA Interpretive Trail. From here, you can see some of the 150 species of birds and 80 kinds of butterflies that reside in the area. If a shorter jaunt is what you seek, the Banita Creek Trail is for you. Stroll along the 1.9-mile trail and you'll pass shagbark hickory, Florida maples, and even waterfalls until you reach the eight-foot-tall, 300-pound sculpture by a local artist.
While these trails are great to explore year-round, make sure to visit in the fall when many of the trees turn brilliant shades of red, orange, and yellow.
---
Cool Off at Splash Kingdom Waterpark
Whether you're a native Texan or someone thinking of visiting, you're probably aware that we've got pretty hot summers here in the Lone Star State. That's why you should get your youngsters and head to Splash Kingdom Waterpark Timber Falls in Nacogdoches. Take it easy in the slow-flowing lazy river and dry off in the shade as your little ones play in the Kids' Tree House complete with a spray ground and slide. Should you feel the need for some thrills, soar down the body slides that feature mind-bending twists and turns. When your belly starts to rumble, order a hamburger, hotdog, and a cold drink from the food stand. With fun in the sun for all ages, Splash Kingdom Waterpark is a perfect stop on a hot summer's day.
---
---