---
Things to Do in Nacogdoches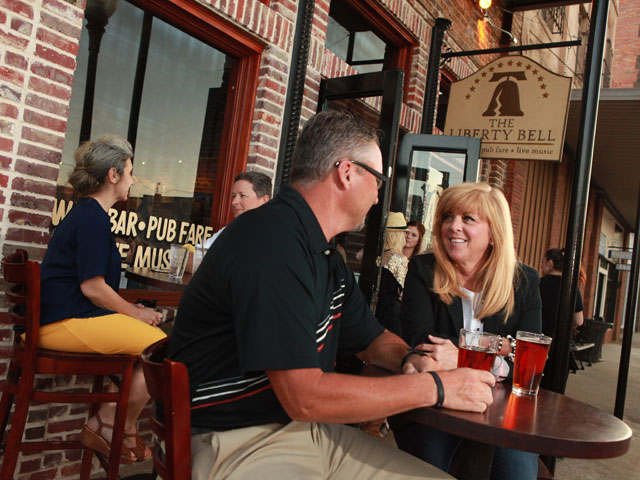 HISTORIC DOWNTOWN NACOGDOCHES
After getting your bearings at the Visitor Center, step onto the brick streets of downtown Nacogdoches and stroll the antique and specialty shops, art galleries, local eateries and live entertainment venues. Be sure to visit the Fire Museum, Railroad Depot and Museum and numerous historic landmarks in the downtown area. Self-Guided Walking Tour - Visit 15 points of interest in the downtown historic district. (Note: Guided walking tours are offered every Saturday in May.) Information, maps and brochures are available at the Visitor Center.
---
CHARLES BRIGHT VISITOR CENTER
Begin your visit to the Oldest Town in Texas here! The Visitor Center is home to the Nacogdoches Convention and Visitors Bureau as well as two floors dedicated to local historic artifacts and exhibits. Watch a video of the history of Nacogdoches and the surrounding area. Get visitor information including brochures, self-guided tour details, maps and gifts. 200 East Main. Mon-Fri 9-5; Sat 10-4; Sun 1-4; Holidays 10-4. 936-564-7351.
---
TRAILS OF NACOGDOCHES
Walk, hike, bike or just sit back and take in the natural beauty. Numerous trails offer activities to suit most any enthusiast. Most trails are along the creeks on the east and west side of downtown or on the Stephen F. Austin State University campus. Trail maps are available at the Visitor Center. Note: Some trails were created with the intermediate rider in mind and feature steep climbs, jumps and more challenging, twisting routes. All trails are dog-friendly but your canine friend must be on a leash.
Lanana Creek Trail - Originally an Indian footpath, this 5.89 mile trail weaves through thickets of paw·paw, dogwood and scarlet blooming buckeye. The trail begins at Liberty Hall on E. Main St.
Banita Creek Trail - This 1.9 mile trail is Nacogdoches' newest addition and winds through a pristine setting of shagbark hickory, Florida maples and tree sparkleberry and even includes waterfalls. The trail is located at the western end of Rusk St. Photo op: "Ab's chair", an 8 foot, 300 pound sculpture by local artist Jeffie Brewer.
SFA Interpretive Trail - Two trails spanning 3 miles take visitors into some of the most dynamic and scenic areas of this National Forest. Some 150 species of birds and 80 species of butterflies may be seen. From Hwy 7 West turn left on FM 2782.
---
GARDEN CAPITAL OF TEXAS
Discover why Nacogdoches has been designated by the Texas Legislature as the Garden Capital of Texas. From the largest azalea garden in the state to fall foliage and flowering trails that appear at almost every turn, Nacogdoches offers year-round beauty to the casual observer and the most serious gardner alike. The Garden Capital of Texas brochure is available at the Visitor Center and offers a complete list of gardens.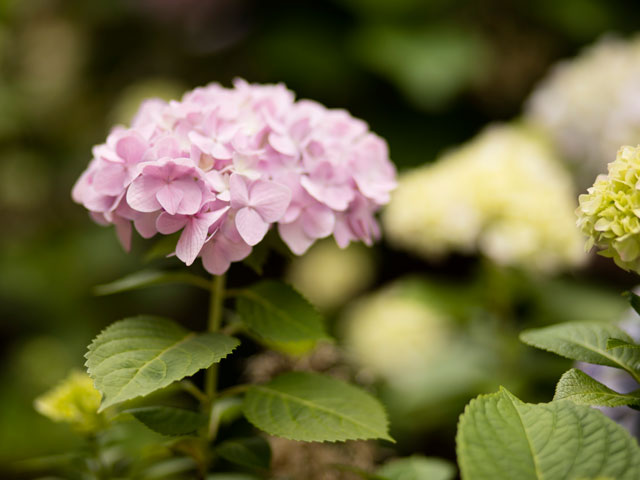 Ruby M. Mize Azalea Garden - Texas' largest azalea garden features more than 7,000 azaleas spread over 8 forested acres. The garden is located south of the SFA Johnson Coliseum on University Dr.
SFA Mast Arboretum - The first arboretum at a university in Texas, this on-campus garden spills over 19 acres and lies on a portion of the Lanana Creek Trail.
Pineywoods Native Plant Center - This 40·acre garden on the SFA campus is a unique mixture of uplands, mesic mid-slopes and wet creek bottoms. The Tucker House serves as the central feature of the property, which is surrounded by two miles of accessible trails through native forest and diverse gardens. Located at 2900 Raguet St.
Gayla Mize Garden - Take a stroll through this tranquil forest garden which includes Chinese fringe trees, deciduous hollies, azaleas, redbuds, dogwoods and camellias. East of University Dr. between Starr Ave. and College St.
---
DURST-TAYLOR HOUSE & GARDENS
Built circa 1830s this wood-frame house is interpreted to the 1840 to 1860 time period when the Blackburn family lived there. The house is the second oldest structure still standing on its original site in Nacogdoches. Located at 304 North St. Hours Tues. - Sat. 10·4. Free. Ph. 936-560-4443.
---
FREDONIA BREWERY
Brewing up traditional American style beers, with the flexibility to brew any type of beer, the Fredonia Brewery is located in downtown Nacogdoches at 138 N. Mound St. Open Saturdays. Ph. 936-305-5125.
---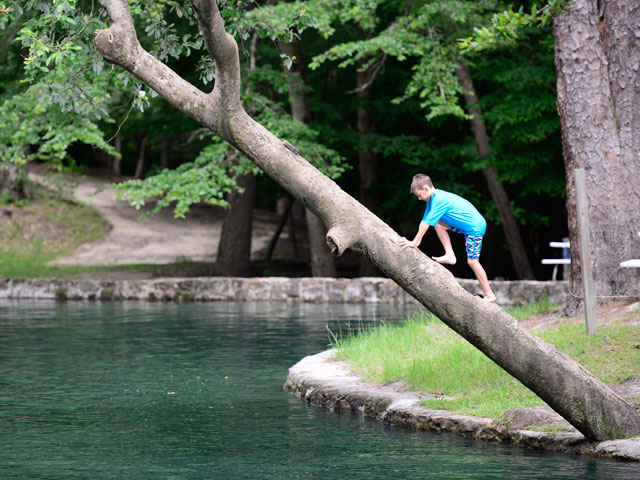 CAMP TONKAWA SPRINGS
A natural spring fed pond that has fascinated visitors for over a century. A dip in the springs is a great way to beat the summer heat. Located at 4675 CR 153, Garrison. Admission. Ph. 936-564-8888.
---
FARMER'S MARKET
The Market sells local organic produce, plants, baked goods, eggs, honey and locally produced crafts. Located at the old "hitch lot" at 107 W. Pearl St. Open seasonally Wednesdays and year round on Saturdays. 936-213-0640.
---
LOCAL LAKES
Lake Nacogdoches and Lake Naconiche provide year round recreation opportunities. Lake Nacogdoches is approximately 15 miles west of downtown on FM 225. Lake Naconiche is approximately 12 miles north of downtown just off US Hwy 59. Area lakes include Sam Rayburn Reservoir and Toledo Bend Reservoir.
---
MILLARD'S CROSSING HISTORIC VILLAGE
The historic village comprises a broad sampling of 19th century East Texas architecture from simple log cabins to Victorian homes. Located at 6020 North St. Guided and self-guided tours available. Hours Mon.-Sat. 9-4; Sun 1-4. Admission. Ph. 936-564-6631.
---
NORTH FOREST PUTTING COURSE
Miniature golf course open seasonally through mid October. Located at 3503 North St. Hours Mon.-Sun. 2-10. Admission. Ph. 936-564-6525.
---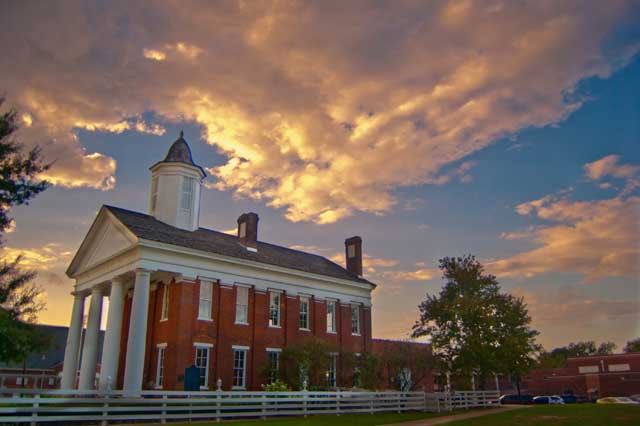 OLD NACOGDOCHES UNIVERSITY BUILDING
It is the only original building of a university chartered by the Republic of Texas still standing and is listed on the National Register of Historic Places. Located at 515 N. Mound St. Hours Tues.-Fri. 1-4; Sat. 10-4. Free. Ph. 936-569-7292.
---
NACA VALLEY VINEYARD
Enjoy wine tastings, a vineyard tour and views of the wine making process, all in a quiet country setting. Located approximately nine miles east of Nacogdoches at 9897 FM 1878. Tasting room is open Saturdays 10-8 and by appointment for individuals and small groups. Ph. 936-615-6432.
---
OAK GROVE CEMETERY
Four signers of the Texas Declaration of Independence are buried here, including Thomas J. Rusk. Located on N. Lanana St. Brochures available at the Visitor Center.
---
SPLASH KINGDOM WATERPARK
The family waterpark is open daily Memorial Day thru Labor Day. Located at 401 N. University Dr. Hours Sun.-Thurs. 11-6; Fri.-Sat. 11-7. Admission. Ph. 936-305-5009
---
STERNE-HOYA HOUSE MUSEUM
Built circa 1830 by Adolphus Sterne, a prominent leader in the fight for Texas Independence. Located at 211 S. Lanana St. Hours Tues.-Sat. 10-4. Free. Ph. 936-560-5426.
---
STONE FORT MUSEUM
A 1936 replica of Antonio Gil Y'Barbo's stone house. The museum interprets East Texas and Nacogdoches history. Located on the SFA campus at the corner of Griffith and Clark Blvds. Hours Tues.-Sat. 9-5; Sun. 1-5. Free. Ph. 936-468-2408.
---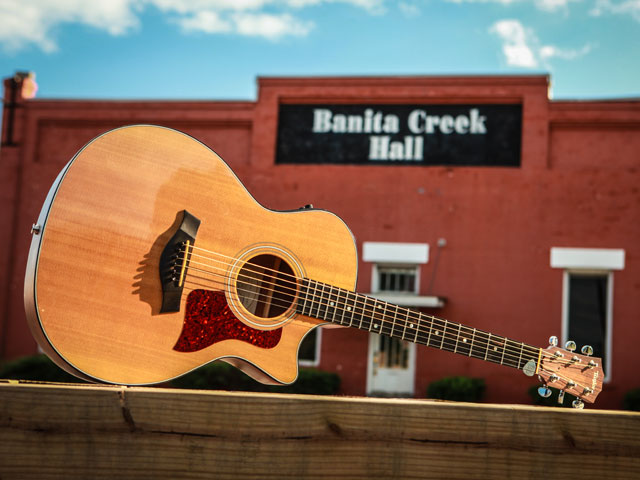 THEATER, ART & MUSIC
Nacogdoches boasts an active fine arts community with frequent performances and exhibitions. Live music venues downtown and near the University offer concerts and activities throughout the week. Visit us online for a complete list of upcoming events.
---
WOODLAND HILLS GOLF COURSE
18 hole golf course open to the public year round. Foot golf available. Located 6 miles south of downtown off S. US Hwy 59 at 359 County Road 5021. Ph. 936-564-2762.
---
ZIP NAC
Professionally trained guides will send you zipping through tall timber in an exhilarating tour of the forest canopy. Ideal for first-time zippers and those more experienced. Located just off Hwy 7 East at 199 Brother John Rd. Day and night tours available Tuesday - Sunday by appointment. Admission. Ph. 936-645-5094.
---
---