---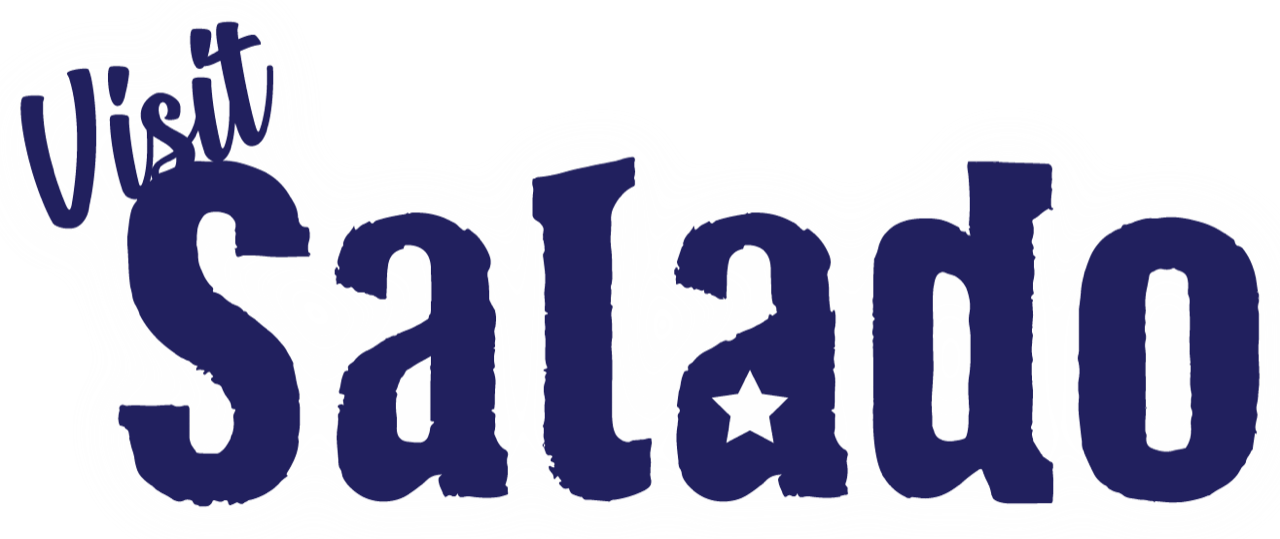 Deep in the Art of Texas: 5 Artists Who Inspire Salado's Arts Scene
Oil painters, glass blowers, photographers, goldsmiths, and woodworkers are just some of the artists that you will find in the Village of Salado, a hotbed of artistic excellence located 50 miles north of Austin. When you visit, you'll encounter regional, national, and international renown artists pursuing perfection as they create their latest works in their studios, giving you the chance to see some of the finest art around up-close and on a more personal level. Meet a few of the artists that make Salado a world-class destination for art lovers and enthusiasts.
---
Larry Prellop – Land & Seascape Painter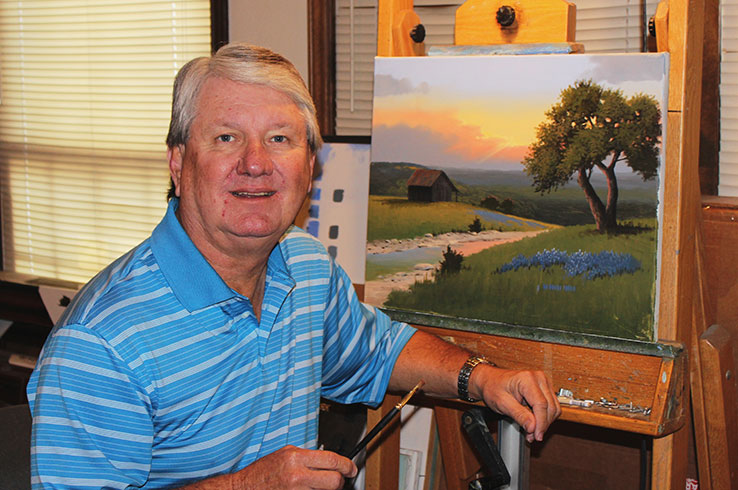 When it comes to land and seascape paintings, there aren't many better at this artistic medium than Larry Prellop. A professional artist for more than 50 years, Prellop's paintings have been sold all over the world. He works his magic these days at his gallery, the Prellop Fine Art Gallery, which he opened in 1995 after seeing how well his works sold at the Salado Art Gallery.
"Collectors were coming to Salado from all over the world to purchase from this little gallery that was full of quality artwork," he says.
Step into his gallery today and you'll see sculptures, paintings, bronze, glassworks, and more by emerging and renowned artists. Prellop's own works are on display, each inspired by a long drive through the Texas Hill Country or a sunrise over the ocean. The gallery also hosts workshops taught by the artist himself, offering a one-of-a-kind opportunity to learn from one of the best in the art community. He even does the occasional gallery tour for art leagues and senior art groups from around the Lone Star State. "I get so much pleasure in showing off our galleries and introducing the folks to the artists, sculptors and the gallery owners in town. Every tour is a blast for me to do."
---
Kay Griffith – Abstract Expressionist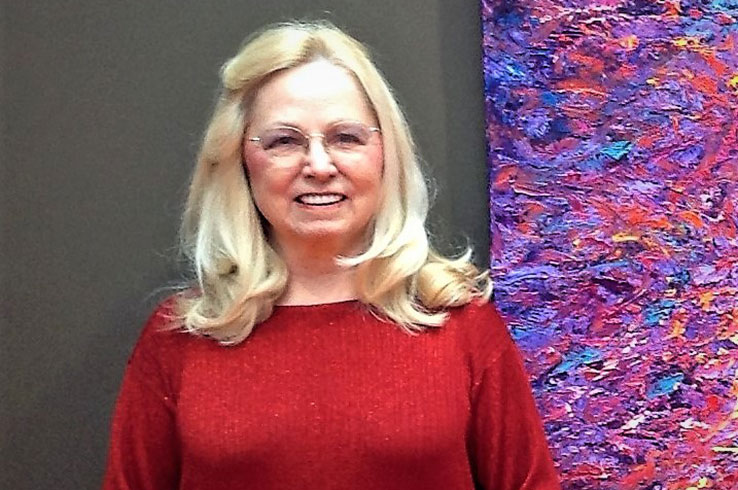 Colorful, evocative, and thought provoking, Kay Griffith's oil paintings have earned her a reputation as one of the top abstract expressionists in the world. An artist since the mid-1990s, Griffith's paintings have been displayed in art galleries and competitions around the country, Canada, Japan, and Europe. Luckily, you don't need to travel the globe to see Griffith's inspiring works, as she has been working from her studio in Salado since 2003. Even back then, Salado "had a reputation of having a wide range of original art, drawing customers from across Texas, the country, and beyond."
Today, just as always, Griffith finds her inspiration from all around her. "I'm happy that my abstracts appeal to all age groups and cultures; that they engage viewers intellectually, emotionally, and inspire conversations." Admire her paintings, and works of other first-class artists, at the Griffith Fine Art Gallery, a key locale in Salado's vibrant arts scene that she says you have to see to believe. "There are many towns that boast of having artists working in their studios," Griffith says. "What makes Salado unique is the diversity of its original art."
---
Bob Hargrove – Painter, Photographer & Jewelry Artist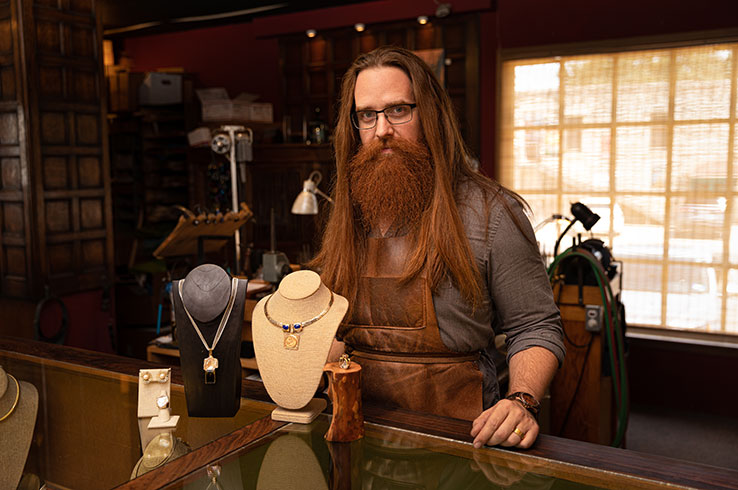 An artist of many talents, Bob Hargrove has been a significant part of Salado's arts scene since 1999. "I enjoy different aspects of all the different mediums I work in," Hargrove says. "Photography is very precise and methodical, whereas oil painting is the opposite. I love to paint large and colorful abstracts. Painting is much freer for me. Through jewelry I get to join people in their happiness." An artist since his younger days, he now draws his inspiration from music, ancient mythology, and "seeing and hearing about the work my fellow artists are doing here in Salado." He first arrived in Salado for a summer job at the studio owned by Ann Benton, the wife of founder Jim Benton, when he was 16. It was here that he learned the fine craft of jewelry making.
To see Hargrove's art, stop by his shop, Bentons Jewelry, an art and jewelry gallery where you can see, and purchase, rings that cradle precious center stones, earrings, necklaces, and oil paintings. Bentons Jewelry first opened its doors in 1970, and its collaborative approach to making custom pieces represents Salado's overall artistic ethos. "The best thing about enjoying art in Salado is that a great deal of the time, you get to interact with the artist directly," Hargrove says. "Many of the artists run their own galleries on a daily basis, so there isn't a separation between the collector and the artist."
---
Michael Pritchett – Painter & Illustrator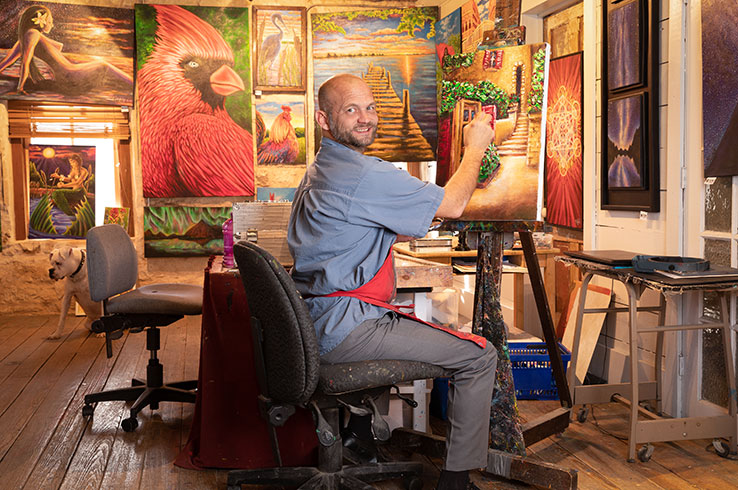 All it took was a single visit to convince Michael Pritchett to open a gallery in Salado. "I absolutely fell in love with the creative community and decided to make Salado my home," Pritchett said. "I didn't know much (about the village) before opening my gallery here, just that there was a collection of very talented artists throughout the community. Honestly, it just felt like a utopia for artists making a living." A former clothing designer and graphic artist, Pritchett's works of acrylic and oil paint, charcoal, color pencil, graphite, and pastels can be viewed at Sirril Art Gallery.
"I've been creating art since before I could read or write," he says. "It's always been important for me to create images that I've seen before and want to see again." Visit and you just may see Pritchett making, showing, and selling his latest works while sipping on a cold pint of Salado's own Barrow Brewing Company's beer. Pritchett fits into an arts scene that is truly one of a kind. "The creative art scene in Salado is so unique due to the artists who were attracted here over the past 50 years, like Bill Jackson, Ella McWinney, Jim Benton, Lonnie Edwards, Forrest Gist, and Bryant Reeves," he says. "It's the creative spirit of the decades of artists that helped cultivate the art scene in Salado into what it was when I arrived."
---
Hollye Davis – Acrylic Painter, Illustrator & Pyrographer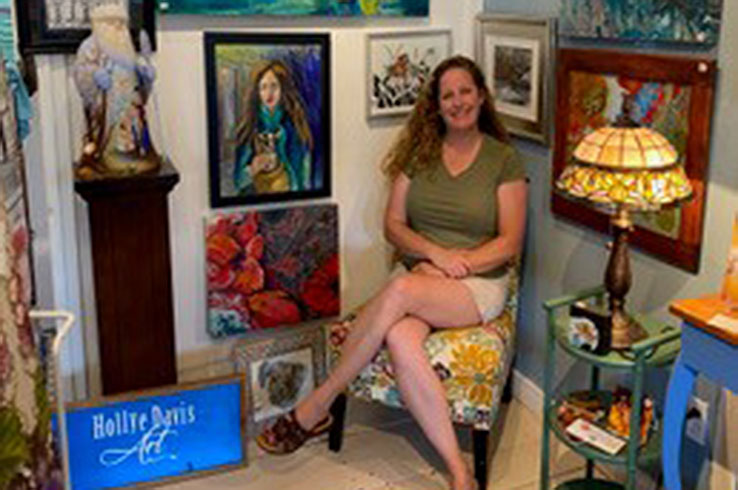 "It's been a dream of mine, for as long as I could remember, to sell my art," says Hollye Davis, artist and owner of Uniquely Salado. An expert at acrylic paintings, pen and ink illustrations, and wood burning, Davis says she enjoys all kinds of art, but she does play favorites. "I love my painting called 'Rain,' a contemporary abstract that has texture and movement, because it stimulates conversations, evokes emotion, and speaks to a period of my life that still continues today." she says.
Nature and the works of other artists serves as Davis' muses for her own works, which you can see (along with 'Rain') at Uniquely Salado. An artist's co-op, Uniquely Salado is a microcosm of Salado's arts scene, as it displays art created by more than 30 local artists, from painters and photographers to woodworkers and weavers. "Salado is a unique place that attracts many artists," she says. "Everywhere you go, you'll find artwork. This is a great place to find quality original artwork by locals who are often producing their artwork while you shop. At my gallery, the art isn't reproduced from the originals but instead one-of-a-kind pieces at prices that you can afford."
---
With its world-renowned artists and bustling studios, the Village of Salado is a must-visit destination for art lovers.
Note: These are just five of Salado's many talented artists. Get to know a few of Salado's other prominent artists at VisitSaladoTexas.com.
About the Author: James Waterson is the head writer and content specialist for Tour Texas. When he isn't writing about the many great places in the state of Texas, he's planning his next epic adventure in the Lone Star State.
---
---