---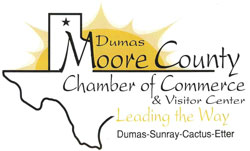 Dumas Moore County Chamber of Commerce
1901 S. Dumas Ave. PO Box 735
Dumas, TX 79029
(888) 840-8911
www.dumaschamber.com/
Dumas-Moore County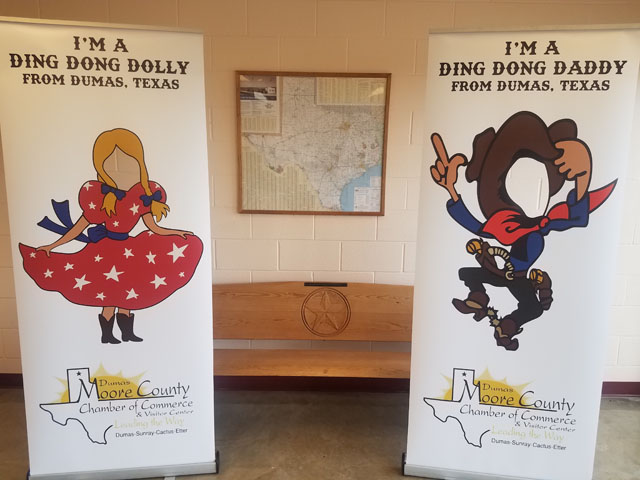 Dumas, in Moore County, Texas, is the quintessential small West Texas town, with great Texas-size hospitality and wonderful history. Located about fifty miles north of Amarillo, Dumas is reached by taking 287/87, which is the main highway taking visitors to New Mexico and Colorado, as well as into the Oklahoma Panhandle. It's central location halfway between Dallas and Denver makes it the ideal place to stop at one of the many limited service chain hotels and to enjoy some great dining at local family owned restaurants. Be sure to stop by the Dumas/Moore County Chamber of Commerce & Visitors Center, located on the south end of town just above the Walmart store, and pick up information on Dumas and Moore County, as well as information for several surrounding states. While there, learn about the history of the song, "I'm A Ding Dong Daddy from Dumas" and take your picture behind the pull-up banners of Ding Dong Daddy and Ding Dong Dolly.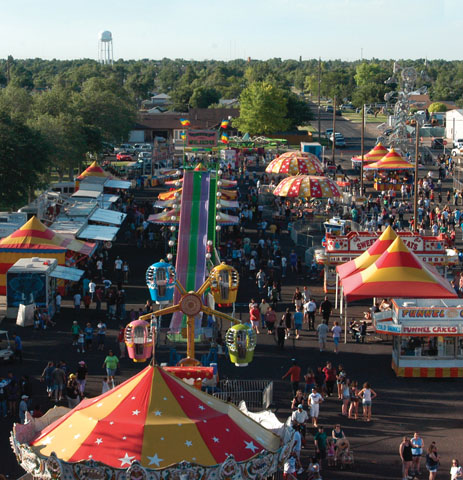 While here, there are several great attractions to visit. The Windows on the Plains Museum, and adjoining Art Center, will take visitors back into the past with exhibits featuring by-gone days of life on the prairie, including a street scene from the early 1900's featuring a general store stocked with all the necessities and niceties available 100 years ago, a ranch kitchen depicting early 1900's rural life and a dentist's office displaying equipment used over the years. In a separate building and displayed throughout the expansive ten-acre grounds of the museum you will also find examples of the evolution of farm equipment that helped make the Texas Panhandle an important supplier of agricultural products throughout the country, as well as displays throughout the museum of the history of the energy industry and its importance to economic vitality of the region. Attached to the museum is the Art Center, which features many wonderful art pieces of local artists and traveling exhibits on loan to the museum as well.
If you're into finding that special souvenir, or just strolling through collectable shops, downtown Dumas has several stores that are sure to have something for you to take home to show off to family and friends. While there, step back in time and visit the Evelyn Theater, a two-screen movie house built more than seventy years ago, but recently completely renovated and enjoy its rich history while being entertained with state-of-the-art surround sound and modern technology. Just a couple of blocks away you can slip on a pair of bowling shoes and show your skill at Dumas Family Fun Center, a recently opened bowling lane, with a separate glow-in-the-dark miniature golf room.
If golf is your game, head to the north end of town and enjoy the city-owned 18-hole Pheasant Trails Golf Course, featuring a well-equipped pro shop. The tree-lined fairways will challenge both the amateur, as well as seasoned, golfers.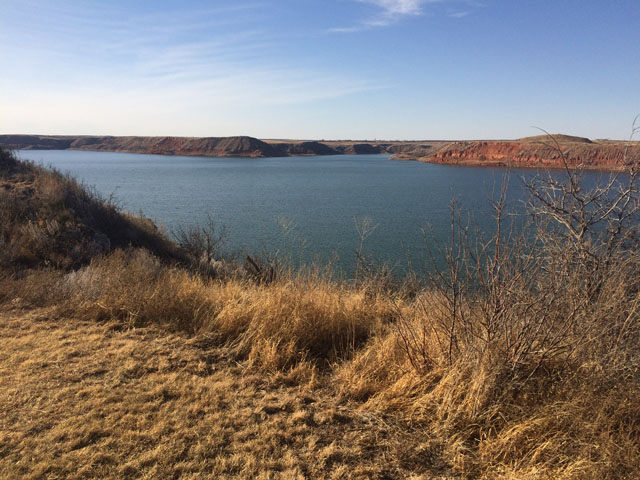 You will find some other great attractions within a short drive from Dumas such as Palo Duro Canyon, the second largest canyon in the United States and the well-known Cadillac Ranch, a sculpture using a collection of vintage Cadillac's placed hood first into the ground and visited by thousands of visitors every year. You can even leave your own personal message on them using spray paint if you like! On a hot day you can also visit Lake Meredith, located east of Dumas and Moore County, where you can rent a boat and go try your luck fishing or just relaxing and enjoying the scenic views as you cruise along, looking at the 200-foot-high canyon walls that were once part of a dry canyon where for 13,000 years indigenous peoples lived and worked before it became the water reservoir it is today.
But the best part of visiting Dumas and Moore County is its people. Their warm, welcoming hospitality harkens back to a time when the early pioneers had to depend on each other to survive and this tradition lives on today. We invite you to come and see for yourself.
---
---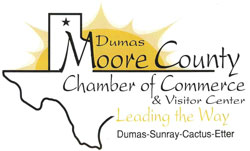 Dumas Moore County Chamber of Commerce
1901 S. Dumas Ave. PO Box 735
Dumas, TX 79029
(888) 840-8911
www.dumaschamber.com/