---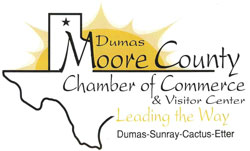 Dumas Moore County Chamber of Commerce
1901 S. Dumas Ave. PO Box 735
Dumas, TX 79029
(888) 840-8911
www.dumaschamber.com/
Things To Do in Dumas-Moore County
Oasis on the High Plains
Within the dry and windswept high plains of the Texas Panhandle lies a hidden oasis, a welcoming haven where wildlife and humans find respite from the dry grasslands above. Through this plain, the Canadian River has cut dramatic 200-foot canyons, or breaks, where humans have eked out a living for over 13,000 years. Lake Meredith now occupies these hidden coves where early humans once roamed.
Camping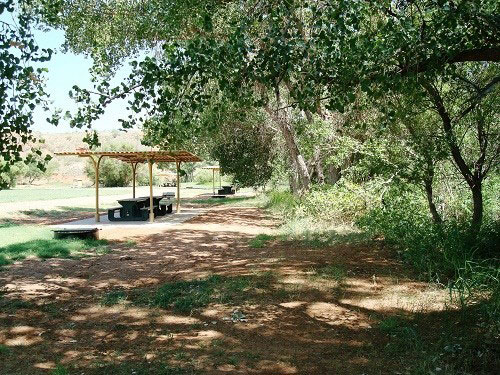 Plum Creek campgrounds
NPS Photo
Lake Meredith offers a variety of camping opportunities, including scenic overlooks, shoreline camping, and wooded campgrounds. At this time, there are 10 RV sites at Sanford-Yake with electric and water hookups. These are fee sites and are available by reservation. All other sites and campgrounds are FREE and are on a first-come, first-served basis.
Dump stations with non-potable water are located near Fritch Fortress and Sanford-Yake campgrounds.
You may camp at any location within Lake Meredith National Recreation Area for up to 14 consecutive days within a 30-day period, but no more than 60 days per year. Hunters may set up camp between October 1 and December 31, with up to 30 days allowed annually per hunter. Digging or leveling the ground for a camp is prohibited.
CAMPFIRES: Fires are permitted only in grills and existing fire rings; they are not allowed in the backcountry. You may gather wood that is dead and on the ground. No cutting of trees or other plants is allowed. Local counties determine fire bans. Contact officials in Hutchinson County (806-273-0930), Moore County (806-935-2151), and Potter County (806-379-2900) to verify if burn bans are in effect.
ALCOHOL: You may bring in alcohol for personal consumption. If you wish to bring in larger quantities (such as beer kegs for a group), you must get a special use permit at Park Headquarters, 419 E. Broadway, in Fritch, during business hours.
OTHER RESTRICTIONS:
Pets must be on leash at all times
Quiet hours are from 10 p.m. to 6 a.m.
Place trash in dumpsters or carry it out for disposal
No metal detectors are allowed
Burning pallets with nails/hardware in them is prohibited unless the hazards are removed before burning
---
The Art Center
The Art Center opened in this location in October of 2004 as a neighbor to Window on the Plains Museum. The joining of the two has made a pleasant stop in Dumas to view art and history and enjoy the best of Texas.
The Art Center features the works of area artists in exhibits that change monthly.

For exact dates on monthly exhibits, please call (806) 935-5312 or follow us on Facebook (The Art Center - Dumas, Texas)
---
Welcome to Pheasant Trails Golf Course
Welcome to Dumas, Texas and Pheasant Trails Golf Course. Located in the Panhandle of Texas and north of Amarillo. Opened in 1951, the front nine of the Pheasant Trails Golf Course features a Scottish-links design with newly planted trees and a deep cut of rough bordering the flat fairways. The back nine is longer and takes on more of a West Texas design with large established trees lining the fairways. There is a creek that flows throughout the design and comes into play on some holes.
---
Window on the Plains Museum
Window on the Plains Museum began in 1976 as Moore County Historical Museum. The facility was housed in the ballroom of a landmark hotel until 2001, when it was moved to it's permanent home and became Window on the Plains Museum.

In addition to extensive displays centered around farming and ranching, industry, business, family life and wildlife, the museum houses a research and archives center.
Located on the southwest corner of
Dumas on busy Highway 87-287.
Hours: Monday - Saturday
10:00 a.m. - 5:00 p.m.
Admission is free
Museum is open during these Art Center receptions.
---
---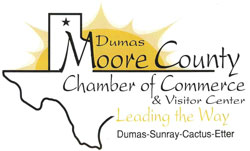 Dumas Moore County Chamber of Commerce
1901 S. Dumas Ave. PO Box 735
Dumas, TX 79029
(888) 840-8911
www.dumaschamber.com/