---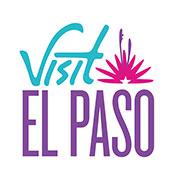 Things to Do in El Paso
Year-round sunshine, striking desert landscapes, and a vibrant and diverse culture define El Paso, Texas' westernmost city. Explore thousands of years of history, step inside 300-year-old missions, hike through the foothills of a stunning mountain range, and let your imagination run wild as you experience El Paso's one-of-a-kind charm. Beautiful desert golf courses, professional sports teams, fun family-friendly festivals, and more can be found in this lively border town. Needless to say, there are many amazing things to do in El Paso. Discover a few of these adventures below and start planning your trip to this unique Texas destination.
---
Hike, Bike, Climb & Explore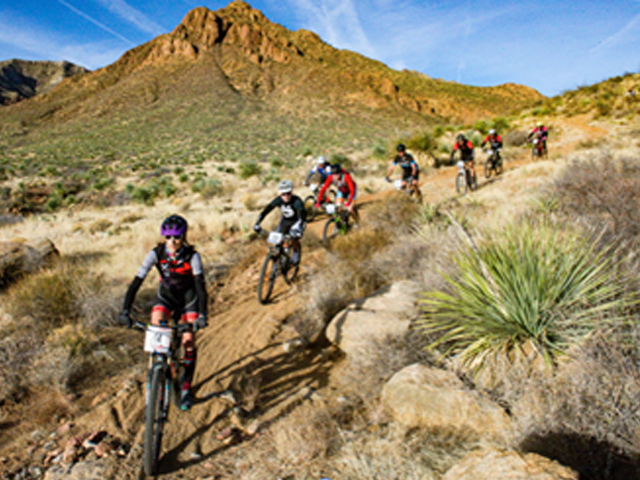 El Paso's rugged mountains offer a lot more than a picturesque backdrop to the bustling border town. They are a veritable playground perfectly suited for hiking, mountain biking, camping and even rock climbing. In fact, two of the most unique state parks in Texas are just a stone's throw from downtown El Paso. Drive 15 minutes to reach Franklin Mountains State Park, home to 125 miles of multi-use trails that wind throughout 37 square miles of rocky desert wilderness.
For some intriguing history, look no further than Hueco Tanks State Park and Historic Site. Thousands of years ago, people traveled to the rocky hills for the rainwater that collected in the natural rock basins. These early travelers left behind rock paintings that can be seen today on a guided or self-guided tour. Hueco Tanks State Park is perhaps better known these days as a top destination for rock climbers. Bring your climbing shoes, crash pads and chalk, and go on a guided climbing tour. If that's not your cup of tea, there is an abundance of hiking and biking trails from where you can try to spot some of the 200 types of birds known to live in the park.
Need more adventure? Go see beautiful Guadalupe Mountains National Park, the stunning dunes of White Sands National Monument, or the mysterious caves of Carlsbad Caverns. All three sites are within 2.5 hours of El Paso, making for an easy road trip from the already amazing Sun City.
---
Tour the Mission Trail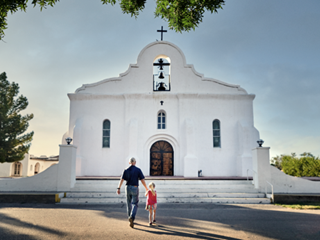 Experience more than 300 years of Texas history, dating back to when the first European explorers set foot on the northern bank of the Rio Grande, when you explore the El Paso Mission Trail. Start at one of the most significant landmarks in the Lone Star State: the Ysleta Mission Church. Built in 1682, the white adobe-walled church is the oldest continuously active parish in Texas and one of the first buildings constructed in El Paso. Drive a few miles south to reach the eye-catching Socorro Mission, a unique structure with six-foot-thick adobe walls that dates back to 1691. Your final stop is the San Elizario Presidio Chapel, built with rounded archways and gold-trimmed pillars commonly found in traditional Spanish mission architecture.
While the missions are eye-catching, they aren't the only things to see on the trail. Discover more than 350 years of Pueblo Indian history, art and culture at the Tigua Indian Cultural Center, or learn about the military history of San Elizario at the Veteran's Museum, a memorial to the soldiers who have called the town home. A collection of art galleries showcasing distinctive Native American and Southwestern-style paintings (and other works) by local and regional artists can be found on the trail as well. If Wild West gunslingers are your thing, check out the Old El Paso County Jail Museum and see the only jail Billy the Kid ever broke into. If you time your trip right, you could catch an explosive reenactment of that infamous night. With so many cultural and historic attractions in one place, no trip to El Paso would be complete without a visit to the El Paso Mission Trail.
---
Experience El Paso's Unique Culture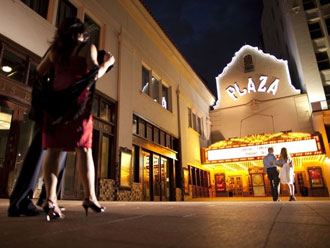 Although El Paso's Mission Trail has plenty of culture for you to take in, it is by no means all the Sun City has on tap. Start in downtown El Paso with a stay at any of the new hotels, which include historic renovations, hip boutiques and new corporate. During the day, check out vibrant paintings and stunning sculptures in one of the many art galleries in El Paso.
Don't miss the El Paso Museum of Art, home to a permanent collection of more than 6,000 works from Europe, Mexico and the United States. Then step inside the Magoffin Home State Historic Site, a stunning example of territorial-style architecture built in 1875. The home was built by a multicultural family who was involved with everything from U.S. expansion and settlement to the Civil War, offering an intimate look at what life was like in a different era.
Once the sun sets, see world-class entertainers perform at the sombrero-shaped Abraham Chavez Theatre or head to the historic Plaza Theatre for a Broadway musical, concert or a show from a stand-up comedian.
Regardless of what part of El Paso's culture you decide to experience today, there's always something new to discover tomorrow.
---
Get a Taste of El Paso's Flavors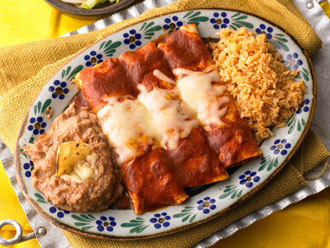 El Paso's melting pot of cultures manifests itself in other ways beyond the historic sites and museums. There's no better way to get to know a place and its people than by sampling the local cuisine, and the food in El Paso is legendary. Let the flavors of jalapeño, habanero, poblano, chipotle and serrano dance off your tongue when you munch on El Paso's specialty: Mexican food. Steaming tortillas and tamales, handcrafted enchiladas smothered in savory homemade sauces, and more can be found all throughout the Sun City. Mexican food may be El Paso's forte, but it's not your only option. American, Asian, Greek, Italian and barbecue eateries are just some of your other choices for dining in El Paso.
---
Be a Festival Fanatic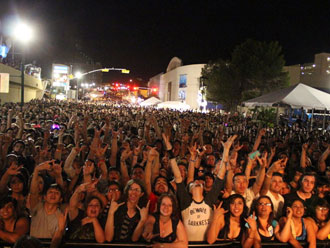 Listen to world-renowned bands perform under a clear summer sky, take on the competition in a rock-climbing contest, and celebrate what may have been the country's very first Thanksgiving celebration. Enjoy all of these experiences during one of El Paso's many events and festivals held throughout the year.
Celebrate El Paso's cultural heritage at Viva! El Paso, a musical extravaganza in June. If you're in El Paso in the fall and winter, make sure to go on a ghost tour on Día de los Muertos, or browse the unique wares at the Christmas Fair. El Paso's final event of the year is one of its largest. Join thousands of raucous fans at the Sun Bowl, the second-oldest bowl game in the country. With its outdoor races and competitions, cultural events and music festivals, El Paso always has something going on.
---
Shop 'til You Drop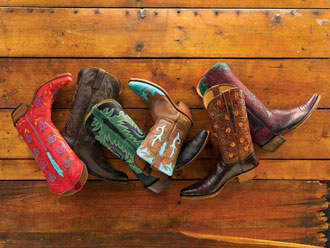 Are you a city slicker looking for a set of cowboy boots to call your own, or are you searching for a one-of-a-kind decorative piece to spice up your home? El Paso has everything you need. Acquire your own pair of handmade cowboy footwear at one of the 12 boot makers or retailers in El Paso, known as the "Boot Capital of the World." Gallop on over to the Downtown Shopping District to peruse more than 300 stores, including Starr Western Wear, Krystal Jeans and Hernandez Fashions.
In the market for antiques? Browse The Whoopee Bowl Antique Mall, home to wagon wheels, rustic furniture, stained-glass windows and thousands of other distinctive items. Locally made soaps, handcrafts, food, and wine are available at the El Paso Downtown Artist and Farmers Market, Montecillo Farmer's Market, and the Last Thursdays Market.
---
Get Your Game On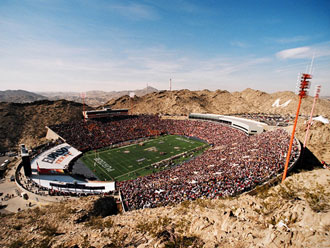 Join thousands of fans at the second-oldest bowl game in the country, or watch future baseball and soccer stars develop their talents. With three professional teams and an NCAA college football squad, it's safe to say El Paso is a sports town. Take yourself out to the ball game at the state-of-the-art Southwest University Park, home to the El Paso Chihuahuas and the El Paso Locomotive FC. The Chihuahuas, a Triple-A affiliate of the San Diego Padres, play from late March through September. The El Paso Locomotive FC just kicked off their inaugural season, and their roaring-loud games are not to be missed. In the winter, trade the baseball and soccer field for the chill of the ice hockey rink with the El Paso Rhinos, an amateur team that takes on the best of the Western States Hockey League. For gridiron fans, catch a a UTEP Miners football game at Sun Bowl Stadium and absorb all the fandom that is part of the Sun Bowl.
---
Play Golf Among the Dunes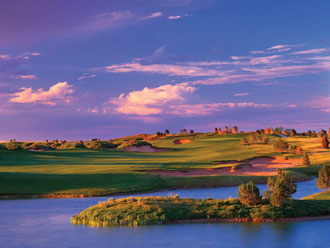 El Paso's arid environment is the ideal setting for a unique style of desert golf that you won't find anywhere else in Texas. One of the top golf courses in El Paso, Painted Dunes Desert Golf Course, is a good place to start. With the striking Franklin Mountains towering in the background, you'll have to carefully line up your shots on this 27-hole course that rewards skill and finesse. Lush fairways and verdant greens provide a splash of color to the Chihuahuan Desert, enhancing the scenic charm of the area.
Another option is the Butterfield Trail Golf Club, an 18-hole, par-72 course perched on rolling sand dunes just east of El Paso's airport. Designed by famed architect Tom Fazio, Butterfield Trail was ranked one of the top municipal golf courses in America by Golfweek Magazine. Affordable tee times are also available at Ascarate Golf Course and Vista Hills Golf Club, El Paso's other public courses. As you can tell, there's plenty of golf to play in El Paso. Make sure you bring your clubs.
Experience the Downtown Renaissance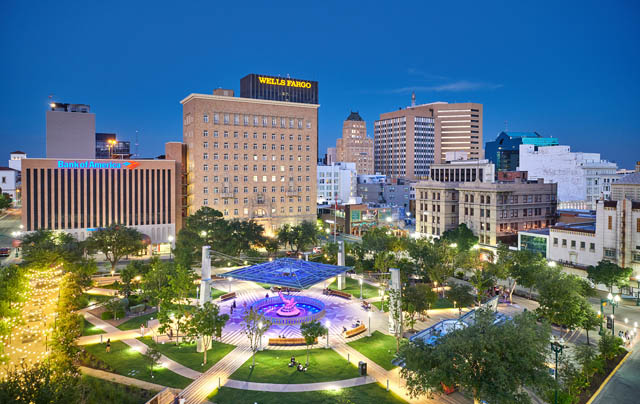 If it's been a while since you've been to El Paso, you'll be stunned when you see what's new. Thanks to a massive half-billion-dollar investment, Downtown El Paso is growing like never before. Ever spent the night in a 1920s art deco tower? How about a hotel with ties to the Mexican Revolution? Historic buildings like these and more are being renovated into top-of-the-line hotels so unique and comfortable you'll be requesting a late checkout. Soon, Downtown will have more than 1,200 state-of-the-art rooms within walking distance of new shops, clubs, bars, restaurants and exciting year-round festivals! Throw in an art-filled city square, the return of El Paso's iconic vintage streetcars and exciting games at Southwest University park, and you've got a thriving Downtown with something for everyone to enjoy.

There are an incredible number of things to see and do in El Paso that go far beyond what is listed here. To get a complete idea of what you can do in the Sun City, head on over to Visit El Paso's website.
---
---